SRL Diagnostics-Microsoft consortium creates new AI tool to diagnose cervical cancer faster
The AI-powered cervical cancer screening API is currently in internal preview at SRL Diagnostics
WEBWIRE
–
Monday, November 11, 2019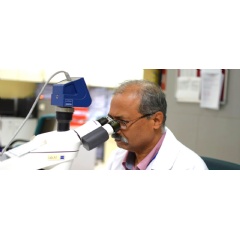 A cytopathologist at SRL Diagnostics' Central Reference Laboratory in Mumbai, screens a Pap smear sample for the screening of cervical cancer under his microscope. His trained eyes work with an apparent effortlessness. However, there is an unspoken urgency in his actions as he strives to complete the set of samples for the day. Along with his team of five members, he screens about 200 slides for cervical cancer every day, apart from another 100 slides for diagnosing other types of cancers.
SRL Diagnostics, the largest diagnostics laboratory company in India, has been witnessing an increase in the demand for cervical cancer screening.
According to estimates by the World Health Organization (WHO), cervical cancer is the fourth most frequent cancer among women worldwide. India accounts for 16% of the global burden of the disease. Unlike breast cancer, which is more prevalent in urban India, cervical cancer is frequent in the rural regions of the country where literacy and awareness of the fatal disease is low. Effective screening and early detection are the key measures to reduce its incidence.
"The proportion of cytopathologists in India is very low with respect to the number of patients. At SRL Diagnostics, we receive more than 100,000 Pap smear samples every year and there are only a few trained cytopathologists who are supposed to examine such slides. What's more, nearly 98% of these samples are normal and it's only the remaining 2% that requires further intervention. We were looking for ways to ensure our cytopathologists were able to find those 2% abnormal samples faster," says Dr. Arnab Roy, Technical Lead – New Initiatives & Knowledge Management, SRL Diagnostics.
In September 2018, SRL Diagnostics partnered with Microsoft to create an AI Network for Pathology to ease the burden of cytopathologists and histopathologists. The idea was to co-create an AI-powered API that would do the first-level check and offload normal slides to help cytopathologists spend more time on what matters most – slides that show signs of abnormality.
"SRL Diagnostics has always been committed to championing innovation in the field of clinical diagnostics in India and has led the industry by embracing change as early adopters of many in vitro diagnostics technologies. Our partnership with Microsoft to co-create solutions having the potential to generate both social and business value, is another first-of-its-kind effort in the Indian diagnostics industry," says Arindam Haldar, CEO, SRL Diagnostics.
"We looked at various elements of histopathology and homed in on the early detection of cervical cancer because it is a leading killer disease for women and cervical smear based screening, which is the gold standard, is patchy in implementation across the planet. We thought it was a good opportunity to apply AI and automation to drive efficiency and save lives," says Prashant Gupta, Program Director, Microsoft Azure Global Engineering.
Building the cervical cancer image detection API
Developing the Cervical Cancer Image Detection API required the AI algorithm to assess smear tile images (region of interest) as a trained cytopathologist would examine them. To enable this, cytopathologists studied digitally scanned versions of Whole Slide Imaging (WSI) slides manually and marked their observations, which were used as training data for the AI model.
Initially, SRL Diagnostics appointed one cytopathologist to annotate the image slides. Each WSI comprises as many as 1,800 tile images and it was difficult for a single individual to interpret a large quantity of image tiles from each slide in ways that can be consumed by the AI algorithm. And, then, there was the challenge of subjectivity too.
"Different cytopathologists examine different elements in a smear slide in a unique manner even if the overall diagnosis is the same. This is the subjectivity element in the whole process, which many a time is linked to the experience of the expert," reveals Dr. Roy.
"We wanted to create an AI algorithm that could identify areas that everybody was looking at and create a consensus on the areas assessed," adds Manish Gupta, Principal Applied Researcher, Microsoft Azure Global Engineering, who worked closely with the team at SRL Diagnostics to develop the Cervical Cancer Image Detection API.
The project was then expanded to include five cytopathologists across multiple labs and different locations. Their efforts resulted in the annotation of thousands of tile images of cervical smear, each comprising about 300-400 cells. The issue of subjectivity was addressed by creating discordant and concordant notes on each sample image. The images for which annotations were found to be discordant – that is if they were viewed differently by three team members – were sent to senior cytopathologists for final analysis.
The collaboration has already started showing results with the first API for screening cervical cancer ready for internal preview at SRL Diagnostics.
As part of the new workflow, the large digital WSI scans from Device Image Scanners are uploaded to Azure where the Cervical Cancer Image Detection API runs. The AI-powered Cervical Cancer Image Detection API can quickly screen liquid-based cytology slide images for detection of cervical cancer in the early stages and return insights to pathologists in labs.
The AI model can now differentiate between normal and abnormal smear slides with accuracy and is currently under validation in labs. It can also classify smear slides based on the seven-subtypes of cervical cytopathological scale. The classification includes interpretations ranging between normal and the pre-cancerous to cancerous stages. The purported use of the model lies in assisting cytopathologists to review fewer areas, 20 as of now, on a whole slide liquid-based cytology image and validate the positive cases thus bringing in greater efficiency and speeding up the initial screening process.
"The API has the potential of increasing the productivity of a cytopathology section by about four times. In a future scenario of automated slide preparation with assistance from AI, cytopathologists can do a job in two hours what would earlier take about eight hours!" exclaims Dr. Roy.
This is the first such AI-Device-Labs setup in the Histopathology space in this part of the world and impacts the entire spectrum of stakeholders. For patients, it reduces the turnaround time for diagnosis and onset of treatment. It lends better productivity and accuracy to the efforts of cytopathologists. For doctors, it offers insights that inspire more qualitative treatment decisions.
"With the growing burden of cancer, there is a need to quickly and accurately analyze the samples to help clinicians arrive at a diagnosis faster and with a higher degree of objectivity. The work done by the SRL-Microsoft consortium in developing deep learning-based algorithms as an assistive tool in a relatively short span of time, speaks volumes about the capabilities of both the partners. This particular cervical cancer AI API shall be useful in screening liquid-based cytology slide images, unlocking precious dead-time of the pathologists enabling them to report more cases and/or focus more on complicated cases," adds Haldar.
Creating pathways for more AI applications in pathology
In August this year, SRL Diagnostics kicked off an internal preview of the API whereby the AI model will run through rigorous clinical validation protocols over the next three to six months. The exercise will be one of the largest of its kind, using more than half-a-million anonymized digital tile images. Following internal validation, the API will be previewed in external cervical cancer diagnostic workflows, including hospitals and other diagnostic centers.
"In diagnostics, histopathology and cytopathology are very manual-oriented. If we can automate some parts such as slide preparation, and then employ identification of defects with AI, it will not only help cytopathologists focus on diagnosis but can also improve the overall quality of diagnosis along with the turnaround times," says G Radhakrishna Pillai, CIO, SRL Diagnostics.
Going forward, the SRL Diagnostics-Microsoft consortium is hopeful that similar APIs can be developed that will find application in other fields of pathology such as diagnosis of kidney pathologies and in oral, pancreatic and liver cancers. Further, the consortium aims to expand its reach with tie-ups with private players and governments and expand the reach of the model even in remote geographies where the availability of histopathologists is a challenge.
"Our constructs of AI networks and multi-party collaboration with leading healthcare providers aim to unlock AI innovation to help in early risk stratification and move to better healthcare. I am really excited with the partnership that we have with SRL Diagnostics where we have been working together, using the power of AI, to increase the productivity of cytopathologists, leading to better results and accurate outcomes," says Anil Bhansali, Corporate Vice President, Cloud & AI Platform, Microsoft.
( Press Release Image: https://photos.webwire.com/prmedia/5/249872/249872-1.jpg )
Related Links
WebWireID249872

This news content was configured by WebWire editorial staff. Linking is permitted.
News Release Distribution and Press Release Distribution Services Provided by WebWire.