Romania Risks Losing 500,000 Hectares of Forest!
About 500,000 ha of forests are unknown and unprotected, left to the owners' discretion.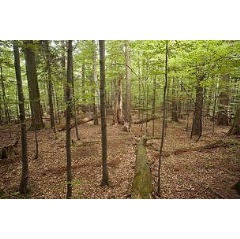 Many of the wooded areas in Romania that we see along the rivers, hills or the top of the mountains while we are commuting or travelling are not officially recognised as forests, and therefore, not treated as such. Even if they look like and fulfil the functions of a forest (according to internationally recognised definitions and criteria), they are not officially registered in Romania, and therefore are not guarded, monitored, cared for, regenerated or, as the case may be, protected.
 
WWF-Romania is lobbying the authorities to support the protection of forests currently outside the national forest fund by requiring them to support and compensate owners through appropriate financial mechanisms such as Payment for Ecosystem Services schemes (PES) so that these forests should not be endangered in the future and are properly managed according to the functions they fulfil.
 
WWF-Romania has identified numerous high conservation value forests (HCVF) outside the national forest register. The National Forest Inventory (IFN) - Cycle II (2013-2018) confirmed the existence of over 500,000 hectares in this situation. Most of these forests are privately owned wooded pastures, wooded meadows, juniper tree stands, forest protection curtains and forest vegetation along rivers, and thus not mandated to be sustainable managed.
 
500,000 hectares of forest are administratively no one's and can legally disappear at any time.
WWF intends to broaden the Government's definition and gain protection for so-called "forest grassland" as well. By implementing a sustainable management system, these lands benefit from a unitary system of forestry, economic and legal technical regulations on management plans, harvesting, composition, protection and guarding. If we do not understand the value of these forests and not implement mechanisms for their conservation, these forests may disappear.
 
The latest IFN report in December 2018 defined 7,000,000 hectares of forest in Romania, plus another approximate 800,000 ha of trees outside the forest. According to the National Institute of Statistics (INS), the national forest fund occupies an area of about 6,500,000 ha. In other words, comparing the data provided by IFN with the INS, of the seven million hectares of forests in Romania, about 500,000 ha of forests are not actually managed . For these, forest laws are not applicable - no management goals are set and the harvesting and capitalization of wood is left to the owners' discretion, regardless of their environmental importance and the environmental services they offer.
 
From a biodiversity point of view, these areas shelter rare, threatened or endangered ecosystems and are animal retreat areas. These forests support the sustainable development of local communities through the environmental services offered: improving water quality, protecting against soil erosion, protecting watercourses, preventing and fighting the effects of floods, protecting farmland and combating desertification, and providing carbon sequestration. They help preserve the cultural identity of local communities and maintain a specific mosaic landscape.
 
Unknown, unprotected
Because they do not benefit from protective measures under the national forest fund regulations, these forests are continuously degraded or even destroyed by burning, intensive grazing, but above all over-logging with respect to the protective role they fulfil. They may even be completely cleared for the extension of agricultural land. Through the Rural Development Programme (RDP), pastures owners receive direct payments for maintaining pasture lands, but areas with forest vegetation are not eligible. Thus, the RDP encourages deforestation but at the same time pays about 10,000 Euro/ha for afforestation. Moreover, although significant efforts have been made to combat illegal logging, these practices are still a reality even in managed forests. For the unmanaged, unguarded areas where the form of ownership is often unclear, it is easy to understand that the risk is incomparably higher.
 
"The firewood crisis of the last four years (caused by the three National Timber Capitalisation Regulations for Public Forests) proves that these forests suffered due to the forestry policy errors. The future doesn't seem to prepare a more favourable fate, in terms of developing the energy industry by using biomass - the pressure on these ecosystems will grow exponentially. It is our choice: we can either look at these forests and see 150 million m3 of timber or see half a million hectares providing essential environmental services at the national level," says Radu Vlad, Coordinator of Regional Projects and Forest Programme, WWF-Romania.
 
Afforestation of such an area would take 500 years and would cost the Romanian state 5 billion Euro
The fact that degradation of these forests is taking place simultaneously while authorities are trying to implement artificial afforestation practices of agricultural land is even more worrying. Although considerable funds have been provided (an average of 10,000 euros/ha), afforestation results have been disappointing.  If one examines the implementation progress of the 2014-2020 Rural Development National Programme (PNDR), not a single State afforestation project has been completed so far. Afforestation is the process of planting trees, or sowing seeds on a barren land to create a forest. Reforestation, on the other hand, is specifically planting native trees into a forest that has decreasing numbers of trees.
 
"Given the current tempo of artificial afforestation, we will need more than 5 billion Euros and over 500 years to grow the national forest fund by half a million hectares. It is much wiser to take care of the extremely valuable forests we already have and allow nature work with us, for us," adds Radu Vlad.
( Press Release Image: https://photos.webwire.com/prmedia/6/249794/249794-1.jpg )
Related Links
WebWireID249794

This news content was configured by WebWire editorial staff. Linking is permitted.
News Release Distribution and Press Release Distribution Services Provided by WebWire.