Vanillin and protein: a winning combo for sports nutrition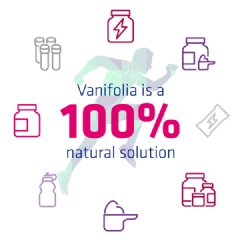 Our strategy is to leverage our century-old knowledge of the molecule of vanillin to create efficient products this market has never seen before. -Tristan Colas-des-Francs, Food Technologist, Aroma Performance, Solvay
Adding vanillin improves the taste of sports nutrition products
Plant-based protein in sports nutrition is healthy but doesn't taste very good. Solvay has developed vanillin-based products to masks these protein off-notes, paving new ways for a molecule traditionally associated with much less sporty foods…
In chocolate, baked goods, beverages, even in beauty and wellness products: vanillin is just about everywhere, and now it's in sports nutrition supplements too. Is it because consumers want everything to taste like vanilla? Actually, the interest of vanillin here resides its capacity to improve our perception of a product's overall aroma; in the case of sports nutrition, its ability to mask the unpleasant off-notes of protein, specifically from vegetable sources. "Just like it does with cocoa in chocolate, vanillin can mask the bitterness and astringency of plant-based proteins in nutrition supplements," explains André Romanzini, Market Analyst for North America at Solvay's Aroma Performance Business Unit.
Better taste, no sugar
Solvay has two ranges of products for this: Govanil® and the recent Vanifolia® (launched in 2017). Both employ vanillin as their core ingredient (synthetic in the case of the former, natural for the latter), combined with other molecules in various formulations, or grades. "Different grades are like different recipes," says Tristan Colas-des-Francs, Solvay Food Technologist, "using the same basic ingredients, but adapted to various applications." In the case of sports nutrition, "vanillin serves to improve the taste of the final product without having to add sugar or artificial sweeteners," he says.
Sports nutrition supplements are complex products, using a wide range of types of protein, which vary according to geography. The great advantage of vanillin is that it works in every case, which is why Solvay worked on developing the Vanifolia® range for this specific use. "The idea is to help manufacturers balance the profile of their products so they can add the flavor they want afterwards," adds André. "It took extensive internal research and empirical work from our flavorists to develop this product, and it's really a perfect solution for this market."
The interesting thing with vanillin is that the molecule is not sweet in itself, but we are so used to associating it with sweetness that it sends the same message to the brain as adding sugar. More specifically, in the case of plant-based protein off-notes, Solvay's research found that vanillin competes with protein molecules in their interactions with the taste receptors on the tongue. "Thanks to that, vanillin minimizes the perception of bitterness in the mouth," says André.
Extensive knowledge of vanillin
This problem with bitterness, along with astringency and an overall plant taste, is common to all the plant-based proteins that are increasingly used in sports nutrition today (derived from soy and peas, but also rice, hemp and sunflower seeds) following consumer demand for less animal-based raw materials – traditionally, whey obtained from milk was the go-to protein in this market. "Plant-based protein in sports supplements became commonplace over the past five years or so," explains André. "The need for masking vegetable protein off-notes didn't exist before that." Soy being allergenic and often genetically modified, at the moment, the most commonly used product in this market is pea protein, which has that strong distinctive bitter taste.
That's why, a few years ago, Solvay decided to enter this market and develop a specific product for its needs. "Using vanillin to mask off-notes is not something sports nutrition manufacturers are used to doing," says Tristan. "But our strategy is to leverage our century-old knowledge of this molecule to create efficient products this market has never seen before."
( Press Release Image: https://photos.webwire.com/prmedia/6/249769/249769-1.gif )
Related Links
WebWireID249769

This news content was configured by WebWire editorial staff. Linking is permitted.
News Release Distribution and Press Release Distribution Services Provided by WebWire.