Schedule of Exhibitions through 2021
WEBWIRE
–
Tuesday, November 5, 2019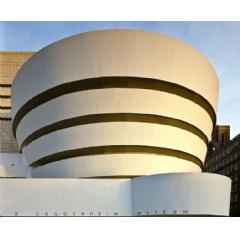 UPCOMING EXHIBITIONS
The Fullness of Color: 1960s Painting
December 18, 2019–August 2020
Tower Gallery 5
The title of this exhibition was inspired by Systemic Painting, the 1966 Guggenheim exhibition where curator Lawrence Alloway pointed to the emergence of an artistic style that "combined economy of form and neatness of surface with fullness of color." The Fullness of Color presents artists whose style embodied Alloway's description. Helen Frankenthaler had pioneered in 1952 the "soak stain" technique, whereby she manipulated thinned acrylic washes into the unprimed cotton fabric of the canvas to produce rich, saturated surfaces. Those who followed over the next decade similarly handled paint as a dye that penetrates the fibers of the canvas rather than as a topical layer brushed over it. Morris Louis and Jules Olitski poured, soaked, or sprayed the paint onto canvases, thus eliminating the gestural stroke that had been central to Abstract Expressionism. Figure and ground became one and the same, united through color. Painters in the 1960s likewise approached relationships between form and color through geometric languages, as shown in works by Kenneth Noland and Paul Feeley. The Fullness of Color is a reflection of the Guggenheim's historical engagement with this period, highlighting the varied and complex course abstraction followed in the twentieth century through examples of works now characterized as Color Field, geometric abstraction, hard-edge, or systemic painting. This presentation is organized by Megan Fontanella, Curator, Modern Art and Provenance, Solomon R. Guggenheim Museum.
Marking Time: Process in Minimal Abstraction
December 18, 2019–July 2020
Tower Gallery 7
During the 1960s and 70s, many artists working with abstraction turned toward minimal approaches. As some of them pared compositional, chromatic, and virtuosic flourishes from their work, a singular emphasis on their physical engagement with materials emerged. The pieces they created—whether characterized by interlocking brush strokes, a pencil moved through wet paint, or a pin repeatedly pushed through paper—call on viewers to imaginatively reenact aspects of the creative process. It is a distinctly empathetic mode of engagement that relies on an awareness of one's own body, as inhabited and inhabiting time, and, perhaps even more important, a consciousness of the embodied experiences of others. Featuring an international array of paintings and works on paper by Agnes Martin, Roman Opałka, Park Seo-bo, and others, this presentation selected from the Guggenheim Museum's collection explores this tendency, while considering its rise in multiple milieus and how artists used it to individualized ends. This exhibition is organized by David Horowitz, Assistant Curator, Solomon R. Guggenheim Museum.
Countryside, The Future
February 20–August 14, 2020
Rotunda
Countryside, The Future, is an exhibition addressing urgent environmental, political, and socioeconomic issues through the lens of architect and urbanist Rem Koolhaas and Samir Bantal Director of AMO, the think tank of the Office for Metropolitan Architecture (OMA). A unique exhibition for the Guggenheim Museum, Countryside, The Future will explore radical changes in the rural, remote, and wild territories collectively identified here as "countryside," or the 98% of the earth's surface not occupied by cities, with a full rotunda installation premised on original research. The project presents investigations by AMO, Koolhaas, with students at the Harvard Graduate School of Design; the Central Academy of Fine Arts, Beijing; Wageningen University, Netherlands; and the University of Nairobi. The exhibition will examine the modern conception of leisure, large scale planning by political forces, climate change, migration, human- and non-human ecosystems, market driven preservation, artificial and organic coexistence and other forms of radical experimentation that are altering the landscapes across the world. Countryside, The Future is organized by Troy Conrad Therrien, Curator of Architecture and Digital Initiatives, Solomon R. Guggenheim Museum, in collaboration with Rem Koolhaas and Samir Bantal, Rita Varjabedian, Anne Schneider, Aleksander Zinovev, Sebastian Bernardy, Yotam Ben Hur, Valentin Bansac, with Ashley Mendelsohn, Assistant Curator, Architecture and Digital Initiatives, at the Guggenheim. Key collaborators include Niklas Maak, Stephan Petermann, Irma Boom, Janna Bystrykh, Clemens Driessen, Lenora Ditzler, Kayoko Ota, Linda Nkatha, Etta Mideva Madete, Keigo Kobayashi, Federico Martelli, Ingo Niermann, James Westcott, Jiang Jun, Alexandra Kharitonova, Sebastien Marot, Fatma al Sahlawi and Vivian Song.
Away from the Easel: Jackson Pollock's Mural
March 28, 2020–February 28, 2021
Thannhauser Gallery 4
This focused exhibition is dedicated to Jackson Pollock's 1943 Mural, the artist's first large-scale painting. Mural has not been on view in New York in over twenty years, and this occasion marks its debut at the Guggenheim since the extensive research and restoration project undertaken by the Getty Conservation Institute and the J. Paul Getty Museum. Visionary collector Peggy Guggenheim commissioned Mural for the first floor entrance hall of her Manhattan townhouse, prior to Pollock's first solo exhibition at her museum-gallery Art of This Century later that same year. Guggenheim's early support of Pollock's work arguably established his career.  The year 1943 likewise represents a pivotal moment in the evolution of Pollock's artistic style; though not yet working on the floor and from all sides, the artist began to challenge traditional notions of painting, combining the technique of easel painting with that of mural production, all while further experimenting with abstraction. Away from the Easel: Jackson Pollock's Mural is organized by Megan Fontanella, Curator, Modern Art and Provenance. Generous funding for Away from the Easel: Jackson Pollock's Mural is provided in part by Mnuchin Gallery.
Knotted, Torn, Scattered: Sculpture after Abstraction Expressionism
March 28, 2020–February 28, 2021
Robert Mapplethorpe Gallery/Tower 4
In the spring of 2020, the Guggenheim will include Jackson Pollock's groundbreaking, large-scale painting Mural (1943) in the exhibition Away from the Easel: Jackson Pollock's Mural. In conjunction with this presentation, Knotted, Torn, Scattered: Sculpture after Abstraction Expressionism will consider the legacy of Pollock's influential painting through work by Guggenheim collection artists from the 1960s and early 1970s, including Lynda Benglis, Robert Morris, Senga Nengudi, Richard Serra, and Tony Smith. The exhibition offers a unique opportunity to view sculptures and installations by a generation of artists who saw in Pollock's visionary practice urgent questions about scale, materials, process, and environment. This exhibition is organized by Lauren Hinkson, Associate Curator, Collections.
Gego: The Emancipated Line
October 9, 2020–March 21, 2021
Rotunda
In fall 2020, the Solomon R. Guggenheim Museum will present the first major New York museum retrospective devoted to the work of Gertrud Goldschmidt, also known as Gego (b. 1912, Hamburg, Germany; d.1994, Caracas, Venezuela). The exhibition within the first five ramps of the rotunda will chart the evolution of the artist's distinctive approach to abstraction through her organic forms, linear structures, and systematic, spatial investigations. This chronological and thematic survey will include approximately 200 works of historical significance from the early 1950s to the early 1990s, including sculpture, drawings, prints, artist books, and textiles. A trained architect and engineer at the Technische Hochschule of Stuttgart, Gego fled Nazi persecution in 1939 and immigrated to Venezuela, where she remained for the rest of her life. This presentation will showcase her development across multiple disciplines as well as ground her practice within the emerging artistic movements of the second half of the twentieth century. The exhibition and its accompanying catalogue will demonstrate Gego's significant formal and conceptual contributions to modern and contemporary art, highlighting her intersections with key transnational art movements including Geometric Abstraction and Kinetic Art in the 1950-60s, and Minimalism and Post-minimalism in the 1960-70s. The Guggenheim Museum has a distinguished history of presenting groundbreaking solo exhibitions of modern and contemporary artists whose work aligns with the founding mission championing abstract art, including Ellsworth Kelly, Agnes Martin and James Turrell. Expanding upon this legacy, the presentation aims to advance the understanding and appreciation of Gego's work within the larger global context of twentieth century modernism. Gego: The Emancipated Line is organized by Pablo León de la Barra, Curator at Large, Latin America, and Geaninne Gutiérrez-Guimarães, Associate Curator, with the support of Kyung An, Assistant Curator, Asian Art, Solomon R. Guggenheim Museum.
Sarah Sze
March 28, 2020–February 28, 2021
Rotunda Ramp 6 and Tower Gallery 7
In fall 2020, the Solomon R. Guggenheim Museum will present a special exhibition by Sarah Sze (b. 1969, Boston) that will immerse visitors in today's generative proliferation of images through painting, sculpture, print, sound, video and photography. Beginning on the sixth ramp of the rotunda, a site-specific installation of works created by the artist will trace the museum's architecture and culminate at the apex of the Frank Lloyd Wright building in Tower 7, with the New York premiere of Timekeeper (2016), from the museum's collection. Monumental, multisensory, and kaleidoscopic, Timekeeper combines everyday objects—a table from the artist's studio, scraps of paper, shards of mirrored glass, potted plants—with whirling video projections of things in motion—a bird in flight, churning waves, a running cheetah. Embedded in this living scaffolding of experience and memory are digital clocks indicating time from around the world, underscoring the multiple simultaneities of human existence. This presentation brings together the diverse elements that embody the artist's meditation on the various ways in which the passage of time is experienced and attests to Sze's unprecedented approach to materials and space. With this exhibition, the museum builds upon its distinguished history of championing the visionary engagements of living artists with Frank Lloyd Wright's unique architecture. This presentation is organized by Nancy Spector, Artistic Director and Jennifer and David Stockman Chief Curator with Kyung An, Assistant Curator, Asian Art.
Hugo Boss Prize
Spring 2021
Tower Gallery 5
Founded in 1996, the Hugo Boss Prize is a biennial award administered by the Solomon R. Guggenheim Museum that honors significant achievement in contemporary art. Selected by a jury of international curators and critics chaired by Nancy Spector, Artistic Director and Jennifer and David Stockman Chief Curator, Solomon R. Guggenheim Museum and Foundation, the finalists for the thirteenth iteration of the prize will be announced in late fall 2019. The prizewinner will be announced fall 2020, and a solo exhibition of the winning artist's work will be presented at the Guggenheim in the spring of 2021 and organized by Katherine Brinson, Daskalopoulos Curator, Contemporary Art. Previous recipients of the prize include Matthew Barney (1996), Douglas Gordon (1998), Marjetica Potrč (2000), Pierre Huyghe (2002), Rirkrit Tiravanija (2004), Tacita Dean (2006), Emily Jacir (2008), Hans-Peter Feldmann (2010), Danh Vo (2012), Paul Chan (2014), Anicka Yi (2016), and Simone Leigh (2018). The Hugo Boss Prize is made possible by HUGO BOSS.
Joan Mitchell
Spring 2021
Rotunda
Throughout her four-decade career, Joan Mitchell (b. 1925, Chicago; d. 1992, Paris) created paintings of staggering beauty and emotional intensity and was fearless in her persistent experimentation. In 1950s New York, she was first recognized as a star among the cohort of younger, downtown artists for her bold gestural canvases. She began to visit France regularly in 1955, and by 1959 she had permanently settled there. Her exposure to the art and attitudes of postwar Europe, along with her transatlantic interpersonal network of writers, poets, and musicians set her on a unique artistic trajectory. Through vigorous brushstrokes and imposing scale, Mitchell's paintings bring together expressive physicality and a deep sensitivity to the natural world, forming a singular body of work that simultaneously expanded the vocabulary of US Abstract Expressionism and French Art Informel. Presented in the rotunda of the Solomon R. Guggenheim Museum and co-organized by the Baltimore Museum of Art and the San Francisco Museum of Modern Art, this retrospective of paintings and drawings from collections across the US and Europe will offer the most comprehensive view of the artist and her oeuvre to date. With  the assistance of the Joan Mitchell Foundation, this exhibition will also feature rarely seen works and archival materials. The Guggenheim presentation of this exhibition is organized by Tracey Bashkoff, Senior Director of Collections and Senior Curator, and David Horowitz, Assistant Curator.
Gillian Wearing: Wearing Masks
Summer 2021
Tower Galleries
The photographs, videos, and public sculptures of Gillian Wearing (b. 1963, Birmingham, UK) probe the tensions between self and society in an increasingly media-saturated world. Candid and psychologically intense, Wearing's work extends the traditions of photographic portraiture initiated by August Sander, Weegee, and Diane Arbus, yet it also foreshadows the cultural transformations wrought by reality TV and social media. For her landmark piece, Signs that say what you want them to say and not Signs that say what someone else wants you to say (1992-93)Wearing photographed strangers with placards of their own making. In so doing, she changed the terms of documentary street photography and performance art by giving voice to the subjects of her art. Confess all on video. Don't worry, you will be in disguise. Intrigued? Call Gillian (1994) continued this theme of confession and self-exposure, exemplifying what would become a keystone of Wearing's practice: asking a diverse group of volunteers to represent their authentic selves from behind protective masks, a  process that highlights distinctions between public and private; fictional and documentary realism; and spontaneous versus rehearsed behavior. Gillian Wearing: Wearing Masks is the first retrospective of Wearing's work in North America. Featuring over 150 works across all four of the museum's Tower Level galleries, it traces the artist's development from her earliest Polaroids and videos to her most recent photographic self-portraits that destabilize fixed notions of selfhood and explore the performative nature of identity. The exhibition is organized by Jennifer Blessing, Senior Curator, and Nat Trotman, Curator, Performance and Media, with Susan Thompson, Associate Curator.
Process, Performance, and Politics in the 1970s (working title)
Fall 2021
Rotunda
Drawn from the Guggenheim's extensive holdings of Minimal, Post-Minimal, and Conceptual art, Process, Performance, and Politics in the 1970s is a full rotunda exhibition that newly examines the critical turn in artistic practice between 1968 and 1980. During these socially and politically turbulent years, artists around the world created work that sought to subvert historical paradigms of art production and display, undermine traditional notions of taste and skill, and challenge the institutional norms of museums, universities, and galleries. Bringing together over one hundred sculptures, photographs, videos, and installations, the exhibition will offer fresh insights into the aesthetic and social transformations of the era, using the Guggenheim's global collection to broaden the canon, highlight work by women artists as well as artists of color, and include artistic voices from outside a Euro-American context. Organized on the fiftieth anniversary of the 1971 Guggenheim International Exhibition, Process, Performance, and Politics in the 1970s will reflect upon the museum's programming during the 1970s. This will include a reassessment of the Guggenheim's vital history with performance art and its early collecting practices, which will provide context for key works from the museum's renowned Panza Collection. The exhibition is organized by Nat Trotman, Curator of Performance and Media, with X Zhu-Nowell, Assistant Curator.
ON VIEW
Implicit Tensions: Mapplethorpe Now
Through January 5, 2020
Robert Mapplethorpe Gallery/Tower 4
Robert Mapplethorpe (1946–1989), one of the most critically acclaimed yet controversial American artists of the late twentieth century, is represented in great depth in the Guggenheim's collection. In 1993 the museum received a generous gift of approximately two hundred photographs and unique objects from the Robert Mapplethorpe Foundation, creating one of the most comprehensive public repositories in the world of this important artist's work. In 2019, thirty years after the artist's death, the Guggenheim celebrates the sustained legacy of his work with a yearlong exhibition conceived in two sequential parts in the museum's Mapplethorpe Gallery on Tower Level 4. The second part on view through January 2020 address the artist's resounding impact on the field of contemporary portraiture and self-representation. It features contemporary artists from the Guggenheim's collection who either actively engage with and reference Mapplethorpe's work or whose approach to picturing the body and exploring identity through portraiture finds resonances in Mapplethorpe's oeuvre. These artists include Rotimi Fani-Kayode, Lyle Ashton Harris, Glenn Ligon, Catherine Opie, and Paul Mpagi Sepuya. This yearlong exhibition celebrates the full range of Mapplethorpe's extraordinary artistic contributions as well as the impact of the Mapplethorpe Foundation's gift on the museum's photography collection and collecting practices. Implicit Tensions: Mapplethorpe Now is organized by Lauren Hinkson, Associate Curator, Collections and Susan Thompson, Associate Curator with Levi Prombaum, Curatorial Assistant, Collections. Generous funding for Implicit Tensions: Mapplethorpe Now is provided by Stein Erik Hagen–The Canica Art Collection, the William Talbott Hillman Foundation, and LLWW Foundation. The Leadership Committee is gratefully acknowledged for its support, with special thanks to Peter Marino; Baldwin Gallery, Aspen; Angelo K H Chan and Frederick Wertheim; Joseph M. Cohen Family Collection; Caryl Englander; Galerie Thaddaeus Ropac, Paris; William Georgis; Gladstone Gallery; Xavier Hufkens; Tian-Tzy Li and Julio Herrera; Alison Jacques Gallery; MAI 36 Galerie, Zurich; Lisa and John Miller; Ted Pappendick and Erica Gervais; Lauren and Scott Pinkus; Ann and Mel Schaffer; Patty and Howard Silverstein; The Evelyn Toll Family Foundation; and Cristina von Bargen and Jonathan McHardy. Additional funding is provided by the Solomon R. Guggenheim Museum's Photography Council.
Artistic License: Six Takes on the Guggenheim Collection
Through January 12, 2020
Rotunda
The first artist-curated exhibition at the Guggenheim Museum, Artistic License: Six Takes on the Guggenheim Collection celebrates the institution's extensive twentieth-century holdings through the intervention of six contemporary artists, all of whom have contributed to shaping the museum's history with their own pivotal solo shows. Curated by Paul Chan (b. 1973, Hong Kong), Cai Guo-Qiang
 (b. 1957, Quanzhou, Fujian Province, China), Jenny Holzer (b. 1950, Gallipolis, Ohio), Julie Mehretu (b. 1970, Addis Ababa, Ethiopia), Richard Prince (b. 1949, Canal Zone, Panama), and Carrie Mae Weems (b. 1953, Portland, Oregon), this presentation brings together collection highlights and rarely seen works from the turn of the century to 1980 (along with some surprises orchestrated by the artist-curators). Creating unique and critical dialogues with the Guggenheim's history and the history of modern and contemporary art, these artists will each interpret the collection through their own individual perspectives. The exhibition includes over one hundred paintings, sculptures, and works on paper that engage with the cultural discourse of their time—from the utopian aspirations of early modernism to the formal explorations of midcentury abstraction to the sociopolitical debates of the 1960s and '70s, with each curated section providing a distinctive opportunity for new interpretations of the collection. The exhibition is organized by Nancy Spector, Artistic Director and Jennifer and David Stockman Chief Curator, with Ylinka Barotto, former Assistant Curator; Tracey Bashkoff, Director, Collections, and Senior Curator; and Joan Young, Director, Curatorial Affairs.  Artistic License: Six Takes on the Guggenheim Collection is made possible by Lavazza. Major support is provided by Bank of America. Support is also provided by The Kate Cassidy Foundation. The Leadership Committee for Artistic License: Six Takes on the Guggenheim Collection is gratefully acknowledged for its support, with special thanks to Stefan Edlis and Gael Neeson; Larry Gagosian; Fundación Almine y Bernard Ruiz-Picasso para el Arte; Marian Goodman Gallery; Nahmad Contemporary; Peter Bentley Brandt; Oded Halahmy Foundation for the Arts, Inc.; Hauser & Wirth; Allison and Neil Rubler; and those who wish to remain anonymous. Additional funding is provided by the Solomon R. Guggenheim Museum's Collections Council.
Guggenheim Collection: Brancusi
Through April 19, 2020
Diker Family Gallery, Tower 2
In gallery space devoted to the permanent collection, the Guggenheim is showcasing its rich holdings of the work of Constantin Brancusi (1876–1957). In the early decades of the twentieth century, Brancusi produced an innovative body of work that altered the trajectory of modern sculpture. During this period, Brancusi lived and worked in Paris, then a thriving artistic center where many modernist tenets were being developed and debated. He became an integral part of these conversations both through his relationships with other artists, such as Marcel Duchamp, Fernand Léger, Amedeo Modigliani, and Henri Rousseau, and through his own pioneering work. His aspiration to express the essence of his subjects through simplified forms and his engagement with non–Western European artistic traditions led to new stylistic approaches. In addition, his mode of presentation, which equally emphasized sculpture and base and in which works were shown in direct relation to one another, instead of as independent entities, introduced new ways of thinking about the nature of the art object. The Solomon R. Guggenheim Museum began collecting Brancusi's work in-depth in the mid-1950s under the leadership of its second director, James Johnson Sweeney. When Sweeney began his tenure at the museum, the collection was focused on nonobjective painting. Sweeney significantly expanded the scope of the institution's holdings, bringing in other styles and mediums, particularly sculpture. The Guggenheim's commitment to Brancusi during these years extended beyond its collecting priorities, and in 1955 the museum held the first major exhibition of the artist's work. Supported in part by the Romanian Cultural Institute in New York.
The Thannhauser Collection
Ongoing
Thannhauser Gallery 3
Bequeathed to the museum by art dealer and collector Justin K. Thannhauser and his widow, Hilde Thannhauser, the Thannhauser Collection includes a selection of late nineteenth- and early twentieth-century paintings, works on paper, and sculpture that represents the earliest works in the Guggenheim collection. Pioneering artists such as Edgar Degas, Paul Gauguin, Édouard Manet, Pablo Picasso, and Camille Pissarro laid the groundwork for the emergence of abstract art—the focus of the collection of this museum's founder, Solomon R. Guggenheim. Featuring selections from the Thannhauser Collection alongside paintings from the museum's broader holdings, this presentation surveys French modernism at the Guggenheim. Among the works currently on view are Picasso's Woman Ironing (La repasseuse, 1904); Around the Circle (1940) by Kandinsky; and several paintings and works on paper by Georges Seurat. Concurrent with the ongoing New York exhibition, the Palazzo Reale in Milan presents Guggenheim. The Thannhauser Collection, from Van Gogh to Picasso from October 17 to March 1, 2020, marking the first major presentation of a significant portion of the Thannhauser Collection outside of the museum's galleries. Both exhibitions are organized by Megan Fontanella, Curator, Modern Art and Provenance.
GUGGENHEIM MUSEUM BILBAO
For the full schedule of exhibitions through 2018 at Guggenheim Museum Bilbao, please visit https://www.guggenheim-bilbao.eus/en/exhibitions/.
PEGGY GUGGENHEIM COLLECTION
For the full schedule of exhibitions through 2018 at the Peggy Guggenheim Collection, please visit http://www.guggenheim-venice.it/inglese/exhibitions/mostre.php?tipo=3.
VISITOR INFORMATION
Admission: Adults $25, students/seniors (65+) $18, members and children under 12 free. Open daily from 10 am to 5:30 pm; Tuesdays and Saturdays until 8 pm. Admission is pay-what-you-wish on Saturdays from 5 to 8 pm. For general information, call 212 423 3500 or visit guggenheim.org.
( Press Release Image: https://photos.webwire.com/prmedia/6/249544/249544-1.jpg )
Related Links
WebWireID249544

This news content was configured by WebWire editorial staff. Linking is permitted.
News Release Distribution and Press Release Distribution Services Provided by WebWire.