Allianz and Embry-Riddle Aeronautical University report: Flying has never been safer
Johannesburg/London/Munich/New York/Paris/Sao Paolo/Singapore –
WEBWIRE
–
Tuesday, November 5, 2019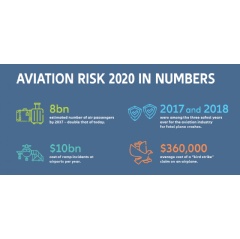 Despite record numbers of passengers, 2017 and 2018 are among the three safest years of the aviation industry for fatal plane crashes
Safety driven by design, technology and training improvements
Strap yourself in: Passengers have to prepare for more incidents of turbulence due to climate change – particularly on flights between Europe and North America
Fewer fatal accidents, but growing number of costly claims for the aviation industry and insurers from collisions, groundings and repairs to more sophisticated aircraft
Despite record numbers of over 4 billion passengers globally, statistics show that flying has never been safer. The global airline industry has experienced some of its safest years ever in terms of fatal accidents in recent times, according to the new "Aviation Risk 2020: Safety And The State Of The Nation" report published by the corporate and aviation insurance specialist Allianz Global Corporate & Specialty (AGCS) in association with Embry-Riddle Aeronautical University, the largest, fully accredited university specializing in aviation and aerospace.
Three of the past four years have been the safest ever. For example, in 2017, for the first time in at least 60 years of aviation there were no fatalities on a passenger jet flight, making it the safest year ever. Even 2018, which saw a total of 15 fatal airliner accidents with 556 victims, ranks as the third safest year ever, according to statistics from the Aviation Safety Network 1, with 2015 ranked second. Overall, the report notes that the lifetime chances of a person dying in a commercial aviation accident are extremely unlikely compared with other forms of transport such as by car or bicycle, as well as other more unexpected scenarios such as accidental gun discharge or dog attack.
1 Aviation Safety Network releases 2018 airliner accident statistics, January 2019
A broad range of safety improvements
"The continuous improvement in aviation safety can be attributed to several factors such as design improvements, new technologies, more effective pilot training as well as significant improvements in manufacturing processes, aircraft operations and regulation," explains Tom Fadden, Global Head of Aviation, AGCS.
Aerodynamic and airframe improvements, fly-by-wire aircraft and more effective safety inspections have had a dramatic impact on accident rates over the past decades. At the same time engine manufacturers have almost eliminated the chance of engine failure. Radio and avionics are extremely precise today and improved air traffic control technology and better collision systems have also had a positive impact.
"Pilots now have much more live information at their fingertips while current navigation systems have the capability to determine an aircraft's position to the thousandths of a mile," says E. David Williams, Assistant Professor of Aerospace and Occupational Safety at Embry-Riddle Aeronautical University. "Improvements in science have also allowed the aviation industry to better understand how human factors can affect safety. Pilot fatigue, training, crew resource management and other factors have become increasingly important issues."
More turbulence – and claims – on the way
Passengers can feel safer than ever on board an airplane, but will have to be prepared for more incidences of turbulence in future, according to the report. In July 2019, almost 40 people were injured on an Air Canada flight from Vancouver to Sidney that was hit by severe turbulence and had to make an emergency landing – one of many incidents that occur on flights around the world every day. Within the coming decades turbulence is expected to increase due to climate change and the warming planet – in particular on flights between Europe and North America.
Although the aviation industry's safety record has improved significantly in recent decades particularly with regard to the number of fatal accidents, it continues to see a high volume and growing magnitude of claims. AGCS has analyzed more than 50,000 aviation insurance industry claims from 2013 to 2018 worth more than 14.8 billion euros ($16.3 billion). Collision/crash incidents account for over half the value of all claims – and these include not only tragic crashes but also damage from foreign objects or ground collision incidents at crowded airports. There are many other causes of loss, such as slips and falls of passengers, machinery breakdown and engine failure, fleet groundings and mis-fueling accidents, all of which are resulting in increasingly expensive losses for aviation manufacturers, airlines and their insurers alike.
Costly repairs – rental engine was more than the entire aircraft
The increasing sophistication of new generation aircraft – often built using light composite materials such as carbon fiber layers to consume less fuel and fitted with sophisticated technology –is driving up the cost of aircraft repairs and groundings. "We recently handled a claim where a rental engine was required while an aircraft's engine was repaired. The value of the rental engine was more than the entire aircraft, including its original engine," says David Watkins, Regional Head of General Aviation, North America at AGCS.
About Allianz Global Corporate & Specialty
Allianz Global Corporate & Specialty (AGCS) is a leading global corporate insurance carrier and a key business unit of Allianz Group. We provide risk consultancy, Property-Casualty insurance solutions and alternative risk transfer for a wide spectrum of commercial, corporate and specialty risks across 12 dedicated lines of business.
Our customers are as diverse as business can be, ranging from Fortune Global 500 companies to small businesses, and private individuals. Among them are not only the world's largest consumer brands, tech companies and the global aviation and shipping industry, but also wineries, satellite operators or Hollywood film productions. They all look to AGCS for smart answers to their largest and most complex risks in a dynamic, multinational business environment and trust us to deliver an outstanding claims experience.
Worldwide, AGCS operates with its own teams in 34 countries and through the Allianz Group network and partners in over 200 countries and territories, employing over 4,400 people. As one of the largest Property-Casualty units of Allianz Group, we are backed by strong and stable financial ratings. In 2018, AGCS generated a total of 8.2 billion euros gross premium globally.
About Embry-Riddle Aeronautical University
Embry-Riddle Aeronautical University teaches the science, practice, and business of the world of aviation and aerospace. Since its foundation in 1925, 22 years after the Wright brothers' first flight, the university and its graduates have built an enviable record of achievement in every aspect of aviation and aerospace. The curriculum at Embry-Riddle covers the operation, engineering, research, manufacturing, marketing, and management of modern aircraft and the systems that support them. The university engages in extensive research and consulting that address the unique needs of aviation, aerospace, and related industries.
For more information please visit: http://www.erau.edu
About Allianz
The Allianz Group is one of the world's leading insurers and asset managers with more than 92 million retail and corporate customers. Allianz customers benefit from a broad range of personal and corporate insurance services, ranging from property, life and health insurance to assistance services to credit insurance and global business insurance. Allianz is one of the world's largest investors, managing around 673 billion euros on behalf of its insurance customers. Furthermore our asset managers PIMCO and Allianz Global Investors manage more than 1.4 trillion euros of third-party assets. Thanks to our systematic integration of ecological and social criteria in our business processes and investment decisions, we hold the leading position for insurers in the Dow Jones Sustainability Index. In 2018, over 142,000 employees in more than 70 countries achieved total revenues of 131 billion euros and an operating profit of 11.5 billion euros for the group.
These assessments are, as always, subject to the disclaimer provided below.
( Press Release Image: https://photos.webwire.com/prmedia/5/249529/249529-1.png )
Related Links
WebWireID249529

This news content was configured by WebWire editorial staff. Linking is permitted.
News Release Distribution and Press Release Distribution Services Provided by WebWire.