Healthcare innovation in the cloud
Forrester Research cites Philips as a strong performer in enterprise health clouds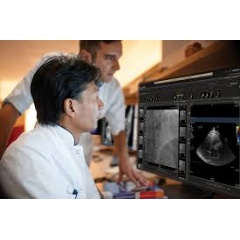 One of the cloud's defining characteristics is its elasticity – its ability to dynamically expand storage and computing power to meet the instantaneous requirements of an application. Another is its ability to support ecosystems of connected devices and services that collect, aggregate, securely store and analyze data using advanced technologies such as AI and machine learning. The fast-changing time-critical scenarios encountered in healthcare and the pressing need to deliver better healthcare to more people at lower cost, make the cloud one of the most significant developments in healthcare for a decade.
'There are three good reasons why healthcare and life science researchers are migrating their workload to the cloud in ever-increasing numbers,' said dale.wiggins@philips.com, General Manager Philips HealthSuite digital platform "First of all, we need to break down silos to make healthcare a connected patient journey. Second, we need to enable personalized care and deliver it to larger populations, and finally there is a huge opportunity to maximizing the potential of artificial intelligence (AI) and data for evidence-based medical decision-making and lifestyle choices.'
24/7 connected care
Philips' solution for developing and supporting these ecosystems is its HealthSuite digital platform (HSDP) – an open, cloud-based platform of services, capabilities and tools that allows Philips and its partners to create the next generation of connected healthcare ecosystems and innovations. The HSDP is at the heart of population health management and telehealth solutions such as Philips' eCareCompanion and eCareCoordinator. It's helping home monitoring service provider Chipmunk Health to roll out new GP-to-patient home monitoring solutions that will offer 24/7 connected care to millions of people. As an open platform layered on top of Amazon Web Services, it is already powering third-party ecosystem services such as Alcon's personalized eye-care and Ypsomed's medication adherence monitoring solutions.
Amassing and analyzing big-data in clinical trails
Philips' HealthSuite digital platform is equally at home in research scenarios, helping to collect, aggregate and analyze clinical data from IoT devices in clinical trials. Philips' partnership with Internet-of-Things (IoT) service provider Integron provides the logistics and connectivity support needed to deploy IoT-based solutions at scale. And through collaboration with healthcare start-ups all over the world, Philips is using its platform to create a marketplace in which healthcare providers and research groups can purchase cloud-based services from innovative AI and data science start-ups on an XaaS (Anything as a Service) basis.
Ensuring privacy and security
Philips' HealthSuite digital platform received the top score in the data interoperability criterion, and the highest score possible in the security, AI and machine learning and consumer engagement criteria in The Forrester Wave™: Enterprise Health Clouds, Q3 2019 – The Nine Providers That Matter Most And How They Stack Up' report. Philips believes that reducing the financial and credibility risks that result from privacy and security breaches is one of the platform's key strengths. Unlike many cloud infrastructure vendors, which only guarantee security compliance for their core infrastructure, Philips takes responsibility for protecting the integrity, compliance and service level of its platform and operations services in line with privacy and security regulations such as ISO 27001/18, SOC2 and HITRUST.
Creating the digital you
In addition to supporting ecosystems of connected devices and cloud-based services, Philips' HealthSuite digital platform is also capable of supporting another type of ecosystem – one that is uniquely personal to each of us. By aggregating data from multiple sources, such as our medical records, personal histories, lifestyle choices and wearable devices, and combining it with biomedical knowledge and AI based insights, it has ability to create a 'digital twin' for each of us, opening up new possibilities for highly personalized preventative and predictive care. Together with world leaders in next-generation genome sequencing such as N-of-Oneand Illumina, Philips is already leveraging cloud-based predictive analytics, artificial intelligence and machine learning to offer clinical decision support for precision personalized cancer treatment.
Bridging consumer and professional healthcare
What separates Philips' HealthSuite digital platform from other health cloud platforms is its 'pure-play' approach – a concerted focus on delivering better healthcare to more people at lower cost on the health system side, and on empowering people to take better care of their health on the consumer side. Uniquely, it bridges these two domains to build up a holistic picture of individual health, maintaining the same level of privacy and security on the consumer side that people have come to expect for their medical records.  
( Press Release Image: https://photos.webwire.com/prmedia/6/249325/249325-1.jpg )
Related Links
WebWireID249325

This news content was configured by WebWire editorial staff. Linking is permitted.
News Release Distribution and Press Release Distribution Services Provided by WebWire.