The World in 2040: The Future of Living
Home smart home
Munich –
WEBWIRE
–
Tuesday, October 29, 2019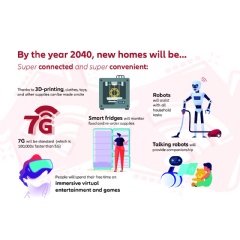 A house that maintains itself? It's not a pipe dream. This might turn into a reality in 20 years. Tomorrow's home is a 3D-printed, power-generating unit with robo housekeepers, virtual assistants and hi-tech security, predicts noted futurologist Ray Hammond...
You survived a hectic workday. All you crave now is a nice meal and your favorite TV show at home.
But your 'work' day is not quite over yet. There's grocery shopping to be done, a dishwasher to be emptied, dinner to be cooked. The very thought is tiring.
For many of us, this is a daily grind.
Now imagine this: you get home from work. A cup of tea appears as soon as you 'ask' for it. Dinner too – comfortably warm, just as you like it. The traces of a frenzied morning have disappeared from the house. In the kitchen, the dishes have been dried and stacked and the fridge supplies replenished; in the garden, the plants have been watered and trimmed; in the bedroom, the bed is made and the clothes washed, ironed and stored in the cupboard.
Sounds like something straight out of a sci-fi movie? It's not.
Welcome to the home of the future, which might be just a couple of decades away. Robots will be our housekeepers and software will be friend, philosopher and guard, predicts noted futurologist Ray Hammond.
In a report, Allianz Partners, in collaboration with Ray Hammond, explores domestic life in 2040...
Smart shelters
Too expensive to build a home? Get a printed one instead. This is not a joke, it's a not-so-distant possibility.
Advances in 3D-printing technology might make it possible to have home parts 'printed' on site in the future, predicts Ray. Robotic construction workers will then assemble these homes, slashing both costs and time involved in construction. The result could be a 60 percent reduction in the price of homes.
Forget about waiting months and years to move in. Two weeks might be all the wait needed for a home to be occupation-ready.
Even if 3D-printers don't quite take over the construction industry by 2040, robot workers definitely will, believes Ray. Robotic bricklayers, plasterers, laborers and diggers are already being tested and the results are promising.
The next-gen home will be smart enough to 'sense' your needs, thanks to the sensors and network connections that will be built into walls and floors.
According to Ray, broadband internet and cellular smartphone network technology will merge into a superfast wireless network. Hello, 7G.
Expected to be the world standard for wireless communication technology by 2040, 7G will be at least 100,000 times faster than the upcoming 5G technology. It will enable instant creation of multi-sensory, virtual reality environments, which will feel as real as the physical world.
Ray believes that newly-built homes equipped with Artificial Intelligence (AI), robotic and sensor technologies will be preferred by millennials and the digital-native generations after them. This will cool the prices of legacy homes, which will have to be retrofitted with smart technologies, especially those related to energy.
The reality of real estate is about to change going forward. 
Digital fortress
Twenty years later, misplacing your home keys will be a thing of the past. At the heart of the access system will be facial pattern recognition (FPR) software, which will be able to recognize not just humans but also pets.
Infrared and other biometric capabilities will be added on for nighttime access and in cases where FPR doesn't work, for example, when an inhabitant has face bandages.
Burglary of unoccupied homes could become history too. A homeowner will be able to monitor the house remotely, even room-to-room in fine details. Plus, motion sensors will flag any unauthorized entry.
There could be a threat of burglary from cybercriminals but it will require sophisticated hacking skills. Also, such hackers are less likely to target individual homes, instead focusing on data held in smart home network hubs. Quantum encryption might be used to secure such hubs.
That said, constant monitoring will remain essential to secure the digital fortress we will call home in the future.
As for other risks such as fire hazard, maintenance sensors will keep an eye on failing taps, pumps, bulbs, electrical circuits, appliances and robotic components for potential malfunctions and directly alert the emergency services if something does go haywire. 
Bundle of energy
Forget about electricity bills. In the future, your home will generate its own power, maybe even contribute to the main grid.
Ray expects Home 2040 to utilize 75 percent less energy and just a third of the water used in a typical home today. Bath and shower water will be recycled and used in places where fresh water is not needed. Given that 80 percent of the water used in homes is not for drinking, imagine the water conservation.
Depending on geographical location, future homes will use sunshine, wind or geo-thermal sources to generate power. The concept of 'passive house', developed in Germany in the 2000s, is already being tested in the United States.
Honda Smart Home has an energy management system that monitors and manages its power production and consumption. This home produces more energy than it uses annually; it's a 'zero net' home.
Don't worry about aesthetics.
In the future, bulky solar panels will be replaced with clear transparent glass that contain photovoltaic cells but look like conventional windows. Giving these homes energy independence would be domestic storage batteries. In circulation since 2016, these batteries are expected to get cheaper and more durable by 2040. 
Talk to me
Ray's future home will 'listen' to your requests.
Equipped with voice recognition technology, Home 2040 will follow your verbal commands - "Fill the bathtub", "Close the curtains", "Cook dinner".
Objects will talk back too. You won't have to be the evil queen to get the mirror to tell you how you look today. Checking your sleep quality, your vital signs and your environment, sensors will be able to flag a health concern even before it occurs.
Robotic butlers will take care of your needs, doing everything from washing, cooking, cleaning, sorting the trash and composting it to gardening and even ordering groceries and supplies. Smart ovens and cookware will follow pre-programmed recipes and shut off when the meal is ready. 
Shopping and entertainment
If homes can be 3D-printed, why not merchandise too? According to Ray, 3D printers will be able to create clothes and accessories from downloaded designs by 2040, making shopping an effortless experience.
Entertainment will turn more interactive. 7G will allow a combination of virtual reality, augmented reality and holographic technologies to create realistic and immersive gaming, travel, educational, sporting and entertainment experiences. Your entertainment experience might include all senses – sight, touch, smell, hearing, and even taste - depending on the script.
In addition, you might be able to chat up your favorite celebrity, alive or dead. AI could create holograms of personalities, making it possible to get answers to unstructured questions. Imagine asking a young Winston Churchill what being a war correspondent was like and an older one about the Second World War. Using published articles and books, AI will formulate suitable replies. 
Are all these really possible? What factors will determine how fast we get to this digital corridor? Click here for the full report to find out... 
About Allianz
The Allianz Group is one of the world's leading insurers and asset managers with more than 92 million retail and corporate customers. Allianz customers benefit from a broad range of personal and corporate insurance services, ranging from property, life and health insurance to assistance services to credit insurance and global business insurance. Allianz is one of the world's largest investors, managing around 673 billion euros on behalf of its insurance customers. Furthermore our asset managers PIMCO and Allianz Global Investors manage more than 1.4 trillion euros of third-party assets. Thanks to our systematic integration of ecological and social criteria in our business processes and investment decisions, we hold the leading position for insurers in the Dow Jones Sustainability Index. In 2018, over 142,000 employees in more than 70 countries achieved total revenues of 131 billion euros and an operating profit of 11.5 billion euros for the group.
( Press Release Image: https://photos.webwire.com/prmedia/6/249182/249182-1.jpg )
Related Links
WebWireID249182

This news content was configured by WebWire editorial staff. Linking is permitted.
News Release Distribution and Press Release Distribution Services Provided by WebWire.