Challenger 350 Aircraft Sets Unprecedented 10 City-Pair Speed Records in 20.5 Hours on U.S.-Wide Circuit, Demonstrates Unmatched Performance and Exceptional Reliability
Montreal –
WEBWIRE
–
Monday, October 21, 2019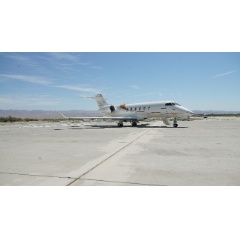 The Challenger 350 aircraft establishes speed records between 10 of the top business aviation destinations across America
The best-selling business jet of 2018, the 

Challenger 350

 aircraft establishes speed records between 10 of the top business aviation destinations across America
The aircraft achieved this impressive feat by flying consecutive legs between Las Vegas, Denver, Chicago, Teterboro, Washington, White Plains (New York), West Palm Beach, Houston, Dallas, and Los Angeles before returning to its departure point
In a demonstration of its leading reliability, segment-defining performance and signature smooth ride, the 

Challenger 350

 jet completed the consecutive city-pair record-setting missions in 20.5 hours
The fastest business jet in history to reach 300 deliveries, the 

Challenger 350

 aircraft boasts the largest cabin and lowest operating costs in its class
Bombardier proudly announced today that the best-selling and industry-leading Challenger 350 aircraft demonstrated its undeniable performance capabilities and superior reliability by setting speed records for 10 key American city pairings in 20.5 hours. This impressive feat was completed as the aircraft flew a cross country circuit between 10 of the top U.S. business aviation destinations, setting a city-pair speed record with each mission.
The Challenger 350 jet departed from Las Vegas at 07:56 AM local time and embarked on a 10-stop, U.S.-wide tour. As part of this mission, the aircraft flew at an average cruising speed of M 0.82 on most of each leg, with stops in Denver, Chicago, Teterboro, Washington, White Plains (New York), West Palm Beach, Houston, Dallas and Los Angeles, before returning to Las Vegas. The aircraft completed its extensive circuit and returned to its departure point at 04:20 AM local time on the following day, after flying over 5,600NM. This record-setting achievement is a testament to the platform's leading dispatch reliability, a critical productivity factor for corporate flight departments and large fleet operators.
"By connecting 10 of the top U.S. business aviation destinations in 20.5 hours, the Challenger 350 aircraft demonstrated once again its unmatched performance, exceptional reliability and unrivalled value," said David Coleal, President, Bombardier Aviation. "As the most-delivered business jet platform of the last decade, the Challenger 350 jet continues to outperform the competition on all fronts and to provide passengers with the ultimate flight experience."
"The Challenger 350 aircraft handled beautifully throughout our 10 flights, while showcasing its exceptional performance and signature smooth ride on each of our missions," said Dennis Simmons, Senior Captain, Flight Operations. "While this unprecedented record run is an impressive accomplishment, completing a 10-mission tour of the U.S. in less than a day is well within the capabilities of this outstanding aircraft. From the cockpit, the Challenger 350 aircraft lightens the pilots' workload and is a joy to fly, thanks to its advanced equipment and the industry's most extensive set of baseline features."
With the largest cabin, best equipped cockpit and lowest operating costs in its class, the Challenger 350 jet offers the luxury of having it all. Boasting an elegant design, high-end craftsmanship and improved ergonomics in the cabin and in the cockpit, the aircraft provides passengers with paramount comfort and peace of mind, knowing every flight will deliver a smooth ride from takeoff to touchdown.
Committed to providing nothing short of the best to its customers all over the world, Bombardier recently announced a series of enhancements to the Challenger 350 aircraft, further underscoring its leadership position in the super mid-size segment. New enhancements to the aircraft include compact Head-up Display (HUD) and Enhanced Vision System (EVS), class-leading cabin sound-proofing technology, and refined cockpit aesthetics. A performance improvement package also allows the aircraft to fly up to 1,500 NM farther out of short runways, complementing its steep approach certifications awarded by international regulatory bodies including EASA, FAA and TC. With this suite of enhancements, the best keeps getting better as the Challenger 350 aircraft continues to take centre stage in the super mid-size segment and to be the preferred choice of experienced fleet departments as well as Fortune 500 corporations.
About Bombardier
With over 68,000 employees, Bombardier is a global leader in the transportation industry, creating innovative and game-changing planes and trains. Our products and services provide world-class transportation experiences that set new standards in passenger comfort, energy efficiency, reliability and safety.
Headquartered in Montreal, Canada, Bombardier has production and engineering sites in 28 countries as well as a broad portfolio of products and services for the business aviation, commercial aviation and rail transportation markets. Bombardier shares are traded on the Toronto Stock Exchange (BBD). In the fiscal year ended December 31, 2018, Bombardier posted revenues of $16.2 billion US. The company is recognized on the 2019 Global 100 Most Sustainable Corporations in the World Index. News and information are available at bombardier.com 
( Press Release Image: https://photos.webwire.com/prmedia/6/248866/248866-1.png )
Related Links
WebWireID248866

This news content was configured by WebWire editorial staff. Linking is permitted.
News Release Distribution and Press Release Distribution Services Provided by WebWire.