On a global platform and customised for Brazil: Launch of the new Mercedes-Benz Actros heavy-duty truck at the Fenatran
Stuttgart / São Paulo –
WEBWIRE
–
Tuesday, October 15, 2019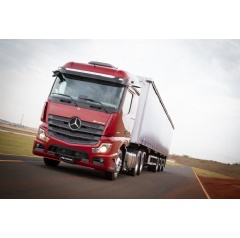 Efficient, safe, connected: the new Actros manufactured in Brazil uses world-wide technologies and platforms and provides new, market-specific solutions for customers
Investments in the Brazilian commercial vehicle business: 600 million euros to 2022; one emphasis will be on modernising the product range
Industry 4.0: Daimler Trucks is revolutionising truck production in Brazil
Stefan Buchner: "Our new Actros from Brazil comes with global Mercedes-Benz DNA and was developed especially for customers in Latin America. The timing is perfect: the truck market in Brazil is recovering. We have always believed in this country and continued to invest there throughout the years. And we will continue to do so in the future as well."
Launch at the Fenatran, the largest commercial vehicle and transportation fair in Latin America: On Sunday, Mercedes-Benz do Brasil presented the new Actros manufactured in Brazil to the public. The heavy-duty truck uses global technologies and platforms such as the MirrorCam, which replaces the main and wide-angle mirrors and ensures a vast improvement in safety, vehicle handling and aerodynamics. Also, the team in Brazil listened very carefully to their customers and developed market-specific solutions that were then integrated into the Actros.
"Our new Actros from Brazil comes with global Mercedes-Benz DNA and was developed especially for customers in Latin America. When it is launched on the market next year, the Actros will raise the segment of heavy-duty trucks to a new level and set new standards of efficiency, safety and connectivity," says Stefan Buchner, Head of Mercedes-Benz Trucks. "The timing is perfect: the truck market in Brazil is recovering and we anticipate a significant increase in our truck sales this year. We have always believed in Brazil and continued to invest there throughout the years. And we will continue to do so in the future as well."
Investments in the Brazilian commercial vehicle business: 600 million euros to 2022
Mercedes-Benz do Brasil is investing around 600 million euros in the Brazilian commercial vehicle business to 2022. Emphasis is placed on modernising the product range, as the new Actros impressively demonstrates. The investment money is also going into digital services and into the two largest production sites in São Bernardo do Campo and Juiz de Fora.
Market leadership consolidated in the medium and heavy-duty segment
Positive development: Daimler Trucks can look back on good months of sales for its Mercedes-Benz truck brand in Brazil and was able to reach a market share of 30.2 percent (compared with 27.2 percent previously) in the medium and heavy duty segment. With 13,400 vehicles sold (up from 8,400), sales were increased significantly by 59 percent in the first six months compared with the previous year.
An additional impulse is expected from the new Actros from 2020 which in Brazil is expected to set the standard for long-distance haulage. The flagship from Mercedes-Benz Trucks convinces in particular with its inner values: many of the innovations were developed with the declared goal of tangibly advancing drivers, customers and society. With new features like the Multimedia Cockpit, more sophisticated safety systems, and the MirrorCam instead of outside mirrors, the new Mercedes-Benz Actros thus provides the appropriate response to issues such as safety, fuel efficiency and availability. It makes no difference which location of the international Mercedes-Benz Trucks production network the vehicle was made in. (General product information on the Actros is available at: Link)
On global platforms, Daimler Trucks is the forerunner. Whether it's the drivetrain, chassis, electric or electronic architecture, or the driver's cab: global components are an important competitive advantage in order to achieve economies of scale and offer customers worldwide new technologies. On the other hand, the team at Daimler Trucks listens to precisely what customers need locally in order to develop products which reconcile two extremes: global innovative capacity on the one hand and individual local adaptations on the other.
This has happened with the new Actros, which comes to the Latin American market offering a rack of special features: in the Brazilian Actros, for example, there is a modern Euro V engine working with a transmission system in a combination which is only available on the Brazilian market. The components are optimised as regards consumption efficiency, while at the same time providing robustness, just like the extremely stable yet lightweight, comfortable vehicle suspension developed in Brazil, which is also easy to maintain and repair. The components are therefore well tailored to local requirements.
Together with other measures, the new Actros consumes up to twelve percent less fuel compared with its Brazilian predecessor model. The new driver's cab also contributes to these savings: its aerodynamics were optimised, by amongst other things, new wind deflectors used in combination with local semitrailers. In its dimensions, the cab with its low entry and a comfortable width of 2.5 metres fulfils drivers' demands.
Industry 4.0: Daimler Trucks is revolutionising truck production in Brazil
A few months ago, Mercedes-Benz do Brasil at the São Bernardo do Campo plant – the facility where the new Actros is manufactured – started up a completely new, modern Industry 4.0 assembly line for truck cabs and connected it with other manufacturing segments, including logistics, bodyshell and paint shop: a special smartphone app gives staff and management access to all relevant data whenever they need it. This includes information on the approximately 60 driverless transport systems and the state-of-the-art electronic screwdrivers which operate with pre-programmed torque settings. The data is connected via Big Data Intelligence – smart processing of large quantities of data – in a Cloud, ensuring quicker response times from employees in the production area. In this way, product quality can be monitored even more effectively and errors prevented or discovered well in advance.
Along the assembly line, solutions such as Augmented Reality and so-called exoskeletons (external skeletons providing a supporting structure for production staff) are used in order to create a more ergonomical, intelligent and safe working environment. Using comparative data from the sales department also helps to regulate the production mix more efficiently and flexibly.
Mercedes-Benz do Brasil intends to roll out the innovative concepts of Industry 4.0 successively to all processes in the production lines for major assemblies (engines, transmissions and axles) and to the production of bus chassis in Sao Bernardo do Campo.
( Press Release Image: https://photos.webwire.com/prmedia/6/248568/248568-1.jpg )
Related Links
WebWireID248568

This news content was configured by WebWire editorial staff. Linking is permitted.
News Release Distribution and Press Release Distribution Services Provided by WebWire.