The LEGO Group joins cultural creators Mark Ronson, Simone Biles and Tomo Koizumi to showcase their creative sides and 'Rebuild the World'
WEBWIRE
–
Tuesday, October 15, 2019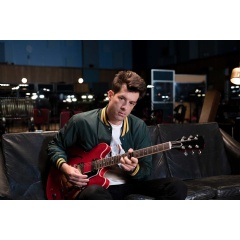 The LEGO Group is collaborating with three cultural creators on a series of films that explore the importance of creativity and play
Musician and producer Mark Ronson, world class gymnast Simone Biles, and rising fashion star Tomo Koizumi illustrate how LEGO® play shapes their creative process
Rebuild The World campaign aims to fire-up children's creativity and develop skills to succeed in tomorrow's world
As part of its Rebuild The World campaign, the LEGO Group announces a short film series exploring the importance of creativity and play starring three icons from the music, sport and fashion industries. The films illustrate why LEGO® play is the ultimate platform for creative expression and creative problem solving.
World-renowned musician and producer Mark Ronson, US Olympian Simone Biles, and rising fashion star Tomo Koizumi are collaborating with the LEGO Group as part of the project to help inspire and nurture the imagination of the next generation. Each film, sees the collaborator bringing their own creative process to life with a simple handful of LEGO bricks.
About the films and collaborators:
Simone Biles
Simone Biles is one of the most exciting athletes on the planet, who is evolving the sport of gymnastics with her own artistic elements. Fresh from her record-breaking winning performance at the World Championships in Stuttgart, where the world watched in awe as Simone performed her incredible Triple-Double routine (and Double-double), Biles is shown planning these moves with LEGO bricks in her film.

Biles' film provides an insider look into her training gym, where she draws parallels between LEGO play and her historic gymnastic techniques. Biles visualises different movements using LEGO bricks, demonstrating her creative process and imagination to help inspire parents and children across the world.

Discussing the similarities of LEGO play and gymnastic routines, Simone Biles said: "I like to encourage people to be original and unique in whatever they do, and for me creativity plays a huge role in making my gymnastics feel distinctive – like my Triple-Double routine. The parallels with the endless possibilities of building with LEGO bricks are clear to see. You can play around in a lot of different ways, you can build up and down, and you can change your builds around a lot. You have the freedom to be really creative and flexibility to get to a final work that you're confident with."
Mark Ronson
Producer Mark Ronson is at his most creative in the recording studio – where hits such as 'Uptown Funk' and 'Nothing Breaks Like a Heart' were crafted. One of the most creative and successful music icons of his generation, Ronson's creative process for writing and producing songs comes to life in his film. He showcases how building out chords and sequences is very similar to being creative with LEGO bricks. Each brick resembles a different note, and when put together make a track.

"Building with LEGO bricks is one of my earliest memories of being creative and also experiencing the satisfaction of seeing something through from start to finish," said Ronson. "Both of these things are the bedrock of what I do today—in the studio it is important for me to be creative but also task minded. LEGO bricks are a great tool to inspire the next generation of creatives to do the same."
Tomo Koizumi
Fashion industry one-to-watch Tomo Koizumi is one of the most exciting fashion designers around. In the studio, surrounded by colourful fabrics, textures, and clothing, Tomo creatively showcases his artform through LEGO play to represent how he forms patterns for his work. Tomo reveals how the colours, shapes and sizes of LEGO bricks can help inspire the next generation of the fashion industry.

Speaking on the collaboration, Tomo Koizumi said "I often follow patterns and colour schemes while designing my pieces and shows. Using LEGO bricks, I am able to show visually how different colours can come together or can clash. I believe building with LEGO bricks in this way from a young age can truly inspire the next generation of creative fashion designers."
The Rebuild The World campaign aims to inspire people to play and fire up children's creativity to give them the skills they'll need to shape a bright future. Julia Goldin, Global Chief Marketing Officer, the LEGO Group, said: "We launched the Rebuild The World campaign to inspire people of all ages to unleash their creativity to create a world of infinite possibilities through LEGO play. Creativity is at the heart of everything Simone, Mark and Tomo do and we're delighted to be able to share the story of how LEGO play has shaped their outstanding creations and ideas."
The first episode, featuring gymnastic star Simone Biles, will premiere on 14th October, and will be followed by Mark Ronson's episode on the 21st October. Episode three featuring rising fashion star Tomo Koizumi will be released on 28th October.
The films have been created by Exposure, the integrated and creative communications agency with PR support provided by its global agency network.
To watch the short films, visit: www.lego.com/rebuild-the-world
Notes to Editors:
For more information, please contact LEGO@exposure.net
About the LEGO Group:
The LEGO Group's mission is to inspire and develop the builders of tomorrow through the power of play. The LEGO System in Play, with its foundation in LEGO bricks, allows children and fans to build and rebuild anything they can imagine.
The LEGO Group was founded in Billund, Denmark in 1932 by Ole Kirk Kristiansen, its name derived from the two Danish words LEg GOdt, which mean "Play Well".
Today, the LEGO Group remains a family-owned company headquartered in Billund. However, its products are now sold in more than 140 countries worldwide. For more information: www.LEGO.com
For more information, please contact: media@LEGO.com
About Rebuild The World
The 'Rebuild The World' campaign sets out to help nurture the creative skills of the next generation.
The LEGO Group believes that every child is born with incredible creative problem solving capabilities, but we need to act now to nurture that creativity so that it can become a lifelong skill, as the future depends on it.
Inspiring creativity is more critical and urgent than ever. The World Economic Forum Future of Jobs Report places creative problem solving in the top three skills the job market will require from 2020. Imaginative play helps children learn how to innovate, problem solve and think critically throughout their lives.
Learn more by visiting www.lego.com/rebuild-the-world
( Press Release Image: https://photos.webwire.com/prmedia/7/248522/248522-1.jpg )
Related Links
WebWireID248522

This news content was configured by WebWire editorial staff. Linking is permitted.
News Release Distribution and Press Release Distribution Services Provided by WebWire.