Quickshift MTB: The first Julbo goggles designed specifically for mountain biking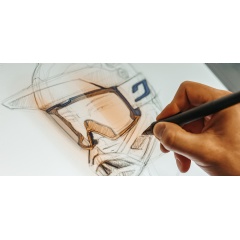 Nicolas Defude (Product Manager) and Clément Bonnet (Designer) have worked together on the new Quickshift MTB. And both men are in total agreement. These new Julbo goggles are the result of "a series of meetings with passionate enthusiasts".
We take a look at the early history of the Quickshift MTB.
Quickshift MTB development by Julbo
Can you introduce us to the Quickshift MTB?
Nicolas Defude (product manager) : The Quickshift MTB is a closed goggle but it has a magnet-based clip system so you can remove the part that's in contact with your cheek. This allows you to have both flexible goggles and a system that lets plenty of air in: you can either make them airtight, to avoid dirt and dust getting in your eyes for example, or if you're hot and you don't need any contact with your face, then the goggles can be opened up for great venting.
Before the arrival of the Quickshift MTB, what was Julbo's position in relation to MTB goggles ?
N.D : Julbo is a company that specializes in outdoor sports. And in the "Julbo world", there were naturally a number of mountain bikers. We've had a presence in the mountain bike market for fifteen years but we were there largely as a result of meeting certain people or opportunities that came up.
We didn't necessarily have a specific plan. In the beginning, we adapted our ski goggles to the specific requirements of mountain biking. Biker athletes liked our photochromic lenses and we got good feedback.
Clément Bonnet (designer) : Three or four years ago, we saw there was demand for more specially adapted and innovative products. New athletes in our team, but also increasingly advanced projects by our competitors got us thinking about it.
Fabien Barel was a real instigator for all of that. Since his arrival at Julbo, his thoughts and analysis encouraged us to develop our goggles.We gave him ten pairs of goggles and told him to do whatever he wanted with them to design his ideal product.
In other words, he could create the goggles of his choice. We then launched a first prototype to get it checked out by a panel of testers. Whenever we met new people, the product would once again evolve.
N.D : The general idea was to have better ventilated goggles. Vision was well catered for with our technical lenses, but mountain bikers were too hot with our goggles.We had to find a different solution.
C. B : As part of the process, we had several projects on the go that were tested at the same time. We realized that if goggles were over-ventilated they didn't meet all the needs of bikers. What they really wanted was to have less contact between the foam and their faces. We had to remove as much of it as possible. This is where we relied on Fabien's work. He had the great idea of removing the foam that rests against the cheeks. We produced two or three sets of prototypes before coming up with something that really worked.
[b]In terms of timing, how long did this development phase take?[/b]
N. D : It took two years between the time we decided to start working on the project and the marketing date. Before any of that, Fabien had already done his own work on the prototypes
C.B : Perfecting it took us a whole year. We consulted our athletes to keep on improving the product. We also wanted the Quickshift MTB to satisfy elite athletes as well as amateur mountain bikers. In enduro, being able to over-ventilate and have less of the goggle pressing against your face will make it more comfortable, whatever your level. We relied on lots of information fed back to us by passionate users to come up with the final product.
The Quickshift MTB is really our first 100% mountain biking goggle, made for mountain bikers and developed by mountain bikers. We achieved a good balance between feedback from people on the ground and development of the product on our own premises. Our subsidiary in the US has people passionate about mountain biking and that also allowed us to enhance our product with a different vision from the European one.
At each prototyping stage, we had new ideas thanks to the different types of feedback we received. For a designer, it's a dream project. Each time, we were pushed to go a little bit further with the idea. We couldn't have hoped for a better project.
When you've worked on something for so long, do you feel nervous when it comes to marketing time?
C.B : Whenever we had people in front of us to present the prototypes to, they were really excited. They asked loads of questions, and really supported the project. That helped get rid of any nerves.
N.D : Releasing the product is not an end in itself. We're here for the long haul, so if there are any changes to be made, that will be done in the coming seasons. The release of the product is just the start of the story. We want to establish a permanent presence in the world of mountain biking. We used our years of experience in the outdoor market to launch this superbly designed product. And each Julbo world can enhance the other.
Fabien Barel (DH World Champion 2004-2005):
The development process at Julbo is relatively straightforward. The start of an idea often emerges in discussions between the athletes and the research and development unit. The athletes will approve the technology and little details by testing them in the field. Julbo is very open to new technologies, especially in new mountain biking disciplines.
The Quickshift MTB has a system that can ventilate the goggles while still giving you protection which is really important in mountain biking. This technology offers the versatility required for uphill and downhill sections in enduro. The Quickshift MTB gives you everything you need for an enduro ride.
Jérôme Clementz (Winner of the 2013 Enduro World Series):
We had a lot of freedom when it came to designing the Quickshift MTB. It was really interesting to talk to the people who develop the product. It allows you to "sound them out" and they then come back with other ideas. The product becomes more refined through these discussions.
We were riding with Bang goggles and we wanted to adapt them to enduro and mountain biking. We wanted venting and something flexible. In mountain biking, we have helmets with removable visors, and bikes with adjustable suspension, so why not use the same principle for goggles? Create a single pair of super-ventilated goggles for when it's hot but which can also be turned into "normal" goggles for extreme conditions.
( Press Release Image: https://photos.webwire.com/prmedia/7/248414/248414-1.jpg )
Related Links
WebWireID248414

This news content was configured by WebWire editorial staff. Linking is permitted.
News Release Distribution and Press Release Distribution Services Provided by WebWire.