NENT Group presents `The Last Journey of the Vikings' as next original documentary series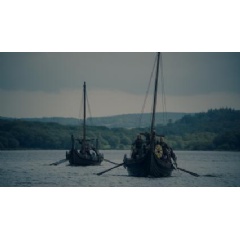 The Last Journey of the Vikings' co-produced and distributed by NENT Group's DRG  
Four-part documentary to premiere exclusively on Viaplay in 2020 
NENT Group to premiere at least 20 original productions every year
The documentary series 'The Last Journey of the Vikings' is the next original production from Nordic Entertainment Group (NENT Group), the Nordic region's leading streaming company. The four-part series presents new perspectives on the feared Vikings and their pivotal role in European history and is co-produced and distributed by NENT Group's DRG. 'The Last Journey of the Vikings' will premiere exclusively on NENT Group's Viaplay streaming service across the Nordic region in 2020.
Nearly 1,000 years ago, the Vikings left Scandinavia and settled across Europe – giving their name to Normandy along the way – before their Norman descendants seized the English throne at the Battle of Hastings in 1066. But what do we really know about them? By combining expert analysis with compelling drama, 'The Last Journey of the Vikings' (Swedish title: 'Vikingarnas sista resa') tells a new and often surprising story about this complex people.
Filming of 'The Last Journey of the Vikings' is currently underway in Ireland. The series is produced by Mopar Studios (NENT Group's 'Rig 45') and is a co-production between NENT Group, French public service broadcaster France Télévisions and DRG (part of NENT Studios UK), who will also distribute the series internationally. Launched on 1 October, NENT Studios UK comprises NENT Group's content production and distribution businesses in the UK.
NENT Group's original documentary slate also includes 'Food & Fire' and two seasons of 'American Runestone', created by Swedish Hollywood superstar Peter Stormare ('The Blacklist'; 'Prison Break'). NENT Group's original documentaries to date comprise 'Swedish Sin'; 'Four Hands Menu'; 'Couple Thinkers'; 'Superswede'; and 'Manson's Bloodline' (also commissioned by DRG).
Filippa Wallestam, NENT Group Chief Content Officer: "The story of the Vikings is the story of modern Europe's beginnings – but these fascinating and sophisticated people are often misunderstood. 'The Last Journey of the Vikings' looks beyond the popular image of axe-wielding marauders to suggest that the Vikings were creators as much as conquerors. This is a dramatic and thought-provoking addition to Viaplay's fast-growing line-up of original documentaries that – just like the Vikings – is making an impact across the Nordic region and beyond."
About NENT Group's original productions
NENT Group has now launched 58 original productions and is set to premiere a minimum of 20 every year. In the past 12 months, season one of 'Love Me'; 'Fixi in Playland'; 'Honour'; 'Manson's Bloodline'; season two of 'ALEX'; 'Swedish Sin'; 'Straight Forward'; season one of 'Saga's Stories'; 'Wisting'; 'The Inner Circle'; 'Darkness – Those Who Kill'; 'Hidden'; season two of 'The Great Escape'; 'The Truth Will Out'; 'Four Hands Menu'; and 'Pros and Cons' have premiered.
Recently announced originals include 'Hammarvik'; season three of 'Thicker than Water'; season two of 'The Lawyer'; season two of 'Love Me'; 'The Machinery'; season three of 'The Great Escape'; season two of 'Saga's Stories'; 'Food & Fire'; 'First Responders'; 'Seizure'; 'Partisan'; season three of 'Occupied'; 'American Runestone'; 'Home Invasion'; 'The Professionals'; 'Shadowplay'; 'Box 21'; season two of 'Rig 45'; 'The Ambassador'; 'Margeaux'; 'Cryptid'; 'Commando'; 'Face to Face'; and 'Cold Courage'.
As well as breaking Nordic viewing records, NENT Group's originals are increasingly reaching audiences around the world. Amongst others, 'ALEX' has been sold to broadcast and streaming partners in Europe, Asia and the US; 'Veni Vidi Vici' has premiered on Hulu and is set for a US remake in partnership with Lionsgate; 'Swedish Dicks' has featured on Pop TV in the US; 'Black Lake' has been shown on BBC Four and AMC Networks-backed Shudder; and 'Honour' has been sold to RTL in Germany and VRT in Belgium.
In January 2019, NENT Group announced a UK-based joint venture with award-winning independent studio FilmNation Entertainment to develop, produce and finance premium scripted television content for global audiences.
In May 2019, NENT Group invested in a minority stake in the new US production company Picturestart together with a range of high-profile industry partners. Based in Los Angeles and founded by renowned producer Erik Feig, Picturestart will create, co-finance and produce premium scripted content for young adult viewers around the world.
NOTES TO EDITORS
Nordic Entertainment Group AB (publ) (NENT Group) is the Nordic region's leading entertainment provider. We entertain millions of people every day with our streaming services, TV channels and radio stations, and our production companies create content that is experienced around the world. We make life more entertaining by telling stories, touching lives and expanding worlds – from live sports, movies and series to music and original shows. Headquartered in Stockholm, NENT Group is listed on Nasdaq Stockholm ('NENT A' and 'NENT B').
Privacy policy:
To read NENT Group's privacy policy, click here
About DRG:
Part of NENT Group, DRG is an innovative, creative and fast moving business with content at its core. Starting life as a conventional programme distributor in 2007, the company has evolved into a 360-degree content business that today is involved with programme origination and development, financing, talent, production, production services and distribution. DRG also wholly owns Atrium TV, the new international drama 'commissioning club', focused on the development of blue chip scripted projects.
Covering scripted and unscripted content, as well as formats, DRG has built its reputation by working closely with, and investing in, a wide range of internationally recognised production companies, as well as by using its expertise in the domestic and international markets to help incubate promising start-ups. DRG has an extensive catalogue of more than 13,000 hours and 150 formats: the business has taken Doc Martin to more than 100 territories, including 7 international remakes, was a driving force in bringing Scandi Noir to the world and has nurtured The Farm to become one of the world's most established competitive reality formats, with versions airing in more 50 territories over a 10-year period.
( Press Release Image: https://photos.webwire.com/prmedia/7/248406/248406-1.jpg )
Related Links
WebWireID248406

This news content was configured by WebWire editorial staff. Linking is permitted.
News Release Distribution and Press Release Distribution Services Provided by WebWire.