Hot Metal Desulfurization and dedusting system from Primetals Technologies successfully commissioned at ArcelorMittal Monlevade
WEBWIRE
–
Thursday, October 10, 2019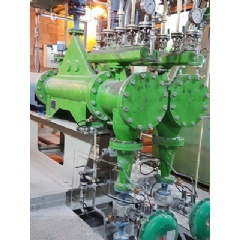 Volumetric dosing device for precise feeding of Mg with rates between 3 and 15 kg/min
First installation of a new volumetric dosing device for co-injection of Mg and CaO
Low sulfur level, significant reduction of desulfurization agents, short processing time
New dedusting system for melt shop for lowest dust emissions, processes approximately 900,000 m3/h
Project included advanced L1 and L2 automation and ladle handling system
Recently, at the production site of Brazilian steel producer ArcelorMittal Monlevade a 130-ton-hot-metal desulfurization station (DeS) and a new dedusting system supplied by Primetals Technologies commenced operation. The desulfurization station represents the first installation of Primetals Technologies combining a volumetric dosing device for Magnesium (Mg) and a pressure dispenser for Calcium Oxide (CaO). Low sulfur levels of lesser than 0,005% (50ppm) can be achieved. The consumption of desulfurization agents is significant reduced and processing times are reduced to less than 30 minutes compared to treatment in a torpedo car. The associated level 2 system supplied by Primetals Technologies predicts the end sulfur content with high accuracy, deviations of real from predicted value is below 5ppm on average. The dedusting system installed in the melt shop processes approximately 900,000 m3/h. A handling system for 130-t-hot-metals ladles was also part of the project. The new equipment is part of an expansion and quality improvement program at ArcelorMittal Monlevade.
For the desulfurization station, Primetals Technologies was responsible for the engineering, supply and advisory services for reaction and start-up. Equipment encompassed a volumetric dosing device for dosing of Mg, a pressure dispenser for dosing CaO, lance and injection systems, the material handling system, including an unloading station, silos for storage, and material transport. An important part of the project is the complete level 1 and level 2 automation system with process models, enabling precise process control and dosing as well as reliable prediction of end sulfur content. This allows for flexible andoptimum injection ratios of CaO/Mg from 2:1 to 10:1. The co-injection takes places with fully decoupled control of the conveying of Mg and CaO. The DeS station is designed to operate with fluidized CaO or CaC2 (Calcium Carbide) as well. Pure Mono-injection of CaO or CaC2 is possible, too.
The volumetric dosing device has two collateral pistons for the continuous and precise injection of Mg. The Mg flow rate is determined by the piston speed only and does not depend on the pressure in the system – there is no interaction with the pressure dispenser. With this mechanical system, the conveying rate of Mg can vary in a wide range of 3 to 15 kg/min. Powder materials like lime and calcium carbide are injected via the high performance pressure dispenser. All installed valves and control devices are designed for highest safety standard.
The new desulfurization station from Primetals Technologies replaced an existing desulfurization preformed in torpedo cars, reducing both the consumption of desulfurization agents and processing times. In addition, the effort for cleaning of torpedo cars is also lowered, deslagging simplified and metal losses during deslagging reduced.
New dedusting system covers two BOF converters, the DeS and slag skimming stand as well as the HM mixer. Primetals Technologies engineered, supplied and installed charging coolers for BOF charging evacuation, pulse jet filters with eight chambers and a filter area of 11,270 m2, and two induced draft (ID) fans with a power rating of 1,500 kW each. The filtered dust is discharged to containers. A handling system for the 130-t-hot metal ladles completed the scope of supply, including ladles, a transfer car with integrated ladle tilting device and a deslagging machine.
ArcelorMittal Monlevade is an integrated steel works located in João Monlevade, 120 km from Belo Horizonte, the state capital of Minas Gerais. It operates the following upstream facilities: one sinter plant, one blast furnace, two 130-t-BOF converters, one ladle furnace and one billet caster. The billet caster produces billets with a cross section of 155x155 mm. Production capacity is 1.1 to 1.3 million t/a. The billets are further processed in three rolling lines, producing wire rod in a diameter range of 5 to 40 mm for high-quality application as tyre cord and spring steel. ArcelorMittal Monlevade is the most important producer of tyre cord in the Americas.
Primetals Technologies, Limited headquartered in London, United Kingdom is a worldwide leading engineering, plant-building and lifecycle services partner for the metals industry. The company offers a complete technology, product and service portfolio that includes integrated electrics, automation and environmental solutions. This covers every step of the iron and steel production chain, extending from the raw materials to the finished product – in addition to the latest rolling solutions for the nonferrous metals sector. Primetals Technologies is a joint venture of Mitsubishi Heavy Industries (MHI) and Siemens. Mitsubishi-Hitachi Metals Machinery (MHMM) - an MHI consolidated group company with equity participation by Hitachi, Ltd. and the IHI Corporation - holds a 51% stake and Siemens a 49% stake in the joint venture. The company employs around 7,000 employees worldwide. Further information is available on the Internet at www.primetals.com.
( Press Release Image: https://photos.webwire.com/prmedia/6/248380/248380-1.jpg )
Related Links
WebWireID248380

This news content was configured by WebWire editorial staff. Linking is permitted.
News Release Distribution and Press Release Distribution Services Provided by WebWire.