easyJet and easyTravelseat to make flying even more accessible for travellers
easyJet is working with easyTravelseat to continue improving passenger experience for wheelchair users when they fly.

easyJet, Europe's leading airline, is working with easyTravelseat to ontinue improving passenger experience for wheelchair users when they fly.

WEBWIRE
–
Wednesday, October 9, 2019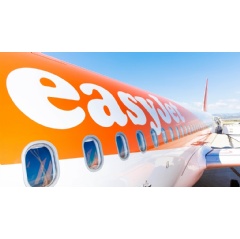 easyTravelseat is an in-situ transfer sling and seat designed to help wheelchair users transfer safely and comfortably into and out of aircraft seats and enhance overall passenger experience for wheelchair users. easyJet has verified the product for safe use onboard which makes the airline the first to approve such a product. 
A video of the product in action is viewable here on the easyTravelseat website.
The innovative product was designed by Josh Wintersgill driven by a belief of making aviation more accessible for people with physical disabilities.
In 2018, Josh won the UK Disabled Entrepreneurs Award. The award has been running for the past 12 years by the Stelios Philanthropic Foundation, in partnership with Leonard Cheshire, and is widely recognised across the UK for its continuous support and recognition of disabled entrepreneurs. Following the win, the company became easyTravelseat, part of easyGroup.
 
Founder and CEO of easyTravelseat Josh Wintersgill commented:
"We are delighted that easyJet supports the benefits easyTravelseat can have on reducing the current undignified and uncomfortable processes that can sometimes be faced by wheelchair passengers when boarding and disembarking aircraft, whilst making the special assistance processes for air travel even more efficient."
Celine McGuigan, Accessibility and Assistance Manager for easyJet said:
"We are very pleased to be working with easyTravelseat to continue improving passenger experience for wheelchair users when they fly.
"We will fly around 100 million passengers this year and of those over 659,000 required and were with provided with assistance during their travels - a record number for the airline.
"We are really focussed on ensuring that travel is accessible for all and with the number of passengers now travelling and requiring special assistance increasing, this suggests that more passengers than ever are confident in the support they will receive when flying with us."
easyJet saw a 27% increase in passengers requiring special assistance in 2018 from the previous year and customer satisfaction amongst easyJet special assistance passengers was 82%, higher than all other passengers in 2018.
easyJet has a range of measures for passengers who require special assistance including the ability to book special assistance on easyJet.com, a dedicated special assistance team in its customer management centre and onboard wheelchairs on all aircraft.  easyJet's crew are trained on providing special assistance to travellers, including how to identify and support passengers with hidden disabilities.
easyJet established the easyJet Special Assistance Advisory Group (ESAAG) in 2012 to provide feedback and guidance on the services it provides to passengers who require special assistance. The group is chaired by former cabinet minister Lord David Blunkett, and includes experts in key easyJet markets all of whom have personal or professional experience of special assistance issues.
easyJet also works with leading charities which represent people with a range of disabilities to ensure the travel experience with easyJet for people requiring special assistance can be made ever easier, this includes looking at what more support can be given to passengers with hidden disabilities.
easyJet reviews all stages in its passengers' journey to ensure that it is as easy as possible for all passengers. The airline has invested significantly in providing assistance for all needs and in the training of its crew who provide special assistance to passengers.
ESAAG has also had a role in wider easyJet projects, such as the consolidation of easyJet operations at London Gatwick into the North Terminal and digital developments such as improved information and advice, the on-going reconfiguration of the easyJet website and apps for booking.
To ensure customers receive the best possible experience, it's important for any customer requiring special assistance to request this at the time of booking or at least 48 hours before they fly.
( Press Release Image: https://photos.webwire.com/prmedia/7/248322/248322-1.jpg )
Related Links
WebWireID248322

This news content was configured by WebWire editorial staff. Linking is permitted.
News Release Distribution and Press Release Distribution Services Provided by WebWire.