In Brazil, COFCO's sugar team lets nature do more work
WEBWIRE
–
Wednesday, October 9, 2019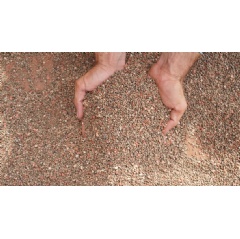 Patricia's team have also replaced synthetic fertilizers with the waste and byproducts from their sugar mills.
We use 100 percent of our industry by-products, including the filter cake and boiler ashes," says Patricia.
In the rolling fields of Brazil's São Paulo state, a silent revolution has begun. Developing new methods to boost productivity, COFCO's sugar team is shifting away from agrochemicals to more biological solutions instead. Synthetic fertilizers are swapped for the organic residues from nearby sugar mills, while natural predators replace the pesticides.
Pests such as the sugarcane borer may be small, but they do big damage to the cane. Even the tiny nematodes - invisible to the naked eye – have sharp teeth, which bite through the sugarcane roots. They damage the cane's ability to draw nutrients and water from the soil.
The traditional response has been to kill the pests with insecticides and other chemicals. But since 2015 COFCO's sugar team in Brazil have been researching and applying alternative methods of keeping these critters under control.
"What is different here is our vision for the future," says Patricia Fontoura, whose team researches and applies the new and innovative techniques. "We believe in a better balance between production and the environment."
In 2018, COFCO's four sugar mills in Brazil crushed 16 million tonnes of sugar cane to produce sugar, ethanol, and energy. With an output of over one million tonnes of sugar, COFCO is one of the top five sugar and ethanol producers in Brazil, itself the world's largest producer of both.
Wasp patrol
Since 2015, Patricia's team has been researching new, less aggressive, ways to boost production. Instead of spraying the fields with chemicals, for example, the sugar team now put fungi and bacteria on the soil when planting sugarcane. Each fungus acts in a different way. Some contaminate the insect population, preventing reproduction. Others kill the pests when their spores germinate and penetrate the insect skin, developing inside the body.
Wasps are also used for pest control: "They smell the caterpillars, then hunt, kill, and eat them," says Patricia. "The wasps are a natural predator."
After four years of innovation, sugar yields are up by an average 30 percent per hectare, while the use of nematicides, insecticides and fungicides are down between 30 and 100 percent.
"Our techniques are not easy to use and they require specialist skills and knowledge," says Patricia, whose formal role title is Agricultural Planning and Development Manager.
"But we are proud of the results."
Organic fertilizers
Patricia's team have also replaced synthetic fertilizers with the waste and byproducts from their sugar mills. When sugar and ethanol have been extracted from the sugar cane, the residues are rich with nutrients such as phosphorous, potassium, and organic matter.
Besides reducing costs, this biological approach protects the local environment too. Zero tilling and natural mulching during the rainy season helps the soil health, as does intercropping with nitrogen-fixing plants such as soybeans. The ecosystems are healthy enough that COFCO now helps with local honey production, including through training and technology transfers.
"Local honey producers have increased their production by up to 50 percent," she says. "And other insects have reappeared."
Looking to the future, COFCO is looking at other ways to reduce their use of chemicals and to produce more and healthier sugarcane.
Patricia's team are investing significant time and effort into research on organic fertilizers, beneficial nematodes, and the use of bacteria and fungi. The best solution may be for the sugarcane to protect itself.
"One day, we will figure out how to use the sugarcane's natural defences," Patricia says. "The cane will defend itself."
( Press Release Image: https://photos.webwire.com/prmedia/6/248296/248296-1.jpg )
Related Links
WebWireID248296

This news content was configured by WebWire editorial staff. Linking is permitted.
News Release Distribution and Press Release Distribution Services Provided by WebWire.