First-ever TCFD Summit to accelerate progress on climate-related financial disclosures
Tokyo –
WEBWIRE
–
Wednesday, October 9, 2019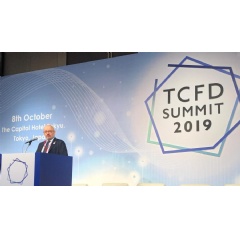 At the invitation of the Prime Minister of Japan and the Japanese Ministry of Economy, Trade and Industry (METI), the World Business Council for Sustainable Development (WBCSD) and the TCFD Consortium of Japan convened the first-ever TCFD Summit in Tokyo on 8 October 2019.
The Summit gathered over 300 attendees with a view to taking stock of the implementation of the TCFD recommendations and exploring and advancing emerging  best practice in climate related financial disclosure. The event featured a series of high-level speakers from companies, investors, financial institutions and the public sector, with  WBCSD members well represented through interventions from senior executives from Shell, Total, BNP Paribas Asset Management, Sumitomo Chemical, and JPMorgan Chase.
The Task Force on Climate-Related Financial Disclosures (TCFD) was convened following a 2015 request by the G20 Finance Ministers and Central Bank Governors. The TCFD released its final recommendations in June 2017 and has had a vital role in mobilizing finance towards products, services, and solutions designed by businesses to support the transition to a low-carbon economy.
In recent years, growing recognition of the vital importance of climate-related financial disclosures has increased calls for coordinated efforts to advance this agenda worldwide. Over 850 businesses with a combined market capitalization of USD $9 trillion are TCFD supporters and initiatives such as the TCFD Preparer Forums are facilitating the implementation of the recommendations across priority sectors.
This Summit is a crucial step towards the consolidation of climate disclosure activity and the increase of a wider uptake of the TCFD's recommendations with the ultimate goal to put the world on a safer 1.5°C pathway.
With strong support from METI, Japan has established itself at the forefront of the advancement of the TCFD agenda, with a total of 194 Japanese companies now supporting the TCFD, and with the recent establishment of the abovementioned TCFD Consortium of Japan. At the Summit, the TCFD Consortium released the 'Green Investment Guidance', a tool for utilizing climate-related information to promote green investment.
"There is still work to be done in disseminating the TCFD more widely," said WBCSD President and CEO Peter Bakker during his opening speech at the Summit. He stressed that "the TCFD Summit is a crucial moment for consolidating climate disclosure activity to date, spearheading wider uptake and ensuring that the quality of climate-related financial information expedites the flow of capital to reward the most sustainable companies."
During the course of the summit, Peter Bakker referred to the need for a financial system that is built on three components:
Well-run companies that use Environmental, Social and Governance (ESG) information to drive decision-making and develop products and services that deliver a sustainable society;
Capital markets that properly value and reward inclusive, sustainable business practices and make it difficult for those who do not manage ESG risks and opportunities to succeed;
Sufficient capital that is mobilized to address the Sustainable Development Goals and deliver a 1.5°C world.
Other keynote speakers at the event included:
Kazuhide Kajiwara, Japanese Minister of Economy, Trade and Industry
Mark Carney, Governor of the Bank of England (read his speech in Tokyo here)
Kunio Ito, President TCFD Consortium / Professor, Hitotsubashi University
Hiro Mizuno, PRI Board member / Executive Managing Director and Chief Investment Officer, GPIF
Kosei Shindo Representative Director and Chairman, Nippon Steel
Charles O. Holliday, Chairman, Royal Dutch Shell
Mary Schapiro, Special Advisor, TCFD Secretariat
The discussions at the Summit led to the identification of several focus areas going forward, including the need for businesses to set ambitious low carbon transition targets, to integrate climate into their governance processes, and to disclose their progress to Capital Markets. Various initiatives that will help in developing a clearer picture of innovation opportunities and in incorporating the TCFD's framework into mainstream markets were discussed, including the TCFD Preparer Forums, the measuring of green revenue, the creation of climate-related indices and the implementation of policy frameworks that help to more clearly establish definitions of terms like 'green' or 'environmentally sustainable'.
Disseminating best practices and working collaboratively is crucial to ensure that the TCFD's recommendations are scaled as substantially and as impactfully as possible. "This will be a key catalyst in sparking the virtuous cycle of environment and growth on a global scale, and today's landmark Summit represents an important starting point", highlighted Peter Bakker during the closing of the Summit.
WBCSD has committed to supporting a second edition of the TCFD Summit in 2020, again in close collaboration with METI and the newly formed TCFD Consortium, with a view to continuing to advance crucial interactions on how to drive progress on climate-related financial disclosures in Japan and beyond.
More information
TCFD Preparer Forums for priority sectors and industries: oil and gas, electric utilities, chemicals, construction, automobiles, and food, agriculture & forest products
( Press Release Image: https://photos.webwire.com/prmedia/6/248283/248283-1.jpg )
Related Links
WebWireID248283

This news content was configured by WebWire editorial staff. Linking is permitted.
News Release Distribution and Press Release Distribution Services Provided by WebWire.