3D position Hall sensor HAL® 3900 with stray-field compensation and SPI interface
WEBWIRE
–
Wednesday, October 9, 2019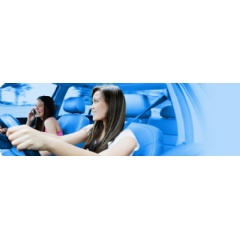 First 3D position sensor based on the Hall-effect equipped with an SPI interface and active stray-field compensation
Real 3D measurement: Acquisition of all three magnetic-field components (BX, BY, BZ) at the same time makes this sensor especially suitable for applications like steering column switches or gear shifters
TDK Corporation (TSE 6762) expands its Micronas position sensor portfolio with a new member of the previously announced masterHAL® sensor family HAL® 39xy. The new HAL 3900 features real 3D magnetic-field measurement capability and 2D stray-field robust position detection. Measurement data is delivered via a high-speed SPI interface. The sensors meet today's and tomorrow's automotive and industrial market needs and offer four different measurement modes in a single device: Linear position detection, rotary 360° angle detection and rotary 180° angle detection with stray field compensation including gradient fields as well as the capability for real 3D magnetic field measurement (BX, BY, BZ). Samples are already available. Start of production is planned for second quarter 2020.
The heart of the HAL 3900 sensor is the patented 3D HAL® pixel cell technology. It not only helps to measure magnetic fields very accurately, but also enables the measurement of all three magnetic-field components at one single spot. By measuring the BX, BY and BZ components, the sensor is able to detect the direction of the magnetic field. At the same time, the unique concept of an array of Hall plates offers a 2D stray-field compensation. The highly flexible sensor array of the HAL 3900 sensor helps design engineers to select the best operation mode for any given measurement task. The HAL 3900 is the only solution available on the market that integrates all four modes in a single device.
The combination of SPI interface and 3D capability makes the HAL 3900 a perfect solution for applications like gear shifters or steering column switches. The unique stray-field concept makes the sensor fit for applications requiring a stray-field robust off-axis measurement. The angular error due to stray fields can be reduced to less than 0.3° in the presence of a stray field of 4000 A/m. HAL 3900 also features a sleep mode helping customers to reduce the average current consumption that is increasingly important for electric cars. The device is developed as an ASIL B ready SEooC (Safety Element out of Context) according to ISO 26262.
Glossary
3D HAL® pixel cell: Enables the direct measurement of magnetic fields in three directions X, Y, Z
Real 3D measurement: Measurement of magnetic fields in parallel for all three directions X, Y, Z
Stray-field compensation: Modern Hall-effect sensors must be insensitive against disturbing fields generated by e-motors or power lines in hybrid or electrical vehicles (xEV)
Main applications
Selectors and gear shifters
Position detection in transmission systems
Steering-angle detection
All kinds of actuators with embedded microcontroller
Main features and benefits
Real 3D magnetic-field measurement of BX, BY and BZ
SPI interface
Sleep mode to reduce average current consumption
Transmission of temperature-compensated magnetic raw values (BX, BY, BZ), up to two calculated angles, magnetic-field amplitude and/or chip temperature
Stray-field robust position detection (linear and rotary up to 360°) covering ISO 11452-8 requirements
Compensation of stray fields with gradients for applications with 180° rotation
SEooC according to ISO 26262 to support functional-safety applications
Suitable for automotive applications, thanks to a wide ambient temperature range from –40 °C up to 160 °C
Key data
Type - HAL 3900
Package - SOIC-8
Digital output formats - SPI
Angular error (over temperature) - ±0.6° @ 10 mT for rotary setups
Magnetic field amplitude range - 10 mT… 130 mT. Down to 5 mT with reduced accuracy
Safety - Development according ISO 26262 ASIL-B ready
Sample availability - available
About TDK Corporation
TDK Corporation is a leading electronics company based in Tokyo, Japan. It was established in 1935 to commercialize ferrite, a key material in electronic and magnetic products. TDK's comprehensive portfolio features passive components such as ceramic, aluminum electrolytic and film capacitors, as well as magnetics, high-frequency, and piezo and protection devices. The product spectrum also includes sensors and sensor systems such as temperature and pressure, magnetic, and MEMS sensors. In addition, TDK provides power supplies and energy devices, magnetic heads and more. These products are marketed under the product brands TDK, Chirp, EPCOS, InvenSense, Micronas, Tronics and TDK-Lambda. TDK focuses on demanding markets in the areas of information and communication technology and automotive, industrial and consumer electronics. The company has a network of design and manufacturing locations and sales offices in Asia, Europe, and in North and South America. In fiscal 2019, TDK posted total sales of USD 12.5 billion and employed about 105,000 people worldwide.
About TDK-Micronas
TDK-Micronas is the most preferred partner for sensing and control. TDK-Micronas serves all major automotive electronics customers worldwide, many of them in long-term partnerships for lasting success. Operational headquarters are based in Freiburg im Breisgau (Germany). Currently, TDK-Micronas employs around 1000 persons. For more information about TDK-Micronas and its products, please visit www.micronas.com.
You can download this text and associated images from www.micronas.com/pressreleases.
Further information on the products can be found under www.micronas.com.
( Press Release Image: https://photos.webwire.com/prmedia/7/248265/248265-1.jpg )
Related Links
WebWireID248265

This news content was configured by WebWire editorial staff. Linking is permitted.
News Release Distribution and Press Release Distribution Services Provided by WebWire.