Stocks and Scares
WEBWIRE
–
Thursday, October 3, 2019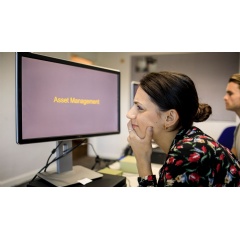 First-of-its kind scientific study reveals Brits' stress reaction to financial and investment lingo
Two-thirds of Brits exhibit biological stress reactions when tested on their response to financial language – with 44 per cent reporting an increased heart rate and nearly 20 per cent saying they broke out in a sweat
The study, from Barclays Smart Investor and Goldsmiths University, revealed that investment terms strike the most fear amongst Brits, with 'stockbroker' and 'investment risk' revealed as the most terrifying terms
When probed further, one in 10 mistook a 'blue-chip stock' for a poker move, and 29 per cent assumed a 'bull market' was a place in Birmingham
In response to the findings and to help reduce the fear factor, Barclays has committed to reviewing and simplifying the language used on its Smart Investor platform
Financial terminology such as 'stockbroker', 'pension' and 'FTSE' causes a stress reaction in humans, a new scientific study from Barclays has found.
The first-of-its-kind experiment, led by i2 media research at Goldsmiths University of London, combined psychometric tests with a bespoke adaptation of the Emotional Stroop Test1. The test assessed people's emotional association with words by presenting participants with 100 colour-word combinations and comparing the response times and error rates of both neutral and financial terms.
Overseeing the experiment, Jonny Freeman, Managing Director of i2 media research and Professor of Psychology at Goldsmiths University of London, said: "Our experiment looked at participants' behavioural responses to certain words, from which we could infer their emotional responses. Two thirds of participants' responses indicated increased anxiety when faced with financial lingo – with investment terms such as 'stockbroker', 'asset manager' and 'investment risk' causing the strongest reactions. Findings were supported by participants' self-reported physiological reactions."
Feeling the pressure
And the effects don't seem to stop with emotions, as almost a fifth (17 per cent) of participants reported that they broke out in a sweat in response to the experiment, whilst 44 per cent reported an increased heart rate and over a fifth (23 per cent) reported experiencing muscle twitches.
Investing as scary as sky-diving
The results of the experiment were backed up by further research from Barclays into people's perceptions of investing. The supporting research revealed that almost three-quarters of Brits did not feel confident enough to invest their cash on the stock market, with a quarter (25 per cent) feeling as worried by the thought of investing as skydiving.
In fact, investing in the stock market was revealed as one of the most difficult skills to learn, with Brits thinking it was harder than mastering computer coding (44 per cent), ballroom dancing (29 per cent), running a marathon (24 per cent) and changing a car tyre (19 per cent).
When probed further on why such a fear existed, 86 per cent of Brits claimed they were baffled by financial and investment jargon. One in ten mistook a 'blue-chip stock' for a poker move and almost a third believed a 'bull market' – a market in which share prices are rising – was a place in Birmingham.
Dr Pete Brooks, Head of Behavioural Finance at Barclays Smart Investor, comments: "We naturally struggle to do things which make us feel uncomfortable, even if doing it would be in our best interests. These results are fascinating because they suggest that it isn't just a lack of understanding which is the barrier to investing. There appears to be a much more sub-conscious reaction to the language of investing, which education alone will find difficult to break down."
The gender and generational gap
Men in the study were found to experience stronger adverse reactions than women, taking an average of 4 per cent longer to process investment terms.
Despite this, the supporting research found that it's women who have the least confidence when it comes to their finances, with 34 per cent feeling they have no understanding of finance and investments compared to just 19 per cent of men.
And the differences may not stop at gender, as surprisingly the younger cohort of participants (aged 18 – 26) showed the faster response times in the experiment when compared to their older peers (27+). This suggests that younger people had a reduced stress reaction and are therefore less fear-struck by financial and investment lingo.
Reacting to the experiment results, Ross Dalzell, Head of Barclays Smart Investor said: "This fear of investing could have a real impact on people's future financial health as, whilst you could lose money, investing offers the potential of higher returns than traditional cash savings over the longer term.
"Our experiment has proved once again how the language we use has real impact on people's confidence in investing. It's clear that the industry needs to rethink the way we talk about investing and, off the back of this experiment, we've committed to a review of our platform to simplify the language that we use and start to break down some of the known barriers".
-------
1. The study took place with 60 participants at i2 media research at Goldsmiths University of London.
( Press Release Image: https://photos.webwire.com/prmedia/6/247972/247972-1.jpg )
WebWireID247972

This news content was configured by WebWire editorial staff. Linking is permitted.
News Release Distribution and Press Release Distribution Services Provided by WebWire.