Film at Lincoln Center's Fall/Winter 2019 Repertory Series, Retrospectives, and New Releases
WEBWIRE
–
Monday, September 30, 2019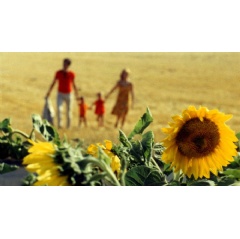 Le bonheur
Film at Lincoln Center has announced the full lineup of repertory series, retrospectives, and new release programming for the fall and winter seasons, including a complete retrospective of Austrian director Jessica Hausner; a series on the significant and varied films of New Korean Cinema timed to FLC's theatrical release of pioneer Bong Joon Ho's Parasite; the first U.S. retrospective of French filmmaker Patricia Mazuy; a survey of the visionary Bengali director, poet, and actor Ritwik Ghatak; a series exploring the radical filmmakers of the contemporary Brazilian cinema movement; and the most comprehensive series to date of renowned filmmaker Agnès Varda. Our new releases include five NYFF57 selections: Bong Joon Ho's Palme d'Or–winner Parasite; a 4K restoration of Béla Tarr's magnum opus Sátántangó; Nadav Lapid's brilliantly haunting Synonyms; Agnès Varda's intimate final work, Varda by Agnès; and an immersive tribute to legendary dancer and choreographer Merce Cunningham in the 3D film Cunningham. More details and series dates are listed below.
FALL/WINTER REPERTORY
November 1–6
Poetry and Partition: The Films of Ritwik Ghatak
Bengali-born director, poet, and actor Ritwik Ghatak's career was one of constant struggle—against a public that, per his contemporary Satyajit Ray, "largely ignored" his films; against a society that had lost its way amid rampant modernization; and against a national cinema whose conventions he broke time and again. He only completed eight feature films during his lifetime, but each represents a landmark achievement in the history of Indian cinema, movingly reflecting the social realities of a nation trying to revise its identity in the aftermath of British colonial rule and the partition of India and Pakistan, and representing the melodrama of everyday life under the country's newly modernized economy. Join Film at Lincoln Center for a retrospective of Ghatak's work, including recent digital restorations of all of his epochal films.
Organized by Dan Sullivan and Richard Peña. Special thanks to the National Film Archive of India and Columbia University.
November 8–10
Jessica Hausner: The Miracle Worker
After emerging onto the scene with her 2001 feature debut, Lovely Rita, Austrian filmmaker Jessica Hausner has rapidly established herself as a tirelessly inventive director who reconfigures genre codes in clever and provocative ways. Whether reimagining the thriller (Hotel), exploring spirituality (Lourdes), or darkly and humorously riffing on the period film (Amour Fou), Hausner never fails to surprise and stimulate. On the occasion of the release of her latest, the meticulously composed and enthralling Frankenstein gloss Little Joe (starring Emily Beecham and Ben Whishaw), join Film at Lincoln Center for a complete retrospective of Hausner's oeuvre with the director herself in person, including a special sneak preview of Little Joe.
Organized by Florence Almozini and Dan Sullivan. Special thanks to Magnolia Pictures.
November 15–17
Rebel Spirit: The Films of Patricia Mazuy
Though little-known to American moviegoers, Patricia Mazuy has earned a reputation and a dedicated following among French audiences and international festival patrons for her bracing, singular directorial vision, developed over three decades across a small but distinguished filmography of narrative features, documentaries, and TV movies. Many of her keen-eyed period dramas, wry examinations of modern workplace dynamics, and lean, brooding chamber pieces of familial angst have screened at Cannes, and her work has earned the admiration of Jacques Rivette. In addition to multiple collaborations with composer John Cale, who scored three of her features, Mazuy has drawn quietly virtuosic performances from the likes of Sandrine Bonnaire, Isabelle Huppert, and Laurent Lafitte, each contributing to a vividly textured portrait of French social life. On the occasion of her fifth feature, Paul Sanchez Is Back! (screened in this year's Rendez-Vous with French Cinema), Film at Lincoln Center is proud to present the first American retrospective of her work, and to welcome Mazuy in person. Presented in collaboration with Unifrance and the Cultural Services of the French Embassy.
Organized by Florence Almozini and Madeline Whittle. 
November 22–December 4
Relentless Invention: New Korean Cinema, 1996-2003
The South Korean film industry has been in the midst of a remarkable, decades-long creative explosion, with Bong Joon Ho, Hong Sang-soo, and Park Chan-wook jolting new life into arthouse and genre cinema alike. With the end of the nation's military rule and the relaxing of government censorship, Korean film experienced the kind of renaissance that hadn't been seen since its golden age in the 1950s. This new generation of filmmakers took more than political and social issues as their inspiration: they re-energized national cinema in the late 1990s and early 2000s with homegrown blockbusters that imbued the pleasures of pop cinema with a subversive, gleefully inventive approach to genre and a sharp sociopolitical edge. From tear-jerking romances to supernatural shockers, ultra-stylish thrillers to offbeat comedies, this survey celebrates a vital movement that's as audaciously innovative as it is unabashedly entertaining. Presented in collaboration with Subway Cinema and Korean Cultural Center New York.
Organized by Goran Topalovic, Dennis Lim, and Tyler Wilson.
December 6-11
Veredas: A Generation of Brazilian Filmmakers
Brazilian cinema has had few parallels in recent years. Filmmakers such as Kleber Mendonça Filho, Gabriel Mascaro, Karim Aïnouz, João Dumans, Affonso Uchoa, and others have radically revised our understanding of Brazilian cinema. Of course these artists and their work did not emerge in a vacuum, and an examination of their cultural, political, and aesthetic contexts is key to understanding and appreciating their boundary pushing. Veredas: A Generation of Brazilian Filmmakers will survey of some of the unheralded highlights of this inspiring and provocative moment in Brazilian cinema, featuring a number of New York premieres and in-person appearances.
Organized by Mary Jane Marcasiano, Carlos Gutierrez and Fabio Andrade. Co-presented with Cinema Tropical. Special thanks to the Consulate General of Brazil in New York.
December 20, 2019 – January 9, 2020
Varda
In 1955, Agnès Varda kickstarted the French New Wave with her debut feature La Pointe Courte,and for the next six decades she remained at the cutting edge of international cinema, continuing to innovate, experiment, and explore right up until her death earlier this year at age 90. An eternal free spirit, Varda used the camera as an extension of herself, synthesizing the things that captured her restless imagination—the worlds of outcasts and outsiders, the California counterculture and the feminist movement, beaches and heart-shaped potatoes—into a singular style that she called "cinécriture" ("cinematic writing"). Moving between narrative and documentary (and hybrids of the two), film and video, photography and installation works, she remained, at each step of her career, inimitably herself: playful, probing, empathetic, wise, and inexhaustibly curious about the world whirling around her. This winter, Film at Lincoln Center is honored to present this career-spanning retrospective of Agnès Varda, the most comprehensive survey to date of the late, luminous filmmaker's vast canon. Presented in partnership with Janus Films.
Organized by Florence Almozini and Tyler Wilson.
FALL/WINTER NEW RELEASES
Opens October 16
Parasite
Dir. Bong Joon Ho, South Korea, 132m
In Bong Joon Ho's exhilarating new film, a threadbare family of four struggling to make ends meet gradually hatches a scheme to work for, and as a result infiltrate, the wealthy household of an entrepreneur, his seemingly frivolous wife, and their troubled kids. How they go about doing this—and how their best-laid plans spiral out to destruction and madness—constitutes one of the wildest, scariest, and most unexpectedly affecting movies in years, a portrayal of contemporary class resentment that deservedly won the Cannes Film Festival's Palme d'Or. As with all of this South Korean filmmaker's best works, Parasite is both rollicking and ruminative in its depiction of the extremes to which human beings push themselves in a world of unending, unbridgeable economic inequality. A NEON release.
Opens October 18
Sátántangó
Béla Tarr, Hungary/Germany/Switzerland, 1994, 432m (plus two intermissions)
Among the world's most respected and transformative filmmakers, Béla Tarr—whose final film, The Turin Horse, played at NYFF49—made his international breakthrough with this astonishing, singular adaptation of the novel by László Krasznahorkai about the arrival of a false prophet in a small farming collective during the waning days of Communism. Divided into 12 distinct episodes, this seven-and-a-half hour masterpiece weaves in and out of the lives of the locals as the silver-tongued Irimiás (played by Tarr's longtime musical composer Mihály Vig) promises a bright future in a new promised land. This bleak yet mordantly funny study of domestic and social decay was ranked 36th on the most recent Sight & Sound critics' poll of the greatest films ever made. Sátántangó has been restored in 4K from the original 35mm camera negative by Arbelos in collaboration with the Hungarian Filmlab. An Arbelos release.
Opens October 25
Synonyms
Dir. Nadav Lapid, France/Israel/Germany, 123m
In his lacerating third feature, director Nadav Lapid's camera races to keep up with the adventures of peripatetic Yoav (Tom Mercier), a disillusioned Israeli who has absconded to Paris following his military training. Having disavowed Hebrew, he devotes himself to learning the intricacies of the French language, falls into an emotional and intellectual triangle with a wealthy bohemian couple (Quentin Dolmaire and Louise Chevillotte), and frequently finds himself objectified, both politically and sexually. A powerful expression of the impossibility of escaping one's roots, Synonyms is, even after the unforgettable Policeman (NYFF48) and The Kindergarten Teacher, Lapid's boldest and most haunting work yet, a film about language and physicality, masculinity and nationhood. A Kino Lorber release.
Opens November 22
Varda by Agnès
Dir. Agnès Varda, France, 120m
When Agnès Varda died earlier this year at age 90, the world lost one of its most inspirational cinematic radicals. From her neorealist-tinged 1954 feature debut La Pointe Courte to her New Wave treasures Cléo from 5 to 7 and Le Bonheur to her inquiries into those on society's outskirts like Vagabond (NYFF23), The Gleaners and I (NYFF38), and the 2017 Oscar nominee Faces Places (NYFF55), she made enduring films that were both forthrightly political and gratifyingly mercurial, and which toggled between fiction and documentary decades before it was more commonplace in art cinema. In what would be her final film, partially constructed of onstage interviews and lectures, interspersed with a wealth of clips and archival footage, Varda guides us through her career, from her movies to her remarkable still photography to her delightful and creative installation work. It's a fitting farewell to a filmmaker, told in her own words. A Janus Films release.
Opens December 13
Cunningham 
Dir. Alla Kovgan, Germany/France/USA, 93m
One of the most visionary choreographers of the 20th century, Merce Cunningham could also be counted among its great modern artists, part of a coterie of important experimenters across media that included Robert Rauschenberg, Brian Eno, Jasper Johns, and his long-term romantic partner John Cage. This painstakingly constructed new documentary both charts his artistic evolution over the course of three decades and immerses the viewer in the precise rhythms and dynamic movements of his choreography through a 3D process that allows us to step inside the dance. Director Alla Kovgan has created a visceral experience that both reimagines and pays tribute to Cunningham's groundbreaking technique. A Magnolia Pictures release.
New Releases are organized by Dennis Lim and Florence Almozini.
( Press Release Image: https://photos.webwire.com/prmedia/6/247736/247736-1.jpg )
Related Links
WebWireID247736

This news content was configured by WebWire editorial staff. Linking is permitted.
News Release Distribution and Press Release Distribution Services Provided by WebWire.