Donostia Award for the dreamer Penélope Cruz
The actress received the San Sebastian Festival's most important honorary award from Bono (U2) in a surprise ceremony
WEBWIRE
–
Monday, September 30, 2019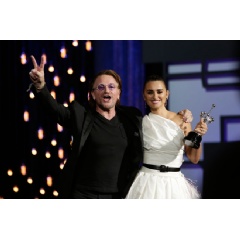 Penélope Cruz (Madrid, 1974) has received the third Donostia Award of the 67th edition from Bono, the frontman of U2, at a gala representing a surprise for both the honoured guest and for the audience. This was the San Sebastian  Festival's tribute to the Spanish actress to enjoy greatest international  recognition, who is also the image of the poster of its 67th edition.
In recent weeks, the Festival organisation has kept  the identity of the person who will present Penélope Cruz with the award at the  Kursaal a complete secret. The idea was not to reveal to the actress that her  good friend Bono, to whom she presented the Los40 Golden Music Award in 2017,  would be in San Sebastian to participate in the gala.
The Irish  musician was introduced by surprise by José Luis Rebordinos, the Festival Director,  and came down from the stalls to the stage where he and Penélope Cruz enveloped  one another in a warm embrace. "Penélope's life on the screen fascinates me because it is a family drama. Artists like us, like me, get lost in our own selves. Penélope gets lost in others. That's why we get lost in her", said  Bono. 
The audience gave the actress a heartfelt ovation lasting for several minutes. Having admitted that she didn't expect the surprise and having declared her love for Bono, Cruz confessed that she was always "a great dreamer". "Since I was a child I was aware that day-dreaming was the best way to shape a possible future provided that luck accompanies you along the way", she said. Her childhood dreams were to become a mother and an actress and after so many years of work, her love for the profession "does nothing but continue to grow". "This  profession offers you moments when the soul flies; you need to shake off your ego to understand all of these different and fascinating lives and give each one of them all of the dignity and respect they deserve", she indicated.
She also expressed her "boundless gratitude" for an award which she dedicated to her parents, who have always supported her, and to the directors who have trusted  in her, among whom she mentioned Pedro Almodóvar, Bigas Luna and Fernando Trueba. She also remembered professors like Juan Carlos Corazza and Cristina Rota, and her representative Katrina Bayonas, but the most emotional moment was when she dedicated the Donostia Award to her two children and to her husband Javier Bardem, who was present in the theatre and who was also "included" in her dream.
Before ending her speech, she spoke out for "taking care of and protecting our shared home that is the world" in order to give the children of today "more than enough reasons to continue dreaming"; and also voiced her condemnation of male violence against women."This year alone 44 women have already been murdered as a result of male violence, and since 2003, the number of deaths amount to more than a thousand in our country alone. How many must there be in the world? When a woman finds the hugely enormous strength that it takes to speak out about  living in a situation such as this, I hope that you listen to her straight away  and not when it's too late", she ended.
Penélope  Cruz, aged 45, is the youngest actress to have received the Donostia Award -Ewan McGregor was the youngest male actor to receive it when he was aged 41-. She received best supporting actress Academy Award and Bafta for her part in Vicky Cristina Barcelona (Woody Allen, Pearls 2008), three Goyas for her work in La niña de tus ojos (The Girl of Your Dreams, Fernando Trueba, 1998), Volver (Pedro  Almodóvar, Fipresci Grand Prix 2005) and Vicky Cristina Barcelona, the best actress award with the other women in the cast at the Cannes Festival (Volver), the honorary César and the Gold Medal for Merit in the Fine Arts (2018), among many other awards.
PENELOPE'S TALK
I want to thank the San Sebastian Festival and José Luis Rebordinos. Receiving such an important award is the best opportunity to say thank you. I have always been a dreamer. Since I was a child I was aware that daydreaming was the best way to build a future as long as luck is with you.

My childhood dreams were mainly two: being able to become a mother one day and being able to work in what has been my passion since I was a child: acting. To me, acting was always a necessity. After all these years of working in it, my respect and love for this profession just keeps growing. This job gives you moments in which your soul flies and you need to get rid of your ego to understand all these different and fascinating lives and give to each of them all the dignity and respect they deserve.

Many years have passed since that girl wondered whether any of her dreams would come true. I feel that some of the most important ones have been achieved. I wake up every day having an infinite gratitude for all the people who have helped me on this journey, starting with my dear parents, for their love and support, for never invalidating me, and for giving me a freedom that I now know that surely hasn't been easy. Thank you, Mom, and Dad, wherever you are, thank you.

My dear Pedro, my dear Bigas Lunas, my dear Fernando Trueba, and all the directors who have trusted me and taught me so much. Thanks to my teachers Juan Carlos Corazza and Cristina Rota, and to Katrina Bayonas, for so many things.

I dedicate this award to my two precious children and my husband Javier, the most wonderful life partner you can have, and yes, he was also included in my dreams and he is now here with me. Thank you.

All together we can take care and protect our common home, the world, and give to those who are now children every reason to keep dreaming about a world in which once and for all we realise that we are all one.

I want to put an end to my speech by addressing a topic that doesn't have much to do with cinema, although cinema always has something to do with life.

Actresses are constantly asked if we think that the situation of women in terms of equality is improving. I can only answer that so far this year 44 women have been murdered by gender-based violence in our country; and since 2003 more than a thousand. How many women are being murdered around the world? I hope that when a woman finds the superhuman strength she needs to tell what she is going through in such a situation, she will be heard at first and not when it is too late.

Thank you
( Press Release Image: https://photos.webwire.com/prmedia/6/247731/247731-1.jpg )
Related Links
WebWireID247731

This news content was configured by WebWire editorial staff. Linking is permitted.
News Release Distribution and Press Release Distribution Services Provided by WebWire.