Tickets for the AGO's major exhibition Early Rubens go on sale
#RubensAGO opens Oct. 12 and is free for AGO Annual Pass holders and Members
TORONTO –
WEBWIRE
–
Friday, September 27, 2019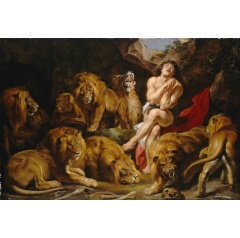 His flair for the dramatic was matched only by the ambition and scale of his artworks. One of the most renowned painters in Western art history, Peter Paul Rubens (1577-1640) was a master storyteller whose larger-than-life paintings illustrate stories from mythology, history and the Bible. Featuring over 30 large-scale paintings – including several never before shown in North America – and more than 20 works on paper, Early Rubens opens in Toronto on Oct. 12, 2019. The exhibition is organized in partnership with the Fine Arts Museums, San Francisco (FAMSF).
Timed-entry tickets can be booked online at ago.ca, in person and by phone starting Sept. 27, 2019. Tickets are free for AGO Members and Annual Pass holders, and individual tickets are $25. Visitors 25 and under who are not holders of free Annual Passes may claim free tickets in person on the day of their visit, subject to availability. For more details about AGO Memberships or Annual Passes, visit ago.ca.
"The story of Early Rubens gets at the heart of the artist's relationship with his city," says Stephan Jost, the AGO's Michael and Sonja Koerner Director, and CEO. "The Baroque style was dramatic, cinematic, and larger than life. But running through the spectacular scenes of his works is the voice of Antwerp's people of the 17th Century, as they contemplated and processed recent war and conflicts. It's the perfect example of how we can navigate the complexities of our time through art, no matter the era."
"Ontario offers the world in one province and that's clear through the AGO's showcasing of artists like Peter Paul Rubens, who have created masterpieces that contribute to our unique culture and inspire future generations of artists," says Lisa MacLeod, Minister of Tourism, Culture and Sport. "As this once-in-a-lifetime exhibition opens, I encourage all Ontarians to visit the AGO and discover the influential artists who have shaped our province, country and world."
A revealing look at artworks produced in Antwerp between 1609 and 1621, Early Rubens is organized thematically, offering insights into the evolution of Rubens's studio, his innovative adoption of early copyright law and Antwerp's violent history. The exhibition also spotlights two works from the AGO Collection: Massacre of the Innocents from 1610, and Rubens's largest and most realized oil sketch The Raising of the Cross, from 1638. Measuring 4.5 feet by 6 feet, The Massacre of the Innocents masterfully combines Italian drama with Flemish realism to create a brutal and compelling anti-war statement.
On view until January 5, 2020, Early Rubens is accompanied by a variety of AGO events, talks, courses and performances.
POP-UP DRAWING STUDIO
Inspired by Rubens's mastery of the art form, visitors are invited to try their hand at drawing in Walker Court daily throughout the run of the exhibition. Featuring a Baroque-inspired backdrop, live models will be present most Tuesdays, Thursdays and Saturdays throughout the run of the exhibition, from noon to 3 p.m., and on Wednesday and Friday evenings from 6 p.m. to 9 p.m.. Free with admission, materials will be supplied.
TALKS
Dive deeper into the life and times of Rubens with talks and programs inspired by the exhibition. Dr. Sasha Suda, Director and CEO of the National Gallery of Canada and Early Rubens co-curator, will give a talk exploring the life and work of the Flemish master Peter Paul Rubens on Oct. 11, 2019. On Nov. 13, 2019, art historian Evonne Levy discusses how Rubens, like all artists of his time, moved nimbly between mediums – from drawing and print to sketches and full-scale paintings in oil. Later in November, art historian Dr. Corrinne Chong explores the mythological stories that inspired many of Rubens most dynamic works. For tickets to these and other related talks, visit ago.ca.
LIVE PERFORMANCES
Antwerp was a leading center for the manufacturing of harpsichords during the 17th century, and the instruments were a common feature in most middle and upper class homes during Rubens's lifetime. Visitors to Early Rubens can see and hear harpsichords played during a series of live in-gallery performances, taking place every Thursday, Saturday and Sunday at 2 p.m. and on Wednesday's at 6 p.m. throughout the run of the exhibition.
A divinely inspired mash up, Songs of Heaven is a unique musical performance inspired by Early Rubens. Commissioned by the AGO and performed by the Choir of St. James Cathedral under the direction of Robert Busiakiewicz, Songs of Heaven marks the world premier of three new choral pieces composed by leading Canadian musicians Owen Pallett, Cris Derksen and Matt Smith. Staged in Walker Court for two nights only on Saturday October 12 and Sunday October 13, 2019, the performance immerses the audience in a sea of song and includes access to the exhibition. For more information or to purchase your tickets for Songs of Heaven visit ago.ca.
COURSES
This fall the AGO's Dr. Anne Tanenbaum Gallery School offers baroque-inspired workshops and courses for children, youth and adults. Pulling inspiration from the dramatic portraits on display in Early Rubens, adult five-week courses will focus on life drawing, life photography and portrait painting. A full list of adult course offerings with information about registration can be found here. The fall season of children and youth courses also takes its inspiration from Early Rubens. Life drawing courses, featuring fully clothed models, will be offered for children and youth ages 11 - 13 and 14 - 18. Painting: Reinventing The Masters will allow students to explore Rubens's works before using modern techniques to recreate their favourites. A full list of children's and youth courses is available here.
 
AGO BISTRO
Belgian beers, crispy frites and a traditional Flemish fish stew top the menu at AGO Bistro this fall in honour of Rubens's heritage. Check out the full menu, available here.
 
shopAGO
Find the perfect souvenir to remember your visit to Early Rubens at shopAGO. Throughout the run of the exhibition, shopAGO will feature Flemish-inspired jewelry, luxuriously scented Hobnail candles and marble coasters featuring a period design taken from tiles in Ruben's house in Antwerp. The exhibition is accompanied by a 280-page hardcover catalogue, co-published by the AGO and Delmonico Books. A beautiful addition to any library, the catalogue features essays about the evolution of Peter Paul Rubens's style from 1608 to 1621, following his rise from relative anonymity to art world celebrity. Early Rubens is available now at shopAGO.
@AGOToronto | #RubensAGO
Early Rubens is organized in partnership with the Fine Arts Museums, San Francisco (FAMSF).
EARLY RUBENS ACKNOWLEDGEMENTS
Lead Support
Hans & Susan Brenninkmeyer
Generous Support
Robert Harding & Angel Yang
With Assistance
The General Delegation of the Government of Flanders to the USA
Media Partner
The Globe and Mail
ABOUT THE AGO
Located in Toronto, Canada's largest city of 5.9 million, the Art Gallery of Ontario (AGO) is one of the largest art museums in North America. The AGO Collection of close to 95,000 works ranges from cutting-edge contemporary art to significant works by Indigenous and Canadian artists and European masterpieces. The AGO presents wide-ranging exhibitions and programs, taking special care to showcase diverse and underrepresented artists. Its 585,000 square foot building was most recently expanded in 2008 by Frank Gehry, and attracts approximately one million visits per year. A new pricing model, launching May 25, 2019, offers all visitors 25 and under free, unlimited admission; a $35 Annual Pass includes entry for an entire year. Visit AGO.ca to learn more.
The AGO is funded in part by the Ontario Ministry of Tourism, Culture and Sport. Additional operating support is received from the City of Toronto, the Canada Council for the Arts and generous contributions from AGO Members, donors and private-sector partners.
( Press Release Image: https://photos.webwire.com/prmedia/7/247619/247619-1.jpg )
Related Links
WebWireID247619

This news content was configured by WebWire editorial staff. Linking is permitted.
News Release Distribution and Press Release Distribution Services Provided by WebWire.