Research alliance develops sensor systems for autonomous flight and driving
Innovative microelectronics cut energy consumption by 90 percent
Stuttgart, Germany –
WEBWIRE
–
Thursday, September 26, 2019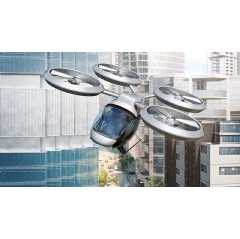 "The OCEAN12 project's objective is to ensure that new sensor systems for future mobility concepts consume up to 90 percent less power than today's systems."
A new semiconductor production method aims to maximize energy efficiency while using components with advanced computing power.
Bosch is the German consortium leader of the publicly funded OCEAN12* project with 27 partners across Europe, 14 of them in Germany.




Mobility options in cities are becoming more and more diverse. People go by foot, bike, or e-bike, take buses, trams, or trains, drive their own cars, and in the future will even travel in driverless cars. There are also new options for flight: in conurbations, autonomous flying taxis or drones could transport people or time-critical goods and medications. All these applications require powerful sensors and control systems that save as much energy as possible. This is precisely where the publicly funded OCEAN12* project comes in – a pan-European collaboration of 27 partners from the fields of semiconductor technology, electronics, aerospace technology, and automotive technology. Bosch heads up the German consortium, which consists of 14 organizations. The project partners will be working together up until the end of 2021 to develop various especially energy-efficient components that can collect and process data from the surroundings of vehicles and aircraft. These include surround sensors such as cameras and lidar or radar sensors, as well as microprocessors for processing data. The electronics translate the collected data into commands for downstream components – for example, braking or steering a car or controlling the propulsion of a flying taxi.

"The OCEAN12 project's objective is to ensure that new sensor systems for future mobility concepts consume up to 90 percent less power than today's systems." Dr. Tilman Glökler from Bosch

Comprehensive research needed

Development in the OCEAN12 project is based primarily on Fully Depleted Silicon On Insulator (FD-SOI) technology from the OCEAN12 project partner GlobalFoundries. This method of semiconductor production involves adding an ultrathin layer of insulator to reduce what are called leakage currents, resulting in lower energy consumption and higher computing speed. Based on this technology, the research alliance partners can subsequently develop components that offer an optimum combination of maximum energy efficiency with advanced computing power. "The OCEAN12 project's objective is to ensure that new sensor systems for future mobility concepts consume up to 90 percent less power than today's systems," says Dr. Tilman Glökler from Bosch, coordinator of the German OCEAN12 consortium. In addition, the new technology makes it possible to build particularly small sensor systems, as sensors containing high-performance evaluation circuits can be integrated as a system on a chip (SoC). "Energy-saving sensor systems are indispensable for automated driving and flying. As we apply our expertise in microelectronics to the OCEAN12 project, we are gradually moving closer to this goal," Glökler says.

OCEAN12 facts and figures

Funding for the OCEAN12 project (worth 103.58 million euros) comes from the European Union and national organizations. In Germany, the Federal Ministry of Education and Research and the state of Saxony provide financial support. Together, all the sponsors will contribute some 48 million euros over the course of the project from mid-2018 to the end of 2021. The German consortium includes Airbus, Audi, Bosch, and GlobalFoundries as well as numerous SMEs, research institutes, and universities.

* OCEAN12: Opportunity to Carry European Autonomous driviNg further with FD-SOI technology up to 12nm node

Background information on the internet
OCEAN12 project

The 14 German partners and their roles in the OCEAN12 project
AED Engineering GmbH (hardware and software engineering)
Airbus Defence and Space GmbH (applications for autonomous aircraft)
Audi AG (applications for autonomous vehicles)
University of Tübingen (research)
Fraunhofer EMFT (research)
Fraunhofer IIS (research)
Fraunhofer IPMS (research)
GlobalFoundries (associated partner for the FD-SOI technology)
Unity Semiconductor GmbH (equipment for chip production)
MunEDA GmbH (design tools for chip development)
Robert Bosch GmbH (components for collecting data on vehicle surroundings)
Technische Universität Dresden (training and research)
Bundeswehr University Munich (research)
Paderborn University (research)

Mobility Solutions is the largest Bosch Group business sector. In 2018, its sales came to 47.6 billion euros, or 61 percent of total group sales. This makes the Bosch Group one of the leading automotive suppliers. The Mobility Solutions business sector pursues a vision of mobility that is accident-free. emissions-free, and fascinating, and combines the group's expertise in the domains of automation, electrification, and connectivity. For its customers, the outcome is integrated mobility solutions. The business sector's main areas of activity are injection technology and powertrain peripherals for internal-combustion engines, diverse solutions for powertrain electrification, vehicle safety systems, driver-assistance and automated functions, technology for user-friendly infotainment as well as vehicle-to-vehicle and vehicle-to-infrastructure communication, repair-shop concepts, and technology and services for the automotive aftermarket. Bosch is synonymous with important automotive innovations, such as electronic engine management, the ESP anti-skid system, and common-rail diesel technology.

The Bosch Group is a leading global supplier of technology and services. It employs roughly 410,000 associates worldwide (as of December 31, 2018). The company generated sales of 78.5 billion euros in 2018. Its operations are divided into four business sectors: Mobility Solutions, Industrial Technology, Consumer Goods, and Energy and Building Technology. As a leading IoT company, Bosch offers innovative solutions for smart homes, smart cities, connected mobility, and connected manufacturing. It uses its expertise in sensor technology, software, and services, as well as its own IoT cloud, to offer its customers connected, cross-domain solutions from a single source. The Bosch Group's strategic objective is to deliver innovations for a connected life. Bosch improves quality of life worldwide with products and services that are innovative and spark enthusiasm. In short, Bosch creates technology that is "Invented for life." The Bosch Group comprises Robert Bosch GmbH and its roughly 460 subsidiary and regional companies in over 60 countries. Including sales and service partners, Bosch's global manufacturing, engineering, and sales network covers nearly every country in the world. The basis for the company's future growth is its innovative strength. At nearly 130 locations across the globe, Bosch employs some 68,700 associates in research and development.

Additional information is available online at www.bosch.com, www.iot.bosch.com, www.bosch-press.com, www.twitter.com/BoschPresse.
( Press Release Image: https://photos.webwire.com/prmedia/7/247579/247579-1.jpg )
Related Links
WebWireID247579

This news content was configured by WebWire editorial staff. Linking is permitted.
News Release Distribution and Press Release Distribution Services Provided by WebWire.