Eco-conscious shoppers expect retailers to foot the bill for greener deliveries
- Most British shoppers want eco-friendly online deliveries, but six in ten (62%) will not pay any extra for them
- Retailers over-estimate how much consumers are willing to pay for 'green deliveries' by nearly three times
- Nine out of ten British (91%) retailers are planning to invest in sustainable deliveries over the coming years to boost business growth and improve customer loyalty
WEBWIRE
–
Wednesday, September 25, 2019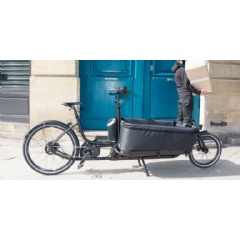 British consumers increasingly expect the goods they buy online to be delivered to their door in an environmentally friendly way - but are unwilling to pay for the additional costs involved, a new Barclays Corporate Banking report Is sustainability the new loyalty in retail and wholesale? has revealed.
Not only are shoppers reluctant to pay more for recycling schemes, sustainable packaging and low carbon deliveries, but almost half (46%) said offering rewards were the most effective way of getting them to be 'greener.'
Surprisingly, most younger people (76%), who are seen as the most engaged on environmental issues, said they would want something in return, like discounts or vouchers, to change their behaviour and cut down on waste.
The survey of 2001 UK adults and 518 senior retail decision makers across the UK found that cost remains the top priority for consumers, followed by the speed and reliability of deliveries. However, when differentiating between retailers, consumers were more likely to choose businesses that offered 'green' options such as sustainable packaging and doorstep recycling schemes, where drivers take away unwanted boxes.
Retailers efforts in reducing waste, cutting energy usage and boosting recycling have also been recognised with consumers rating them as the most effective force for driving change.
The findings come as British businesses plan to spend billions of pounds on sustainable delivery options. Despite the tough retail environment, almost half (48%) said they would invest a 'significant amount' on sustainable deliveries over the next five years to help drive growth
Karen Johnson, Head of Retail and Wholesale at Barclays, comments:
"British shoppers are increasingly influenced by brands' sustainability credentials. Retailers have to recognise that it's not a choice – they must be able to demonstrate that sustainability is top of their agenda if they are to retain and attract new customers, whether that's through greener delivery options, packaging or wider supply chain improvements.
"The elephant in the room is who is expected to fund these sustainability efforts, with our research showing that consumers are largely unwilling to foot the bill. Hard pressed retailers don't have a lot of wiggle room at the moment, so it's not easy for them to take the hit either. Despite this challenge, it's good to see that the vast majority of retailers are committed to devoting more resources to green activity and it's crucial that they safeguard this spending even when funds for investment are limited."
Who pays?
The research found that nearly two thirds of consumers (62%) said they would not pay any more for greener deliveries, with 57% of 35-54-year-olds and 76% of over 55s expecting businesses to absorb the full costs.
On average, consumers said they would only be willing to pay an extra 1.8% for environmentally friendly deliveries, with only younger people saying they would be willing to pay more than 3%.
In contrast, businesses incorrectly predicted their customers would pay nearly three times as much, at 5.6%.
Opportunity for business
Despite the apparent reluctance of consumers to share the costs involved in paying for greener deliveries, UK businesses are embracing the challenge of reflecting rising expectations over their sustainability credentials - nine in ten (91%) retailers are setting aside resources to invest in green deliveries, devoting an average of 11.4 % of revenue to a variety of measures over the next five years.
As well as investing in sustainability because it's the right thing to do, more than four fifths of retailers recognise that sustainable deliveries could facilitate growth in their business, with the main growth drivers being an improved brand reputation (57%), better customer loyalty (51%) and attracting new customers (51%). If retailers can invest in the right areas to match their customer base, businesses could reap the rewards of attracting new customers at a time when growth in the retail sector is so difficult to obtain.
Packaging is an important 'influencing' factor for consumers, with almost half (46%) claiming that incentives for returning packaging would most sway them when deciding whether to purchase from one retailer or another, with greener packaging coming a close second (40%). The research also found that 85% of consumers would use recycling schemes, in which delivery drivers would take away unneeded packaging, bags or plastic bottles.
Reverse vending machines also appear popular with consumers, with 41% saying they would use them to return bottles. However, only 18% of retailers are considering introducing them in stores.
The most popular areas for investment over the next five years are in reducing packaging, biodegradable packaging, delivery to central points and electric vehicles.
Carrot vs Stick approach
When it comes to changing customer behaviour, nearly half of consumers (46%) believe the 'carrot' approach of rewarding environmentally responsible behaviour with incentives such as discounts to be more effective than the 'stick' of being penalised, such as paying extra for plastic bags. However, despite the popularity of discounts and rewards, only 32% of retailers have such incentives for returning packaging.
This difference in preference is more pronounced between generations, with 54% of younger consumers (18-34) preferring 'rewards' compared to just a third (37%) of older consumers (55+). One in six younger people (60%) wanted a straight discount off their bill for being more environmentally responsible. In contrast, 44% of over 55s said they do not need an incentive.
Younger customers' strong interest in environmental issues and support for sustainable approaches provides a clear opportunity for retailers to build longer-term brand loyalty, reputation and engagement with a segment of the market which will grow larger and more affluent over the next five to ten years.
( Press Release Image: https://photos.webwire.com/prmedia/6/247524/247524-1.jpg )
Related Links
WebWireID247524

This news content was configured by WebWire editorial staff. Linking is permitted.
News Release Distribution and Press Release Distribution Services Provided by WebWire.