City of Kirkland Relies on Kenworth T880 Vacuum Trucks To Maintain Safe Roadways
KIRKLAND, Wash. –
WEBWIRE
–
Thursday, September 12, 2019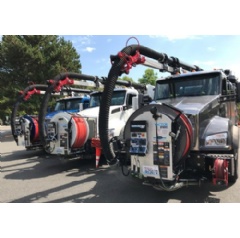 The metropolitan Seattle area has a reputation for its rainfall, drizzle and often overcast skies. During autumn, as the leaves begin to drop, the increase in precipitation washes those leaves into storm drains.
To keep storm drains clear of debris, the City of Kirkland utilizes Kenworth T880s, equipped with Vactor vacuum tanks, to unclog the drains so that rainwater can pass through without causing backups.
"Our Kenworth T880s are out on the road every single day, clearing storm drains, assisting with digging projects and responding to emergencies. Two T880's are designated to go around the city doing preventative maintenance by clearing storm drains throughout the year. It's fairly routine work," said Archie Ferguson, fleet manager for the City of Kirkland, which is located just east of Seattle across Lake Washington.
"The other Kenworth T880 is out cleaning sanitary sewers and assisting city utility projects that require 'digging' in hard-to-reach areas by shooting water and loosening up soil, so that it can be sucked into the tank. "It's especially helpful when we're working near underground wires. This truck will also help clear storm drains in emergency situations, typically during periods of heavy rain," Ferguson said.
What's more, as water quality becomes more front-and-center, spill response calls are getting much more common. "All three trucks respond to spills, accidents and other cleanups – including water main breaks. We do pressure washing and suck up pollutants – all in an effort to keep Lake Washington clean," explained Ferguson.
The city's Kenworth T880s are equipped with 370 hp engines and automated transmissions. The Vactor vacuum system is capable of holding 1,500 gallons of water and sucking in 12 yards of debris. The pump is capable of pushing the water out at 2,500 PSI at 80 gallons per minute.
The City of Kirkland, which covers more than 17 square miles with a population base at nearly 90,000 residents, added the Kenworth T880s to its fleet earlier this year.
"When spending taxpayer money, it's especially important to purchase equipment that offers the best return on investment," said Ferguson. "We needed to evaluate our purchasing options and determine which truck make would give us the reliability we needed. After narrowing our search, we reached out to other municipalities operating the Kenworth T880, and we liked what we heard. So, we went ahead and purchased three T880s. We're pleased that we are able to support a 'hometown' company with this investment in equipment."
The City of Kirkland's T880s generally operate within city limits, and on occasion, travel to neighboring city Redmond, if there is an emergency. While the city's vacuum trucks typically average 15,000 miles a year, the engines must be kept running to power PTOs used to operate the Vactor vacuum and water pump equipment.
"While our trucks don't accumulate many road miles, the engines are still constantly being put to the test. When we made the decision to go with Kenworths, engine reliability was a key factor. So far, they've been performing as we had hoped," said Ferguson.
At the end of the day, operating equipment that minimizes the cost burden of taxpayers is the number one priority, and the City of Kirkland is finding that to be true with its Kenworth T880s.
"We're able to keep our T880s on the road doing their job, rather than accumulating costs," said Ferguson. "It's a bonus to operate equipment that we expect to provide years of reliable service, while at the same time, representing a company in our backyard. I'm sure Kenworth employ
( Press Release Image: https://photos.webwire.com/prmedia/6/246807/246807-1.jpg )
Related Links
WebWireID246807

This news content was configured by WebWire editorial staff. Linking is permitted.
News Release Distribution and Press Release Distribution Services Provided by WebWire.