Industrial digitalization is driving demand for private mobile networks
With pressing capacity, security and critical communication needs, industries and public agencies are seeking to establish their own private LTE and 5G networks. Here's a look at what is rapidly becoming the preferred approach to delivering wireless broadband connectivity to industrial campus environments.
WEBWIRE
–
Thursday, September 5, 2019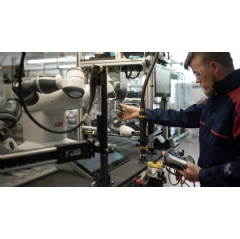 With 3GPP technologies able to meet increasing industry requirements on performance, as well as a broader range of spectrum options, the demand for private cellular networks is growing rapidly. According to Arthur D Little's predictions, the market for private campus networks, services and solutions are expected to be worth EUR 60-70 billion by 2025.
Ericsson is a leading provider of private LTE and 5G networks and has partnered with a broad range of service providers to connect industries and enterprises whose businesses are rapidly digitalizing. In the first half of 2019, Ericsson entered agreements with Telefónica, Telia, Telstra, Vodafone, Deutsche Telecom, and Elisa to provide its Private Networks solutions.
Manuel Ruiz, Head of Mission Critical & Private Networks, Ericsson, says: "Industries benefit from the technical expertise and 5G evolution plans that service providers bring to their business. They can also rely on existing service provider investments to extend their operations to new, unexplored use cases. By doing so, they can focus on innovating and optimizing their core business, leaving the complexity and evolution of connectivity services in the capable hands of their service provider."
The demand for Private Network solutions comes from a variety of industries and enterprises that share a common need: to look beyond Wi-Fi for secure and highly reliable broadband connectivity.
From voice and data, to industrial connectivity
About 20km from its headquarters in Stuttgart, Germany, Mercedes-Benz is building a new, 220,000sq m production facility. At Factory 56, all production systems and machines will be connected and operated via secure 5G that will achieve real-time low latency performance while handling enormous amounts of data. The 5G network, built by Ericsson and Telefónica Germany, will help Mercedes-Benz to boost the flexibility, precision and efficiency of its production operation.
Factory 56 is just one of Ericsson's ongoing projects that are enabling service providers to develop capabilities and gain experience of entering the private networks market.
About 400km away, another automobile factory is implementing Ericsson's 5G networking solutions for secure and near real-time data networking across the production chain.
At the e.GO electric car factory in Aachen, Germany, network slicing and mobile edge computing are set to enable secure automatic identification and delivery of production materials to each vehicle as it goes through the assembly process. The private 5G network, built together with Vodafone Germany, will support fully autonomous vehicles to replace the traditional production line, increasing operational speed and efficiency throughout the production chain.
And recently, Telstra's Mining Services announced its second official Private LTE mining partnership with Ericsson as the technology partner. The project involves the development of an underground private 4G network for South32's Cannington mine in North West Queensland. At full installation, it would be one of the largest LTE networks for underground mining in the world.
Ericsson is also using dedicated cellular network solutions at its own production facilities to increase production efficiency and sustainability. The private LTE network at Ericsson's factory in Tallinn, Estonia, is enabling the use of automated guided vehicles and augmented reality (AR) along with massive real-time data collection and analytics to create a more sustainable, efficient and safer production environment.
The extreme low latency and highly adaptable characteristics of Ericsson Private Networks is enabling the rapid integration of sensors, machines, in-vehicles such as built-in remote-control devices in a ship-to-shore crane at a port, and hand-held devices across a wide range of applications for industry enterprises.
Spectrum a key enabler for private networks
Regulators have been releasing more and more spectrum to traditional mobile network operators as well as specialist service providers, and in some countries even directly to local industries and enterprises. These moves have all helped to accelerate the growth and deployment of private networks.
Private networks can use licensed, unlicensed and, in some countries, shared spectrum in the 3.5-4.2GHz and 5GHz bands. In licensed spectrum, many countries have defined specific frequency ranges for public safety and/or utilities. Flexible in meeting varied market demands, Ericsson has been working with the utilities sector, for instance, to explore functionalities for critical communications such as eMBMS, enabling broadcast services for efficient group communications to large numbers of users simultaneously.
Ericsson is running collaborative projects with Orange Poland and German companies Innogy and 450Connect. These projects complement the experience from existing deployments in the utilities sector. Innogy, 450Connect and Ericsson have together launched a pilot project to confirm the suitability of LTE in the 450MHz frequency range for the critical communication needs of their energy operations in Germany. In particular, voice communications, decentralized power generation, telecontrol systems and smart meter gateways are being tested.
Other related projects
- Read more about Industry 4.0 and related Ericsson offerings
( Press Release Image: https://photos.webwire.com/prmedia/7/246391/246391-1.jpg )
Related Links
WebWireID246391

This news content was configured by WebWire editorial staff. Linking is permitted.
News Release Distribution and Press Release Distribution Services Provided by WebWire.