Sky Studios Presents Thriller Devils at Mipcom for World Premiere TV Screening
Paris –
WEBWIRE
–
Thursday, September 5, 2019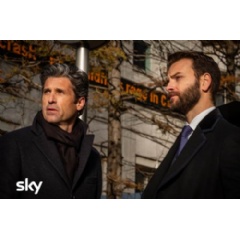 MIPCOM World Premiere TV Screening Devils
Patrick Dempsey, Alessandro Borghi and Kasia Smutniak to attend world premiere showcase on the opening day of MIPCOM 2019 on Monday 14 October Based on the best-selling novel by Guido Maria Brera, Devils is an international conspiracy thriller set in the world of global finance, produced by Sky Italia and Lux Vide, in association with Orange Studio, funded by Sky Studios and distributed internationally by NBCUniversal Global Distribution. The 10 x 60' series will be broadcast on Sky
Devils, the international financial thriller, produced by Sky Italia and Lux Vide, in association with Orange Studio and the participation of OCS,  funded by Sky Studios and distributed internationally by NBCUniversal Global Distribution, will have its World Premiere TV Screening at MIPCOM 2019, the biggest event on the international TV calendar.
 
The world's entertainment content market MIPCOM takes place in Cannes, France from 14th-17th October with Devils set to have its world premiere at the Palais des Festivals on Monday 14th October.
 
Patrick Dempsey (Grey's Anatomy, The Truth About the Harry Quebert Affair) plays Dominic Morgan, the American CEO of an international investment bank and one of the most powerful men in global finance; Dempsey will be in attendance and will present the exclusive first look alongside Alessandro Borghi (Suburra, Romulus & Remus: The First King), who plays the lead character Massimo Ruggero, the ambitious Head of Trading. Joining them will be Kasia Smutniak (Loro, Perfect Strangers) who stars as Dominic Morgan's glamorous wife, Nina, and the director Nick Hurran (Altered Carbon, Sherlock).
 
Based on the best-selling novel by Guido Maria Brera, Devils is a financial thriller set in 2011 on London's trading floors. Massimo Ruggero (Borghi), a charismatic and fearless Italian banker, has enjoyed a stellar winning streak at investment powerhouse, the NYL Investment Bank. Massimo's successes have seen him make hundreds of millions of dollars for his employers; and with it, all but certain promotion to Vice-CEO. However, a scandal involving his drug-addicted wife puts a brake on Massimo's ambitions, leading his American CEO and mentor, Dominic Morgan (Dempsey), to withdraw his support.
 
The sudden death of a colleague sees Massimo becoming the prime suspect for his murder. Sensing that Dominic is hiding something, Massimo sets about clearing his name and finding out the truth behind who set him up. As he fights to clear his name helped by a hacker-journalist (Laia Costa), Massimo discovers he's in the midst of an intercontinental war that's being played out across continents and against the chaos of the financial crash, but which has its roots much closer to home. 
 
Laurine Garaude, Director of Reed MIDEM's Television Division, said: "We are thrilled to be hosting the premiere of this fast-paced thriller with a truly international cast as part of the much-anticipated World Premiere TV Screenings. As a global showcase platform, MIPCOM offers the opportunity to discover the hottest fresh content with the World Premiere TV Screenings representing a special selection of exceptional series screened for the first time, and open to all participants and press."
 
Jane Millichip, Chief Commercial Officer of Sky Studios said: "Devils is a thoroughbred European thriller with tremendous international appeal, thanks to great storytelling by Lux Vide and Sky Italia, strong partnership of Orange Studio, and fabulous casting. We are grateful to Laurine Garaude and Reed MIDEM for selecting Devils for this year's World Premiere TV Screening."
 
Starring alongside Borghi, Dempsey, and Smutniak are Danish actor Lars Mikkelsen (The Killing, House of Cards), Laia Costa (Victoria), Malachi Kirby (Roots), Paul Chowdhry (Live at the Apollo), Pia Mechler (Everything Is Wonderful), Harry Michell (Chubby Funny) and Sallie Harmsen (Blade Runner 2049).
 
The series, which was shot in Rome and London, is directed by Nick Hurran (Sherlock, Doctor Who, Fortitude, Altered Carbon) and Jan Michelini (Medici). The screenwriters include: Alessandro Sermoneta, Mario Ruggeri, Elena Bucaccio, Guido Maria Brera, Chris Lunt, Michael Walker, Ben Harris, Daniele Cesarano, Ezio Abate and Barbara Petronio.
 
Devils is an original series, produced by Sky Italia and Lux Vide, funded by Sky Studios. It is produced in association with Orange Studio. The series will broadcast on Sky throughout its European footprint, and by OCS in France. NBCUniversal Global Distribution holds international rights in the rest of the world.
 
About Reed MIDEM – Founded in 1963, Reed MIDEM is an organiser of professional, international markets that are essential business platforms for key players in the sectors concerned. These sectors are MIPTV, MIPDOC, MIPCOM, MIPJUNIOR in Cannes, MIP China in Hangzhou and MIP Cancun in Mexico for the television and digital content industries; MIDEM in Cannes for music professionals; Esports BAR in Cannes and in Miami for the esports business; MIPIM in Cannes, MIPIM UK in London, MIPIM Asia Summit in Hong Kong and MIPIM PropTech Summit in New York for the real estate industry; MAPIC in Cannes, MAPIC Russia in Moscow, MAPIC Italy in Milan, MAPIC China Summit in Shanghai and IRF brought by MAPIC in Mumbai for the retail real estate sector.
About Reed Exhibitions – Reed Exhibitions is a leading global events organiser, with more than 500 events in 30 countries. In 2018, Reed Exhibitions brought together more than 7m event participants from around the world generating billions of dollars in business. Today Reed Exhibitions' events are held throughout the Americas, Europe, the Middle East, Asia Pacific and Africa and organised by 38 fully staffed offices. Reed Exhibitions serves 43 industry sectors with trade and consumer events. It is part of RELX Group, a global provider of information and analytics for professional and business customers across industries. www.reedexpo.com
About Sky Studios – Sky Studios brings to screen unique stories from the very best talent in Europe.
We develop, produce and fund original drama, comedy and documentary for Sky's 24m customers and beyond. Building on the success of critically-acclaimed Sky originals including Emmy-nominated Chernobyl, Bafta-winning Patrick Melrose and international hits Babylon Berlin and Riviera, Sky Studios is the new creative home of Sky originals, such as The Third Day with Jude Law, ZeroZeroZero from the makers of Gomorrah and The New Pope directed by Academy Award-winning director Paolo Sorrentino. 
We're an agile Studio, seeking out the best untold stories from new voices while working in creative partnership with today's best writers, producers and on-screen talent to bring viewers stories they wouldn't find anywhere else. 
 
With commissioning talent and production capability across the UK, Germany and Italy, we understand local tastes across Europe better than anyone else and have plans to more than double our investment in original content by 2024, fully supported and backed by Comcast NBC Universal.
Sky Studios invests in the cultural economy and global production sector with equity stakes in 10 production companies in the UK and the US, including Great British Bake-Off creator Love Productions, and the premiere reality crime producer in the US, Jupiter Entertainment, creator of long-running hit Snapped.  Sky Studios has invested in high quality factual specialists Blast Films and True North Productions; entertainment and format expert Znak & Co (US & UK); natural history producer True to Nature; and growth businesses Sugar Films, Avanti Media, Chrysalis Vision, and Talos Films (US).
 
Sky Studios launched in June 2019. The senior leadership team is Chief Executive Officer Gary Davey, Chief Commercial Officer Jane Millichip, Chief Finance Officer Caroline Cooper, Director of Drama UK Cameron Roach, Director of Comedy UK Jon Mountague, Director Original Production Sky Italia Nils Hartmann, and Director Original Production Sky Deutschland Marcus Ammon.
 
About Sky – With 23.7 million customers across seven countries, Sky is Europe's leading media and entertainment company and is proud to be part of the Comcast group. 
 
We have 31,000 colleagues and together we want to connect our customers to more of what they love, including our award-winning original productions, like Patrick Melrose and Save Me, and great shows from our partners including HBO, Showtime and Warner Bros. And our ever-improving technology makes it even easier for customers to watch more of the shows they love with personalised recommendations and voice control and, our online streaming service, NOW TV, brings all the enjoyment of Sky with the flexibility of a contract free service. 
 
We treat our customers better than anyone else in our field, as Ofcom's complaints data shows, and we look after our staff too. Sky is one of The Times Top 50 employers for women and we're in Stonewall's list of Top 50 LGBT-Inclusive employers. 
 
We also use our position as the leading entertainment business in Europe to do the right thing. As part of Sky Ocean Rescue campaign, we're committing to be completely single-use plastic free by 2020, we're investing £25million over five years in ocean-saving tech and we're supporting the WWF to protect our oceans with designated Marine Protected Areas. 
 
About Lux Vide – Lux Vide is an international television production company leader in Europe, unmatched in the Italian "scripted" market with more than 1000 hours of scripted prime time.
Founded in Rome in 1992, Lux Vide rapidly made a name for itself on the Italian market with distinctive and extremely-successful high-quality productions, working with all the major players in the industry, including RAI, Mediaset and Sky. Lux Vide specializes in producing long series and boasts a portfolio of successful productions such as Don Matteo (11 seasons), Sister Angela's Girls (5 seasons), One Step from Heaven (5 seasons), Back to the Island (3 seasons), Undercover Mom (2 seasons), The Boss Hunt. 
 
Many TV series and TV films by Lux Vide have won critical acclaim, these include Coco Chanel (nominated to two Golden Globe awards, one of which as Best Actress to Shirley MacLaine), War and Peace, John Paul II, The Bible distributed in 140 countries and Emmy Award winner with "Joseph".
 
One of the most prestigious international productions by the studio is I Medici, created and produced by Frank Spotnitz (The X-Files, The Man in the High Castle -The Ransom), distributed in more than 100 territories, which tells, over three gripping seasons, the story of the iconic Renaissance dynasty. Thanks to the participation of global stars, such as Dustin Hoffmann, Sean Bean, Daniel Sharman, the series has gained international recognition.  
 
More recently, Lux Vide has filmed Devils, an original 10-episode series, coproduced by Sky Italia in association with Orange Studio and Sky VISION. Based on the novel by Guido Maria Brera "The Devils", the conspiracy thriller on the global finance world stars Patrick Dempsey and Alessandro Borghi, and is set to release in 2020.
 
Since its foundation in 1992, Lux Vide has signed partnership agreements with TV broadcasters and international distributors such as: CBS, Turner, Lifetime, France Television, Mediaset España, Beta Film, Wildbunch TV, Netflix and Telefonica Moviestar +. 
 
About NBCUniversal Global Distribution – NBCUniversal Global Distribution is responsible for the licensing and distribution of NBCUniversal product to all forms of television and new media platforms in the U.S., Canada and in over 200 territories internationally. NBCUniversal's content portfolio includes a vast and diverse library of more than 4,500 feature films and 120,000 television episodes, including current and classic titles, non-scripted programming, kids, sports, news, long-form and short-form programming from Universal Pictures, Focus Features, Universal Television, UCP, NBCUniversal International Studios, NBC Late Night properties, DreamWorks Animation, Telemundo, and more, as well as locally produced content from around the world. Global Distribution is a division of Comcast NBCUniversal.
( Press Release Image: https://photos.webwire.com/prmedia/7/246385/246385-1.png )
Related Links
WebWireID246385

This news content was configured by WebWire editorial staff. Linking is permitted.
News Release Distribution and Press Release Distribution Services Provided by WebWire.