Breakthrough 5G data call using dynamic spectrum sharing to accelerate nationwide 5G deployments
Cost-effective and efficient solutions that enable a smooth transition from 4G to 5G have been part of Ericsson and Qualcomm Technologies' pioneering 5G approach from day one. With Ericsson Spectrum Sharing and Qualcomm® Snapdragon™ 5G Mobile Platforms, service providers can tap spectrum currently used for 4G to launch nationwide 5G coverage with a simple network software upgrade.
WEBWIRE
–
Wednesday, September 4, 2019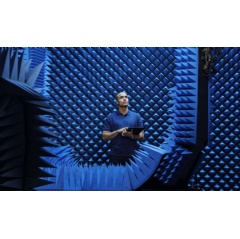 Dynamic Spectrum Sharing (DSS) is emerging as a key part of mobile service providers' 5G strategy. Ericsson's offering in this space offers the lowest total cost of ownership (TCO) to launch 5G in bands currently used for 4G – enabling nationwide 5G coverage in short time after launch. Ericsson Spectrum Sharing allows an existing LTE carrier to operate 5G New Radio (NR) and LTE simultaneously – with a simple software upgrade. The solution is based on innovative intelligent scheduler algorithms that enable optimal performance as the mix of 4G and 5G devices in the network changes over time.
Now, together with Qualcomm Technologies, Ericsson has achieved the world's first 5G data call using spectrum sharing on a  3GPP  Frequency Division Duplex (FDD) low band using commercial hardware and software based on Ericsson Radio System, and a mobile test devise powered by the Qualcomm® Snapdragon™ X55 5G Modem-RF System. This is a major breakthrough for wireless communication given that frequency sharing had never been done between any cellular generation since 2G. This technology is poised to change how new generation radio access technologies are introduced in operator networks using one of the most limited resources in mobile, which is spectrum.
Per Narvinger, Head of Product Area Networks, Ericsson, says, "With Ericsson Spectrum Sharing, service providers can reuse their Ericsson Radio System investments on bands currently used for LTE to support the introduction of 5G. With the TCO advantages offered by Ericsson Spectrum Sharing, we are convinced that it will be a catalyst to drive the rapid build-out of wide area 5G coverage. This first call marks an important milestone in evolving the 5G networks to cater for the extreme demands ahead."
"This achievement is the result of our longstanding collaboration with Ericsson and is a critical step toward enabling operators worldwide to utilize DSS for a seamless global transition to nationwide 5G," said Durga Malladi, senior vice president and general manager, 4G/5G, Qualcomm Technologies, Inc. "With DSS support included in our comprehensive Snapdragon X55 5G Modem-RF System architecture, we're looking forward to helping fast-track the mobile industry to nationwide coverage during the second phase of 5G commercialization next year."
A unique technology milestone over 5G
The dynamic spectrum-sharing data call was set up earlier in August at Ericsson's lab in Ottawa, Canada using an Ericsson macro radio that supports both 4G and 5G, along with a  mobile test device powered by the Snapdragon X55 5G Modem-RF System, and a commercial LTE smartphone.
The LTE smartphone and 5G testing device data call sections were running simultaneously on the same FDD spectrum. Making this 5G call aided by DSS is an important milestone as it shows that operators can avail of this unique solution to share spectrum for fast and smooth deployment of 5G coverage.
As 5G commercial rollouts move ahead, spectrum sharing represents an attractive option for service providers looking to rapidly roll out 5G on FDD bands without the need to re-farm spectrum. This milestone achieved by Ericsson and Qualcomm Technologies shows real progress towards rapid 5G commercialization, with dynamic spectrum sharing playing a key role.
Traditionally, new generation radio access technologies are deployed on separate spectrum blocks – as was the case with 2G, 3G and 4G. This would require operators to buy new spectrum or re-farm the existing spectrum to allocate the new generation. This is a very slow and costly process. Spectrum re-farming could take a decade but with spectrum sharing, this can be done overnight. Dynamic spectrum sharing revolutionizes the introduction of new technologies with a breakthrough innovation that allows the deployment of both 4G and 5G in the same band and dynamically allocates spectrum resources between 4G and 5G based on user demand.
The time to act is now
Gaining a first-mover advantage has significant benefits. According to an Ericsson study* 73 percent of the service providers that were the first to move on with 4G have gained market share in their respective markets. The combination of l fast time-to commercialization with low investments requirements has made spectrum sharing an essential part of an operator's 5G strategy. 
Ericsson also provides an opportunity for service providers to extend the coverage of new 5G NR mid and high bands by applying Inter-band NR Carrier Aggregation between low-mid and low-high frequency bands. Here, Ericsson Spectrum Sharing is key to allowing an easy introduction of NR on low bands. In combination with NR Carrier Aggregation, spectrum sharing can typically double the coverage area of new 5G mid and high band cells, delivering hundreds of megabits per second indoors and at cell edge.
------
Qualcomm and Snapdragon are trademarks of Qualcomm Incorporated, registered in the United States and other countries.
Qualcomm Snapdragon and Qualcomm Snapdragon X55 5G Modem-RF System are products of Qualcomm Technologies, Inc. and/or its subsidiaries.
*Ericsson study on 15 largest markets in the world that have 4G (Data from Ovum WCS database)
( Press Release Image: https://photos.webwire.com/prmedia/6/246357/246357-1.jpg )
Related Links
WebWireID246357

This news content was configured by WebWire editorial staff. Linking is permitted.
News Release Distribution and Press Release Distribution Services Provided by WebWire.