Natural and supernatural worlds collide at the ROM
Bloodsuckers: Legends to Leeches opens on November 16
TORONTO –
WEBWIRE
–
Thursday, August 29, 2019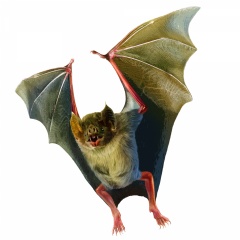 Vampire bats (Desmodus rotundus) are the only mammals that survive entirely on blood, emerging at night to feed on their prey. The anticoagulant, or bloodthinner, in their saliva is called "Draculin"—bringing to mind a certain famous bloodsucker.
Discover the fascinating science lurking beneath the surface of history's most enduring legends at the Royal Ontario Museum (ROM) this fall with Bloodsuckers: Legends to Leeches. Vampire bats and birds, live leeches and lampreys, and more of nature's most bloodthirsty animals star in this ROM-original exhibition, debuting Saturday, November 16, 2019.
"Bloodsuckers explores the unique intersection between science and culture, fact and fantasy," said Josh Basseches, Director & CEO, ROM. "Through the ROM's own collections, this compelling exhibition unlocks the deep connections between the world of bloodfeeding animals, and their uncanny ability to fire people's imaginations. I can't wait for visitors to see it."
Blood is a vital life source for humans, and an abundant food source for an astounding 30,000 species across the globe, including birds, mammals, fish, insects, leeches, and flatworms. Bloodsuckers pulls visitors into this world, starting on a microscopic level with the biology behind blood. Live animals, larger-than-life displays, immersive installations, and touchable models delve into these diverse organisms and their feeding mechanisms in detail, showing visitors just how clever bloodfeeders are, and the intricate ways they have evolved to drain blood and thrive on it.
"Visitors will be awed by the incredible diversity of animals that feed on blood," said Dr. Sebastian Kvist, evolutionary biologist and Curator of Invertebrates at the ROM. "The term 'bloodsuckers' usually makes people think of mosquitoes, but in fact thousands of species have evolved independently to find blood, feed on it, and keep it flowing—all while escaping from their prey with their lives intact! It's incredible, and I'm excited for people to discover a new appreciation for these highly specialized animals."
Bloodsucking animals have captured the human imagination for centuries, providing fodder for fear and fantasy. From the first publication of Bram Stoker's Dracula in 1897 and his immortal incarnations on stage and screen, to the more recent urban legend of the coyote-like Chupacabra, stories of vampiric creatures persist across cultures and time, borne out of fear of the unknown. In the exhibition, immersive experiences bring myths and beliefs in the undead and bloodthirsty beasts to life, highlighting the history of vampire hunting and pop culture's most famous monsters.
Bloodsuckers is full of juicy facts on the role that bloodfeeders have played in medicine for over 3,000 years, and how they spark scientific discoveries today. The exhibition explores the evolution of bloodletting, from hungry leeches feeding on patients in the name of health, to barbers and physicians tapping veins for vitality in medieval and Victorian times. Current research on bloodborne diseases around the world and how leech anticoagulants—the strongest in the world—enable advancements in medical care highlight the impact bloodfeeders continue to have on human health. The exhibition will also arm visitors with knowledge on how to identify, avoid, and heal bites from bloodfeeding organisms, and ultimately live in harmony with them.
Bloodsuckers is co-curated by Dr. Kvist and Dr. Doug Currie, Vice-President, Department of Natural History and Senior Curator of Entomology at the ROM. The Museum will host engaging programming throughout the exhibition's run; specifics to be announced in the fall.
Developed by the ROM, Bloodsuckers: Legends to Leeches is a separately ticketed exhibition on display from Saturday, November 16, 2019 until Sunday, March 22, 2020 in the Museum's Garfield Weston Exhibition Hall. A descriptive audio tour will be available. ROM Members receive free admission and exclusive opportunities to experience exhibitions and programs. For more information, visit www.rom.on.ca.
ABOUT THE ROM
Opened in 1914, the Royal Ontario Museum showcases art, culture and nature from around the world and across the ages. Among the top 10 cultural institutions in North America, Canada's largest and most comprehensive museum is home to a world-class collection of 13 million art objects and natural history specimens, featured in 40 gallery and exhibition spaces. As the country's preeminent field research institute and an international leader in new and original findings, the ROM plays a vital role in advancing our understanding of the artistic, cultural and natural world. Combining its original heritage architecture with the contemporary Daniel Libeskind-designed Michael Lee-Chin Crystal, the ROM serves as a national landmark, and a dynamic cultural destination in the heart of Toronto for all to enjoy.
( Press Release Image: https://photos.webwire.com/prmedia/6/246093/246093-1.jpg )
Related Links
WebWireID246093

This news content was configured by WebWire editorial staff. Linking is permitted.
News Release Distribution and Press Release Distribution Services Provided by WebWire.