Pedro Almodóvar Golden Lion for Lifetime Achievement
WEBWIRE
–
Wednesday, August 28, 2019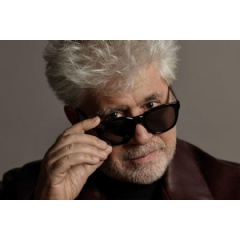 The acknowledgement to the great director will be presented on Thursday 29th August at 2:00 pm in the Sala Grande theatre.
Pedro Almodóvar will receive the Golden Lion for Lifetime Achievement for directors at the 76th Venice International Film Festival (August 28 – September 7, 2019).
The decision was made by the board of the Biennale di Venezia, chaired by Paolo Baratta, which espoused the proposal made by the Director of the Festival, Alberto Barbera.
PEDRO ALMODÓVAR
Accepting the award, Pedro Almodóvar declared: "I am very excited and honoured with the gift of this Golden Lion. I have very good memories of the Venice Film Festival. My international debut took place there in 1983 with Dark Habits. It was the first time one of my films travelled out of Spain, it was my international baptism and a wonderful experience, as it was my return with Women on the Verge of a Nervous Breakdown in 1988. This Lion is going to become my pet, along with the two cats I live with. Thanks from the bottom of my heart for giving me this award".
THE MOTIVATION
Regarding this award, Alberto Barbera declared, "Almodóvar isn't only the greatest and most influential Spanish director since Buñuel, he is a filmmaker who has offered us the most multifaceted, controversial, and provocative portraits of post-Franco Spain. The topics of transgression, desire, and identity are the terrain of choice for his films, which he imbues with corrosive humor and adorns with a visual splendor that confers unusual radiance on the aesthetic camp and pop art to which he explicitly refers. Lovesickness, the heartache of abandonment, the contradictions of desire, and the lacerations of depression converge in movies that straddle melodrama and its parody, achieving peaks of emotional authenticity that redeem any potential formal excess. Without forgetting that Almodóvar excels, above all, in painting incredibly original female portraits, thanks to an exceptional empathy which allows him to represent their power, emotional richness, and inevitable weaknesses with a rare and touching authenticity."
BIOGRAPHY
Pedro Almodóvar was born in Calzada de Calatrava, in the heart of La Mancha, in the 50s. At seventeen, he left home and moved to Madrid, with no money and no job, but with a very specific project in mind: to study cinema and direct films. It was impossible to enrol in the Official Film School because Franco had just closed it. Despite the dictatorship that was suffocating the country, for an adolescent from the provinces Madrid represented culture, independence and freedom.
He worked at many sporadic jobs, but he couldn't buy his first Super-8mm camera until he got a "serious" job at the National Telephone Company of Spain in 1971. He worked there for twelve years as an administrative assistant. In the mornings, his job gave him an in-depth knowledge of the Spanish middle class at the start of the consumer era, with its dramas and its misfortunes, a real gold mine for a future story teller. In the evenings and nights, he wrote, loved, acted with the mythical independent theatre group Los Goliardos and made films in Super-8. He collaborated with various underground magazines and wrote stories, some of which were even published. He was a member of a parody punk-rock group, Almodóvar & McNamara. He had the good fortune that his personal explosion coincided with the explosion of the democratic Madrid of the last seventies, early eighties. That was the period the world knew as La Movida.
After a year and a half of eventful shooting on 16mm, in 1980 he opened Pepi, Luci, Bom, a no-budget film made as a cooperative effort with the rest of the crew and the cast, all beginners, except for Carmen Maura.
In 1986, he founded the production company El Deseo with his brother Agustín. Their first project was Law of Desire. Since then, they have produced all the films that Pedro has written and directed, they have also produced other young directors.
In 1988, Women on the Verge of a Nervous Breakdown brought him international recognition. Since then, his films have opened all around the world.
With All About my Mother (1999) he won his first Academy Award for Best Foreign Film, he was also awarded as Best Director in Cannes Film Festival. Three years later, Talk to Her got him an Academy Award for Best Script.
In 2004, Bad Education was chosen to open the Cannes Festival. In 2006, he presented Volver in Cannes Film Festival, where it got the Best Screenplay Award as well as the Best Actress Award for the six actresses of the film, leaded by Penélope Cruz, who would eventually became the first Spanish actress nominated for an Academy Award for a Spanish speaking film.
He is been awarded with the Prince of Asturias Award to the Arts and has special University Honours by Harvard and Oxford Universities.
Some of his films have been adapted into plays (All About My Mother) and even into musicals (Women on the Verge of a Nervous Breakdown).
Filmography
1980               Pepi, Luci, Bom
1982               Labyrinth of Passions
1983               Dark Habits
1984-85         What Have I Done to Deserve This?!
1985-86         Matador
1986               Law of Desire
1988               Women on the Verge of a Nervous Breakdown
1989               Tie Me Up! Tie Me Down!
1991               High Heels
1993               Kika
1995               The Flower of my Secret
1997               Live Flesh
1999               All About my Mother
2001               Talk to Her
2003               Bad Education
2006               Volver
2009               Broken Embraces
2011               The Skin I Live In
2013               I'm So Excited!
2016               Julieta
2019              Dolor y gloria
( Press Release Image: https://photos.webwire.com/prmedia/6/246054/246054-1.jpg )
Related Links
WebWireID246054

This news content was configured by WebWire editorial staff. Linking is permitted.
News Release Distribution and Press Release Distribution Services Provided by WebWire.