A fascinating future for the Scania V8
Renewable fuels as standard, heavier loads with even more power, advanced driver assistance software and a truck with fewer pieces and lighter materials: the V8 has a fascinating future in store.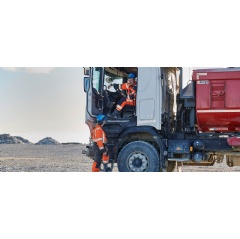 "In the last 20 years we have gone from Euro 3 to Euro 6 and increased the horsepower and the fuel economy, but it still looks like a V8."
Since its creation in 1969, the V8's reputation for power and reliability, plus its iconic emblem and the distinctive rumble of the engine have earned it the title 'King of the Road'. And yet, the transport industry is being affected by some profound technological and societal changes, such as digitalisation and climate change. Will the king keep his crown in ten or even 20 years' time? What sort of future does the V8 have?
"In the last 20 years we have gone from Euro 3 to Euro 6 and increased the horsepower and the fuel economy, but it still looks like a V8."
"I think there's definitely a future for the V8," says Anders Gau, Chief Engineer for V8 Engines at Scania, confidently. "If you look in the rearview mirror and see what it was like ten or 20 years ago, it had eight cylinders, eight pistons, and it looked the same as now. Of course, we have improved it a lot; in the last 20 years, we have gone from Euro 3 to Euro 6 emissions standards, we have increased the horsepower from 580 to 730 and the fuel economy has improved a lot, but it still looks like a V8."
Heavier loads need the V8's power
In particular, now as well as in the future, Gau says that the V8 comes into its own when there are heavy transport needs.
"It's a robust, high-power engine that's really good for fuel economy and carrying heavy loads, such as in the timber and mining industries," he explains. "Twenty years is a long time away from now, but we will still see the need for heavy trucks to transport heavy loads, which are core requirements for those industries. You need a strong V8 engine with which to operate."
You might think that these power needs automatically mean that the engines have become bigger and more complicated, as well as even more fuel-thirsty. But in fact, the V8 has gone in the opposite direction.
With the latest iteration introduced in 2017, the biggest differences have been the engine's startling fuel efficiency progression (an average of five percent fuel savings), and its increased robustness. It's 80 kilogrammes lighter than its predecessor, due mainly to a simplified layout with fewer parts overall.
Connectivity: more than electrification in v8's near future
Gau believes that connectivity will have a great bearing on the V8's future, pointing out that it is already compatible with all the connected services and coaching modules Scania provides. He sees further developments in intelligent drivetrains, making it even easier for the driver to minimise fuel consumption.
"With the intelligent powertrain helping you choose the right gears, and knowing what's going to happen in three kilometres, the driver can then allow the truck's kinetic energy to propel it. Then you can let go the gas pedal just before reaching the top and roll down the hill, using the kinetic energy to help get it up the next hill. The V8 allows you to use your most efficient gear for a longer time rather than downshifting – you have the power to do that. That's actually the most energy-efficient approach," he says.
The efficiency of heavier loads
In the face of climate change and air pollution, how will the growing need for fossil-free transport solutions affect the V8? Perhaps a big diesel-powered machine like this will have no place in such a future? Jonas Nordh, Director of Sustainable Solutions, begs to differ. "I support the development of the V8 from a sustainability point of view," he says.
"If we won't have electrification widely available until 2030, we need to have something else meantime, and that's energy efficiency. Some 25 percent of the reduction of co2 needs to come from energy-efficient solutions."
He explains that the V8's ability to take on bigger, heavier loads means fewer trucks are needed for specific jobs and consumption levels stay the same, especially using the kinetic energy that Chief V8 Engineer Anders Gau mentions.
Indeed, Nordh adds, "This is why the V8 can be a leader in sustainable transport. If you look into what we are doing with the new generation, we are increasing energy efficiency. Our new diesel platform for the V8 already lowers energy consumption, and whether you're moving one tonne or 76 tonnes, it needs to be done as efficiently as possible.
Renewable fuels bring new possibilities
Nordh adds, "We need to prioritise the limited amounts of biofuels for the work areas that really need them. We don't need them for the cities; there, electrification and biogas can work. But for hilly topographies, in mines, and where heavy haulage applications of around 70 to 80 tonnes are required, we need the V8's power. By running the V8 730 on Bio-fame or HVO, we can also address the co2 issues."
Another gateway to fossil freedom is blending standard and biofuels. At Scania there is a dedicated team that is working on this process.
A lighter but stronger vehicle
Possible influences on future development also include the advent of stronger but lighter materials such as kevlar and carbon fibres, but Kristofer Hansén, previous Head of Styling, Industrial Design at Scania, sounds a note of caution, saying that these materials have been around for a while and their costliness has slowed their advance. Aluminium is another material that could well figure more in future designs, and Scania is, like others, looking at this and other solutions.
"A truck has a lot of pieces right now," says Hansén. "but perhaps in the future, there will be fewer pieces to make up the chassis, but less weight."
( Press Release Image: https://photos.webwire.com/prmedia/7/245937/245937-1.jpg )
Related Links
WebWireID245937

This news content was configured by WebWire editorial staff. Linking is permitted.
News Release Distribution and Press Release Distribution Services Provided by WebWire.