Housing is health
The Destination Health series kicked off with a discussion of affordable housing and homelessness in the United States.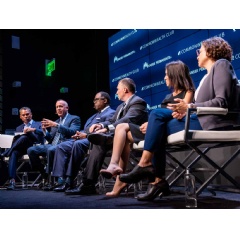 Highlights from Destination Health: Solving Homelessness | Kaiser Permanente: https://www.youtube.com/watch?v=-uVR_o4t3BY
What will it take to solve the homelessness crisis?
That was a central question August 14, 2019, at San Francisco's Commonwealth Club, during a sold-out panel discussion, the first in the club's new Destination Health series underwritten by Kaiser Permanente.
Panelists included the co-leads of California's Commission on Homelessness and Supportive Housing, Sacramento Mayor Darrell Steinberg and Los Angeles County Supervisor Mark Ridley-Thomas; Hawaii Lt. Governor Josh Green, MD; Bay Area Community Services Executive Director Jamie Almanza; and UCSF homelessness researcher Margot Kushel, MD. NBC Bay Area news anchor Raj Mathai moderated the panel.
In his opening remarks, Kaiser Permanente CEO Bernard J. Tyson said the United States has solved big problems in the past; such as creating Medicare and Medicaid so that the elderly and poor could have access to health care.
"What's the minimum level of acceptable living for a citizen of this country?" Tyson asked. "Is it time for us to answer that question as a society, so that no one will have to call the streets of America home?"
Understanding the problem
Dr. Kushel said people mistakenly believe that mental health issues and substance abuse are causes of homelessness, but they're only risk factors.
"The cause of homelessness is a lack of affordable housing," she said, adding that income inequality and structural racism are causes, too. She also said that about half the current homeless population in San Francisco is 50 years old or older, and 44% of them had not been homeless in their earlier years.
"This is a hugely problematic issue because it turns out that homeless people who are 50 and older have the health status of people in their 70s and 80s."
Panelist Josh Green, MD, who is also an emergency room doctor, said the average life span of a person living on the streets is 53 years, 2.5 decades shorter than the average life span of the rest of the country. "This is as bad a disease as anything else," he said.
Discussing solutions
An estimated 130,000 Californians are homeless, which is nearly a quarter of the national estimate of homeless people. Panelist Mark Ridley-Thomas said California must declare a state of emergency to deal with the crisis, which he called "the defining moral issue of our time."
Panelist Darrell Steinberg said it's estimated that it will take until 2035 or 2040 for California to build enough housing to ease the crisis. He argued that the state should establish a legal right of all people to shelter and an obligation for those sleeping on the streets to come inside.
"Then the funding, the urgency, the policy, all the questions, the rightful questions that need to be asked and answered will follow," Steinberg said.
Dr. Kushel agreed that the state needs more shelter, but she cautioned that focusing on shelter could get in the way of solving the long-term problem.
"Because if you create the shelter and you don't create the housing, then people are just in shelter forever," she said.
Panelist Jamie Almanza from Bay Area Community Services said her agency is successfully housing people and implementing a model. Working in partnership with Kaiser Permanente in Oakland, California, this year, the agency has found permanent housing for more than 400 homeless individuals over the age of 50 with at least one chronic condition.
"Give us resources, give us the ability to be very nimble, to just really break down the bureaucracy, talk to landlords, and talk to people and offer them housing," she said.
( Press Release Image: https://photos.webwire.com/prmedia/7/245879/245879-1.jpg )
Related Links
WebWireID245879

This news content was configured by WebWire editorial staff. Linking is permitted.
News Release Distribution and Press Release Distribution Services Provided by WebWire.