Bible Scholar Discusses the Mystery of Ezekielís Temple Liturgy with Belief-Altering Results
ĎíThe Mystery of Ezekielís Temple Liturgy: Why Ezekielís Temple Practices Differ from Levitical LawĒ by Dr. Hilary Arthur Nixon
Red Deer, Alberta, Canada –
WEBWIRE
–
Friday, August 23, 2019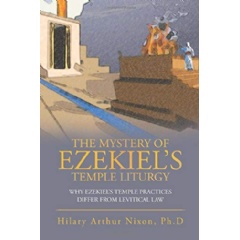 Grab a copy of the book now! Available at Amazon and other online book retailers.
zekielís Temple liturgy, Ezekiel 40Ė48, is Godís revelation. Its use is future, when Messiah is king on Davidís throne. Mystery surrounds itóno high priest, altered festivals, changes to Mosaic Law, and a return to animal sacrifice? Solving the mystery, this book shakes up our theology!
Dr. Hilary Arthur Nixonís book is ĎíThe Mystery of Ezekielís Temple Liturgy: Why Ezekielís Temple Practices Differ from Levitical Law.Ē The book first demonstrates that Ezekielís Temple and liturgy will be used in the future.† Then detailed analysis of every Temple aspect (priesthood, consecration, Tabernacle Article, sacrifices, and festivals) lays a foundation to discover what continues and what is altered.
Three key principles drive this comparison. A) The ceremonial law is a shadow, not the reality (Heb. 10:1). Therefore, we look for ritual changes to identify the arrival of the reality.† B) When the reality comes, those sacrifices cease Ė ďWould they not stop being offered?Ē (Heb 10:2). Therefore, we look for discontinued sacrifices and identify them with Messiahís finished work as suffering servant.† C) When sacrifices continue, their reality has not yet come. These will cease when Messiah finishes his task as king.
The results radically reshape our understanding. Consider these examples.
†Antichrist will build a tribulation temple. Yet most Christians fail to realize Antichrist imitates Messiah, whose millennial task is to build and have Ezekielís Temple ritual obeyed.

Usually we are taught that there is no future animal sacrifice because Christís death fulfils them all. Dr. Nixon discovers only 3 sacrifices cease. He identifies these with the death of Christ because God ripped the temple veil from top to bottom when Jesus died.

†How do the Old and New Covenants interact? Dr. Nixon suggests each covenant deals with different aspects of Godís glory. Godís (external) Shekinah glory is seen in the Tabernacle, Solomonís and Ezekielís Temples and in the heavenly Jerusalem. Nehemiah/Herodís Temple never witnessed Godís Shekinah glory. Yet in it, God promised, greater glory and peace (Haggai 2:9). Dr. Nixon sees the New Covenant concerned with getting Godís law (His inner glory) written into the lives of His people† These find peace with God because they are cleansed by the Lamb of God who takes away their sin (John 1:29). God dwells in two temples (Isaiah 57:15b): The earthly Tabernacle/Temple replicates the heavenly throne where Godís external Shekinah glory dwells. Godís other tabernacle (dwelling place) is in the believer (John 14:2 & 23). Both covenants co-exist. At some future time, God will again bring His Shekinah glory to tabernacle (or dwell) with men. Consequently Dr. Nixon sees a return to Temple ritual changed by the New Covenant sacrifice of Messiah.
A highlight in the book is the discussion of the contentious interpretations of the temple envisioned by Ezekiel as revealed by God. One common idea that there will be no future temple, no future animal sacrifice, because Christís death typically fulfilled them all.
[b"The Mystery of Ezekielís Temple Liturgy: Why Ezekielís Temple Practices Differ from Levitical LawĒ[/b]†will be displayed in the upcoming Word on the Street, the biggest literary event†in Canada this year on September 14 in Halifax.†Grab a copy of his book†at Amazon and your favorite online book retailers.
About the Author†
A lifetime of Bible study has gone into the formation of these ideas. Scripture backs up every thought. Dr. Hilary Arthur Nixon has a Ph.D. on the Tabernacle Articles, from which he learned† valuable insights on interpreting Biblical Types. He excels as a literal interpreter of the Bible.† He presents complex issues with clarity. He holds to scripture, even when it forces change to his theology.
( Press Release Image: https://photos.webwire.com/prmedia/64380/245818/245818-1.jpg )
Related Links
WebWireID245818
Contact Information

Van Gabriel
Project Manager
Maple Leaf Publishing Inc.

This news content may be integrated into any legitimate news gathering and publishing effort. Linking is permitted.
News Release Distribution and Press Release Distribution Services Provided by WebWire.