Committed to Hemophilia Research
For decades, many people living with hemophilia followed a regular routine that required infusing their therapy multiple times per week, sometimes even daily.
WEBWIRE
–
Wednesday, August 14, 2019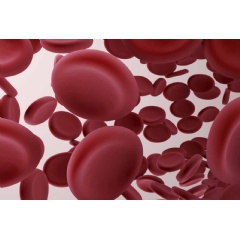 Hemophilia is a rare, genetic disease that results from the body being unable to create enough of one of two main blood factors that cause clotting in order to stop bleeding. There are two main forms of the condition: Hemophilia A, which results from too little Factor VIII activity, and Hemophilia B, which is caused by low levels of Factor IX activity.
The standard-of-care treatment for people with hemophilia is an infusion of clotting factor, a protein their bodies don't make naturally that help their blood to clot. Without those factors, patients are at a greatly increased risk of serious health problems from spontaneous and prolonged bleeding, often into joints and soft tissue, like muscles. However, conventional factor therapy only stays in the body for a short period of time. The factor's "half-life" determines how frequently a person with hemophilia must infuse. The shorter the half-life, the more often a patient will have to infuse their factor.
In the past five years, the advent of therapies, such as extended half-life therapies, have made great strides in reducing how often a patient needs an infusion– to twice a week or even longer intervals between dosing, depending on the type of factor they need. 
Researchers at Sanofi are working not only on treatments that could extend time between infusions further, but also on entirely new potential treatment approaches, including one early investigational gene therapy program where patients may need to be treated just once.
"There is a lot of good news for the hemophilia community," said Rob Peters, Head of Rare Blood Disorders Research at Sanofi, who has been researching hemophilia treatments for more than 15 years. "At Sanofi, we have a really deep understanding of hematology and a long legacy of working with the hemophilia community, which has enabled us to design new potential treatments that may overcome the limitations of existing therapies."
Living with Hemophilia
People with severe hemophilia are at risk for a range of long-term complications, including prolonged or spontaneous bleeding episodes that can result in long-term joint damage. Joint damage is one of the most serious challenges of hemophilia as it can result in a limitation of daily activities, due to limited mobility. Frequent bleeds in the same joint – known as a target joint – can result in significant damage and possibly lead to joint replacement far earlier in life than the general population.
Treating hemophilia requires replacing the missing factor often enough and in sufficient quantity, to allow the blood to clot. The human body naturally breaks down clotting factor, which in most people keeps factor levels in check to prevent unwanted clotting. For people with hemophilia, this natural process means they quickly lose what clotting ability they gain from treatments. 
Extending Treatment Intervals
The first extended half-life factor replacement therapies significantly reduced how often patients need to infuse while providing consistent protection from bleeding. It is now possible to infuse once every few days, or even once a week or longer, depending on the type of hemophilia a patient has. 

Even with extended half-life therapies, patients are sometimes not as well protected as non-affected people.
New Approaches on the Horizon
Factor replacement therapy remains the cornerstone of hemophilia care as it naturally replaces what is missing in the body. Yet each person has unique considerations when it comes to their treatment and different lifestyles. We continue to work on developing advances in factor therapy that could extend further the time between infusions while providing a sustained protection, and we are also investigating new research approaches that could treat hemophilia in an entirely different way.

Our researchers are investigating a treatment approach that would "turn off" the production of a protein that inhibits active clotting factors, which could be effective in both hemophilia A and B patients. This investigational approach would require a monthly fixed small volume injection under the skin, instead of frequent infusions in the vein, to accomplish the same goal: keep the level of active clotting factor up. 

We are also investigating a gene therapy approach that aims to reprogram a patient's DNA to produce the needed clotting factor on its own. With gene therapy, the goal is for the treatment to be a one-time, permanent solution.

"We believe factor therapy will remain the cornerstone of hemophilia care. We are committed to improving outcomes by exploring potential new approaches and modalities," Peters said, "and, eventually, cures. We embrace that challenge."
( Press Release Image: https://photos.webwire.com/prmedia/6/245300/245300-1.jpg )
Related Links
WebWireID245300

This news content was configured by WebWire editorial staff. Linking is permitted.
News Release Distribution and Press Release Distribution Services Provided by WebWire.