SP14 Third Platform to Come On-stream in September
TEHRAN (NIOC) –
WEBWIRE
–
Monday, August 12, 2019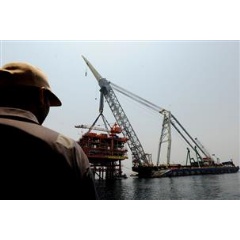 The third production platform at Phase 14 of the giant South Pars gas field is set to become operational in September. The hookup operation for this platform that had been recently installed by HL-5000 vessel is now over. The platform is set to produce 14.1 mcm/d of gas.
With the completion of offshore pipeline construction, gas production at Platform 14B would start in December. SP14 is currently producing 28 mcm/d of gas.
The contract for SP14 development was signed between National Iranian Oil Company (NIOC) and eight contractors in June 2010. The design of this phase is similar to that of other South Pars phases.
The accumulated recovery of 56 mcm/d of sour gas requires the drilling of 44 wells. Gas would be extracted from four platforms, including two main and two satellite platforms. The offshore gas carried to onshore gas treatment facilities and is processed there prior to being dispatched to consumers. This phase was initially set to be completed in 35 months, but due to the multiplicity of contractors, the project did not come online on schedule and it has been delayed by six years now.
The offshore sector of this phase is currently in its final stages. According to NIOC plan, SP14 gas production would reach 5 mcm/d by next winter.
Mohammad-Mehdi Tavasolipour, SP14 project manager, said: "With the commissioning of Platform 14B, in addition to sweet gas production, 20,000 b/d of gas condensate, 100 tonnes per day of sulfur, as well as 250,000 tonnes a year of LPG and 250,000 tonnes a year of ethane would be processed."
He added that the gas production capacity at SP14 offshore facility would reach 42 mcm/d or 1.5 bcf/d.
Platform 14B incorporates 80 kilometers of cable and 11 wells.
Tavasolipour also touched on Platform 14D, saying: "This platform is the last platform in SP14, which is now 93% complete in the Iran Marine Industrial Company Yard in Bushehr."
He added that Platform 14D would be installed on its predetermined location by October. He said that the drilling of 11 wells was over, while corrosion resistant alloy (CRA) pipes were being installed.
Tavasolipour said that with the completion of offshore pipes, hydrotesting and installation of pipes between Platforms 14B and 14D would have been fulfilled by December to allow gas flow from these platforms.
As President Hassan Rouhani took office in 2013, the Petroleum Ministry gave priority to the operation of remaining phases of South Pars which Iran shares with neighboring Qatar. Due to financial restrictions, the phases with a higher degree of physical progress were prioritized for financing and completion. Under the first round of administration of Rouhani, SP12, SP15&16, SP17&18, SP19, SP20&21 came online. SP13 and SP22-24 also became operational last March.
Tavasolipour said due to the completion of the offshore phase of SP14, the onshore phase of this phase (refinery construction) would be prioritized for financing in the current calendar year. 
$150mn Saved in SP Platforms
The Petroleum Ministry has in recent years implemented cohesive plans in order to boost domestic manufacturing and transfer technology into the country. The outcome of such plans has been the establishment of companies qualified in the implementation of offshore projects in the Persian Gulf. Iranian contractors are now able to build, install and launch platforms without any foreign help. Iranian companies have significantly increased their capabilities in recent years in installing platforms in the Persian Gulf. If until seven years ago Iranian companies could install and launch platforms within three months they are now able to do so in 26 days and without getting help from foreign companies.
The Iranian contractors' capabilities in the offshore sector has reduced costs in platform construction and saved money in this sector.
Tavasolipour said: "The construction of all four platforms of SP14 has cost $570 million, far less than that of similar projects. That has saved Iran $150 million."
Multiple Contractors Delay Project
The offshore sector of SP14 is to be completed by winter to feed 56 mcm/d of gas into national grid. But the onshore sector has been delayed. The first sweetening train of the refinery of this phase would come online next March.
The offshore sector having been completed, arrangements have been made for using surplus processed gas in SP12 and SP13 until SP14 is completed.
Tavasolipour said one reason for the delay in the onshore sector was the multiplicity of contractors and lack of coordination among them. Asked if managerial changes at Industrial Project Management of Iran (IPMI) had any impact on the onshore sector, he said: "As the project client, we are following up on this issue because IPMI has had delays in the offshore sector."
He said that any delay in the implementation of project by one contractor would affect the task of fellow contractors.
"This issue has caused problems for us in the onshore sector. Of course, we have asked IPMI to find practical approaches to resolve this problem and bring agility back to the project," he added.
Notice to Contractors
Tavasolipour said: "In the contract, all necessary arrangements have been made to deal with any fault on the part of contractors. The necessary notice has been given to contractors. Should any contractor fail to deliver on its pledges on schedule, we will take legal actions."
He said that project management consultation (MC) services are among issues enshrined in the project.
He added that the Industrial Development and Renovation Organization (IDRO), as consortium leader, had been warned to make major changes into its management section "or we would hire experienced MC companies."
 "However, we have not seen any expected changes in this company," said Tavasolipour.
He said that the contractor had apparently envisaged changing management in the commercial division, which supplies equipment, in order to make good on its pledges.
Tavasolipour expressed hope that the contractor of this phase would honor its commitments.
 "Of course, as far as this plan produces no loss and does not hinder production we will continue supporting domestic contractors," he said.
Order Placed for Goods
Asked about the impact of sanctions on the onshore sector of SP14, Tavasolipour said: "The petroleum industry has been under sanctions for 40 years now. Therefore, for the implementation of the onshore sector of SP14 necessary measures had been considered and orders were placed for commodities."
He added that the obligations announced for implementation were based on realities, and the contractor would honor its commitments to the Petroleum Ministry.
Regarding the allocation of financial resources, he said: "The financial resources for this project would be allocated from the National Development Fund of Iran (NDFI)."
Platform 14B weighs 2,450 tonnes. SP14 has four platforms, each having a capacity of 500 mcf/d of gas.
Before 14B, gas recovery from 14A and 14C had started at the rate of 1 bcf/d of rich gas (28 mcm/d).
Courtesy of Iran Petroleum
( Press Release Image: https://photos.webwire.com/prmedia/6/245172/245172-1.jpg )
Related Links
WebWireID245172

This news content was configured by WebWire editorial staff. Linking is permitted.
News Release Distribution and Press Release Distribution Services Provided by WebWire.