EU rural-urban income divide: The story untold
Are globalization and digitalization really leaving behind rural Europe in terms of income growth? Contrary to common perceptions, the income divide between urban and rural parts is narrowing, shows an analysis by Allianz Research...
Munich –
WEBWIRE
–
Monday, August 12, 2019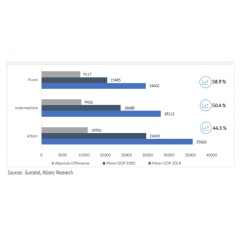 Relative and absolute development of GDP per capita from 2000 to 2018 in PPS
It's a popular narrative, romanticized by novels and movies. The rich get richer, the poor get poorer. And then Robin Hood gets to step in.
In modern-day politics, the narrative plays out as the urban-rural income divide, used to explain a range of developments from Brexit to the Yellow Vest movement. Common perception is that technological changes and globalization are benefiting only the urban elites, leaving behind the village folk.
But do the numbers back up the perceptions? Or are facts again falling victim to common beliefs?
In its latest note, Allianz Research does a reality check...
The surprise in numbers
Feel free to reach for the tissues when you see images of the rural poor in films. But before you bemoan widespread rural poverty in Europe, consider the message in the numbers.
Truth is that the rural areas of Europe have grown faster than urban centers over the past two decades – by a good 14.6 percentage points, no less – shows an analysis of 1,078 areas in the continent. Further, the poorest areas across 24 European countries have inched closer to the average in terms of gross domestic product (GDP) per capita. More areas are now in the middle of the income distribution, indicating that the scales are titling in favor of greater income balance across the region, adjusted for standard of living.
So does this mean there is more equality? Deeper details do indicate a positive trend, even if a first glance suggests that disparities in absolute income are rising. Blame this distorted view on the performance of some "super-champion" urban areas such as London, Paris, Frankfurt and Brussels, among a handful others.  
Catch-up at work
Allianz researchers went deeper into the catch-up process across the urban, intermediate and rural areas in Europe, analyzing economic output per capita and purchasing power standard (PPS), which adjusts for standard of living, between 2000 and 2018.
What they found is that income divide between rural and urban centers has indeed become smaller. Rural areas grew by 58.9 percent on average in the period while urban centers advanced by 44.3 percent. A more optimistic message emerged in the progress of the areas that were the five poorest in 2000 – mostly rural areas of Romania. At the beginning of the century, the economic output per capita of these areas was under 15.4 percent of the EU average. By 2018, it moved to a range of 18.3-25.4 percent, indicating that these areas slid closer to the EU average.
Some rich areas also moved nearer to the average, albeit through a deteriorating performance. The number of centers where the economic output per capita was 150 percent of the average, or higher, declined to 94 from 101. But more areas entered into the 80-120 percent of average range, with the number increasing to 502 from 462.
These measurements hint at a trend of greater convergence in income across the EU.
More equal?
Does this mean inequality in terms of income has reduced in Europe? In absolute terms, no. Adjusted for standard of living, yes.
It's rather obvious that 1 euro would buy a lot less in Paris than it would in a village in Romania.
Getting technical for a moment, meet GINI coefficient, a measure of the variation in incomes. For context: a GINI coefficient of zero indicates perfect equality, meaning everyone earns the same, whereas a reading of 1 means perfect inequality, that is, all the wealth rests with just one member.
Taking Europe as a whole, the indicator has been trending downward, meaning it's moving in the direction of greater equality. From 0.261 in 2000, it went down to 0.247 in 2018. It rose slightly during the global financial crisis but dropped again in 2015.
While the picture is rather optimistic for rural areas, it's the opposite for urban centers. The income gap is actually widening in cities, with those working in 'super-champions' earning way more. 
Less makes more
A look at the GDP contribution of the 10 percent poorest regions to Europe is not likely to leave you impressed. An increase of 0.3 percentage points is hardly worth a celebration. The impressive bit, however, is that this contribution was maintained even though the share of population in this bucket went down by 3.5 percentage points. To simplify, there were fewer people contributing to a slightly higher economic output. 
The obvious explanation? Internal migration, where people leave poor regions within a country for better shores, was not hurting job opportunities. In fact, fewer people vying for the same jobs was improving the overall income situation. So rural exodus just balances out the income distribution between regions, at least at the lower levels.
Country picture
What is the situation at the nation level? Are different countries in Europe becoming more equal in terms of income? Seems so.
Countries with lower GDP per capita levels – mainly Eastern and central European countries – show significantly higher annual growth. The result is that all new member countries, except Cyprus, improved their position relative to the EU average.
Romania and Slovakia particularly stood out, driven by their urban centers.
It was the opposite for most of the old EU members, with Greece and Italy being the worst off. Italy, the land that gave us gastronomic delights and high fashion, actually went below the EU average.
Only Germany and Denmark, by a razor-thin margin, and Ireland, by a huge margin, improved their position since the euro was introduced.
The takeaways? One, new EU members are gaining ground while old members are mostly slipping. Two, the price for central and eastern European countries catching up is higher income gap between urban areas and others.
Want deeper details? Click here for the full report.
About Allianz
The Allianz Group is one of the world's leading insurers and asset managers with more than 92 million retail and corporate customers. Allianz customers benefit from a broad range of personal and corporate insurance services, ranging from property, life and health insurance to assistance services to credit insurance and global business insurance. Allianz is one of the world's largest investors, managing around 673 billion euros on behalf of its insurance customers. Furthermore our asset managers PIMCO and Allianz Global Investors manage more than 1.4 trillion euros of third-party assets. Thanks to our systematic integration of ecological and social criteria in our business processes and investment decisions, we hold the leading position for insurers in the Dow Jones Sustainability Index. In 2018, over 142,000 employees in more than 70 countries achieved total revenues of 131 billion euros and an operating profit of 11.5 billion euros for the group.
These assessments are, as always, subject to the disclaimer provided below.
( Press Release Image: https://photos.webwire.com/prmedia/6/245164/245164-1.png )
Related Links
WebWireID245164

This news content was configured by WebWire editorial staff. Linking is permitted.
News Release Distribution and Press Release Distribution Services Provided by WebWire.