Visiting the heart of Nismo at the Omori factory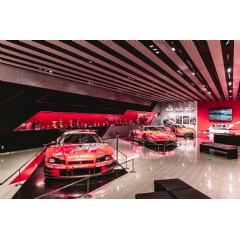 We donít need to tell anyone that Nismo is a unique brand. Everyone knows the GT-R Nismo machines that are taken to market internationally and can be bought at your local Nissan dealer. Nismo is a lot more, however. To find out more, Motul was invited to visit the Omori factory just outside Yokohama.
The Omori factory is Nismoís beating heart
This factory houses the front gallery, a shop front, a service centre, and itís also where they build and develop the Nismo race cars. One of the merits of being the OEM partner of a brand is that weíre given exclusive access to the facility and especially its motorsport workshop.
The Omori factory was designed by Nissan designer Daisuke Yasuhara, who was inspired for this building by the edges and lines of the Katana, the traditional Japanese sword. You can recognise its aesthetic in the use of grey and black lines on the factory exterior, mixed in with a little red to represent the Nismo branding.
Once inside youíre greeted by a Nissan R390 GT1 bolted to the wall. It is no show car, however, but the real thing that was actually raced at Le Mans Ė a true masterpiece to behold. Past the R390 you walk into the Nismo gallery. This is Nismoís museum, open to the general public and a must-see for every motorsport fan. The collection inside varies from time to time, but upon arrival we were greeted by some serious machinery. Inside were the 2003 Nissan GT-R R34 GT500 championship winning car, A Fairlady Z GT500, as well as the first generation R35 GT500 race car. All iconic machines in their own right. There was one car that immediately drew our attention, however: the R33 Nissan Skyline GT-R 400R. This special version of the Skyline GT-R was tuned and perfected by Nismo to be the fastest R33 ever to be produced. Only a limited number were made so this is a real unicorn.
Nismoís greatest hits collection
Behind a glass wall, there a flurry of Nismoís, almost like a Nismoís greatest hits collection. A wide variety of GT-Rs and Fairlady Zís are lined up or suspended ready to be serviced. These machines are all client vehicles, brought in from all over the world for service or even a complete engine overhaul. Nismo allows you to order any part for any Nismo car ever manufactured. In the shop adjoining the workshop, you can buy off-the-shelf parts such as brake kits or entire dashboards and headlamps.
Inside the racing workshop
Behind the workshop and a few doors where we are instructed not to take pictures (which we were exceptionally allowed to ignore) is the racing workshop. Just as we walked through the door, Nismoís mechanics were loading up the epic Motul Autech Nismo GT500 race car in preparation for the Super GT event in Fuji. To my left was a new empty GT3 shell waiting to be assembled, next to it sat a pristine unstickered GT-R GT3 Nismo that was just finished waiting to be shipped to its new customer team. The Omori factory is also the place where they hand build every GT-R GT3 race car for races all over the world. The construction of a single car takes about three months. So, the next time you see a GT-R GT3 on the track, youíll know this is where it came from. At the end of the workshop sits a stripped GT500 car. We couldnít even make out what model it was as most of its body panels had been removed.
A place for every Motorsport fan
This factory is a place where any motorsport fan could happily spend all day and we highly recommend you do so. If Japan is a little out of the way, however, we gladly invite you to check out this gallery instead.
( Press Release Image: https://photos.webwire.com/prmedia/7/245115/245115-1.jpg )
Related Links
WebWireID245115

This news content was configured by WebWire editorial staff. Linking is permitted.
News Release Distribution and Press Release Distribution Services Provided by WebWire.