Stride Launches New Way to Visit Global Places Impacted by Climate Change Before They're Gone and Help Protect Them
JetBlue Technology Ventures-backed Stride takes a stand for responsible travel by committing a portion of revenue from trips to 10 high-risk destinations across the globe
San Francisco, CA, USA –
WEBWIRE
–
Wednesday, July 31, 2019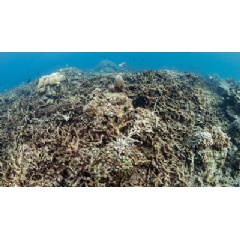 In the Great Barrier Reef, warming sea temperatures are killing marine life and ancient coral structures.
Stride, the first marketplace for all experiential multi-day, multi-destination travel packages planned by experts, today unveils new category of trips, travelers called 'Places Disappearing Due to Climate Change,' featuring trips to locales disappearing fast due to climate change. With the launch, Stride is taking steps to ensure that travelers can enjoy these destinations while they retain their unique attributes, and also provide an opportunity to protect these global gems through its new program and pledge, 'Stride Gives Back'. 
Climate change threatens the entire planet. Still, some locations carry a faster rate of change and higher risk of the many catastrophes and consequences. As early as 2100, sea levels are expected to rise 5 to 6 feet, triggering the loss of unique natural places like estuaries, reefs and coastal marshlands as well as destroying many icons of historical architecture in coastal cities around the world, including Venice.  Melting glaciers and sea ice not only contribute to rises in sea level but upset the balance of fragile ecosystems like polar bears hunting in Hudson Bay Canada or freshwater access in Patagonia.
Stride Gives Back commits 10% of revenue from trips that visit 10 destinations being greatly affected by climate change. Donations will go to a variety of not-for-profit organizations to fund local efforts in vulnerable areas and that aim to ensure well-traveled places thrive ecologically, economically and socially. Travelers have the choice to opt in to this pledge when booking their trip.
"Our goal is to inspire global-minded citizens by motivating them to experience the world before it changes forever, and to proactively help protect vulnerable places," said Gavin Delany, CEO and founder of Stride. "The travel industry must become an active part of the solution as many of the world's most spectacular and special destinations face frightening consequences from climate change. With Stride Gives Back, we're proud to take an important step forward symbolically and practically to cherish and protect areas at the greatest risk."
After analyzing more than 40,000 global adventures and travel packages, Stride has selected the following 10 destinations as critically threatened by climate change:
Greenland: Rapidly melting sea ice and glaciers are dramatically transforming Greenland's landscape

Easter Island, Chile: Rising sea levels, land erosion and a floating mass of garbage threaten the island's ecosystem and iconic Moai statues

Great Barrier Reef, Australia: Warming waters and increased pollution is not only killing the area's marine life, it's also jeopardizing the livelihoods of more than 64,000 people

Amazon Rainforest, Brazil: Deforestation is destroying one of the most diverse ecosystems on the planet, turning much of it into dry savanna

Mt Kilimanjaro, Tanzania: Glaciers are retreating at an unprecedented rate, causing strain on local farmers who rely on glacial streams for irrigation and livestock

Dead Sea, Jordan and Israel: The Dead Sea is dropping at nearly one meter per year, which will impact the region's agriculture and tourism industries

Patagonia, Argentina & Chile: With glaciers quickly retreating, warming temperatures endanger the region's ecosystem

Rhone Valley, France: A steady decrease in glacial meltwater is causing widespread drought, harming the region's ecosystem and economy, which relies heavily on the wine industry

Antarctica: Antarctica's vast ice sheets are disappearing, which will lead to enormous worldwide shifts in climate and eliminate the region's biodiversity

Venice, Italy: Rising sea levels are drowning the historic city of Venice and destroying iconic structures
"Some may question whether encouraging travel to places impacted by climate change is counter-productive. While a reasonable concern, it's important to note that the lion share of greenhouse gases come from sources other than leisure travel - like work travel, eating meat, heating and cooling, and manufacturing to name a few," continues Delany. "We know that experiencing magical places around the world and seeing the impacts of climate change first hand - like retreating glaciers in Patagonia or bleached coral on the Great Barrier Reef - has a profound emotional impact on travelers' attitudes. Those powerful emotions are essential to motivate travelers to take action and make the larger sacrifices necessary to truly preserve our home planet for the long term."
To make it easier to make smarter choices for the environment when traveling, Stride is sharing tips with travelers which can be found on Stride's blog. 
The news follows Stride's recent launch of TripFinder, the first online matchmaker that pairs travelers with their perfect trip, as well as the announcement of JetBlue Technology Ventures as a new strategic investor. TripFinder makes it easier to book an epic trip that fits your personality, based on factors like style, pace, budget and experiences -- all in under 90 seconds. To try out TripFinder and participate in Stride Gives Back, visit stridetravel.com. 
About Stride: 
Stride, the first reviews marketplace for all experiential travel packages and expert-planned vacations, matches travelers with their ideal multi-day, multi-destination trip. The platform has over 40,000 unique itineraries from over 1,200 travel companies and experts and is the #1 US marketplace for multiday tours. Stride has been awarded and lauded by Frommers, Phocuswright's Innovation Battleground, The LA Times, Plug & Play Tech Ventures, and TechCrunch. The company is backed by JetBlue Technology Ventures, NFX, Silicon Valley Angels group, New York Angels group, Stanford StartX Fund, and noted investors such as Dan Whaley (processed the first travel reservation over the internet - Get There), Adam Goldstein (Hipmunk founder), Matt Johnson (Sidestep), Scott Hintz (TripIt founder) and Pete Flint (Trulia founder). Stride is based in San Francisco, CA with staff and travel experts around the globe. To learn more visit stridetravel.com.
( Press Release Image: https://photos.webwire.com/prmedia/42381/244558/244558-1.jpg )
WebWireID244558
Contact Information

Rachel Stoczko
Senior Account Executive
VSC for Stride

This news content may be integrated into any legitimate news gathering and publishing effort. Linking is permitted.
News Release Distribution and Press Release Distribution Services Provided by WebWire.