The Jeremy Lancaster Collection to Highlight Christie's Frieze Week
Dedicated Evening Auction on 1 October 2019

London  –
WEBWIRE
–
Wednesday, July 31, 2019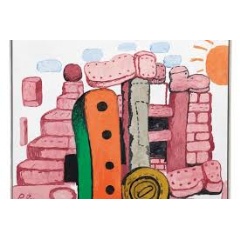 Christie's Frieze Week programme will be launched with a dedicated auction of the remarkable private collection of Jeremy Lancaster on 1 October 2019. A chorus of vivid colour, radical form and brilliant innovation, the collection showcases some of the greatest achievements in post-war British painting, complemented by a stellar selection of European and American works. Many of the works were acquired through the gallery of Leslie Waddington, and a number have passed through notable collections such as Herbert Read, E. J. Power and Charles Saatchi. Such distinguished provenance is testament not only to a shared championship of the post-war British art scene, but also to the exchange with the European and American avant-gardes in which Waddington and his clients played such a vital role. Several of the works have been on long-term loan to museum collections and Jeremy Lancaster was a trustee at Birmingham's Ikon Gallery of contemporary art and the Barber Institute of Fine Arts. 
A frequent traveller with a keen appetite for art and knowledge, Jeremy Lancaster was in part influenced by the seminal exhibition 'A New Spirit in Painting'. Undoubtedly a profound moment in the landscape of contemporary art it was staged by London's Royal Academy of Arts in 1981. The direction of his collecting taste follows a similar dedication to transatlantic discourse in paintings from Frank Auerbach and Howard Hodgkin to Philip Guston, Robert Ryman and Josef Albers.
At the heart of The Jeremy Lancaster Collection is a group of paintings by Howard Hodgkin, ranging from the early figurative composition Tea Party in America (1948, estimate: £50,000-70,000), influenced by the artist's close friendship with Patrick Caulfield, to the distilled, concentrated beauty of mature works like Bombay Sunset (1972-73, estimate: £500,000-700,000, illustrated, page three), Lawson, Underwood & Sleep (1977-80, estimate: £400,000-600,000) and Flowerpiece (2004-05, estimate: £400,000-600,000). He also acquired two paintings by Frank Auerbach, created 12 years apart but both depicting his lover Stella West, Head of E. O. W. (1955, estimate: £800,000-1,200,000, illustrated, page four) and Head of E. O. W. I(1967, estimate: £300,000-500,000). Two iconic paintings by Philip Guston are a highlight of the collection, including the large-scale Language I (1973, estimate: £1,500,000-2,000,000, illustrated, page one), in which individual objects – bricks, hobnailed boots, easel, sun – are presented like a hieroglyphic code to be deciphered. Robert Ryman, Andy Warhol, Lucian Freud, David Hockney and R. B. Kitaj are further artists from 'A New Spirit in Painting' that are represented in the collection.
As Bridget Riley celebrates a major retrospective at The Hayward Gallery this October, another highlight of the Jeremy Lancaster Collection is the majestic 'curve painting', Orphean Elegy 7 (1979, estimate: £1,500,000-2,000,000, illustrated above). The work demonstrates the power which Britain's greatest living abstract artist conjures from her analytical approach to colour.
Jussi Pylkkänen, Global President, Christie's: "The Jeremy Lancaster Collection will be a landmark sale held at the height of London's Frieze season when the international collecting community convenes in London in October. They will witness a beautifully curated collection charting the progress of modernism across Britain, Continental Europe and America from 1920 to 2005. Jeremy Lancaster collected with a strong personal taste as well as a keen eye for paintings. These 54 works have never been publicly exhibited together before. It promises to be a revelatory show and a spirited night in the saleroom."
Katharine Arnold, Co-Head, Post-War and Contemporary Art, Europe: "Assembled over the course of Jeremy Lancaster's lifetime, his collection represents a private passion for art. Initially inspired by British art of his time, the collection grew to include American and modern European painters reflecting his far-reaching interests and spirit of inquiry. He was known by his friends and family as a committed exhibition goer and bibliophile, keen to keep up with new evolutions in art and history. The Royal Academy of Arts exhibition, 'A New Spirit in Painting' seemed to inspire a transatlantic dialogue within the collection with works ranging from Frank Auerbach and Howard Hodgkin, to Philip Guston, Robert Ryman and Josef Albers. At the very core of the Jeremy Lancaster collection lies a near complete retrospective survey of Howard Hodgkin's painting, spanning seven decades. Other highlights include an exceptional 1979 Bridget Riley purchased in 1986. Being an intensely private individual, much of the collection has remained unknown to the public save for a handful of works generously lent from his collection to major British institutions including the Ashmolean Museum, Oxford, The Fitzwilliam Museum, Cambridge and Birmingham City Museum and Art Gallery. Having been a friend and client of the late Leslie Waddington, the Jeremy Lancaster collection shares similarities with the great dealer's own personal collection sold at Christie's in 2016 and many of the works hold the illustrious provenance of the great critic Herbert Read, the private collections of Leslie Waddington, Charles Saatchi and E.J. (Ted) Power."
Philip Guston
Language I by Philip Guston is a vibrant example of the artist's unmistakable figurative idiom. Brick- and ladder-like forms are stacked into a wall while a schematic orange sun glows from the edge of the picture. In the foreground, next to a golden ashcan lid, looms a tall orange and green shape punched with four black holes: the artist's icon for the adjustable back of an easel.
Howard Hodgkin
The paintings of Howard Hodgkin are broadly autobiographical, and deeply evocative of places and people, but operate in their own abstracted language of colour and form. The works in the Lancaster Collection span seven decades of Hodgkin's career, displaying the full range of his achievement. The earliest, painted when Hodgkin was just a teenager, is Tea Party in America. Bombay Sunset, included in the Venice Biennale, features a trompe-l'oeil frame, painted in orange and incised with red at the edge of the 'picture' within: even without an actual wooden surround, Hodgkin theatricalises his acts of memory. In Lawson, Underwood & Sleep (1977-80), Hodgkin's painting reaches its most vibrant and sensuous. George Lawson was the partner of the dancer Wayne Sleep: the two had been introduced to one another by David Hockney – another friend and subject of Hodgkin's – who also worked on an unfinished double portrait of the pair from 1972-75, now in the collection of the Tate. Venice Sunset (1989, estimate: £180,000-220,000) employs audaciously simple strokes to convey the city's ethereal radiance with breath-taking clarity, whilst Flowerpiece (2004-05, estimate: £400,000-600,000) beautifully demonstrates the economy and immediacy of his late style.
Josef Albers
The Jeremy Lancaster Collection includes three important paintings by Josef Albers dating from 1939-1962. Painted in 1939, Josef Albers' Construction in Red-Black-Blue (estimate: £180,000-220,000) is a rare, early work that testifies to the artist's lifelong fascination with chromatic relations which were to develop into his celebrated series Homage to the Square. Study to "Affectionate" (Homage to the Square) (1954, estimate: £150,000-200,000) is a work which prefigures the painting of the same name now held in the collection of the Centre Georges Pompidou in Paris. In Study for Homage to the Square: Red Tetrachord (1962, estimate: £600,000-800,000, illustrated page three) the reds swell and combine hypnotically. The tetrachord of the title refers to a musical progression of four notes, here represented by the four tones of red.
Bridget Riley
Optically spellbinding, Bridget Riley's Orphean Elegy 7 is a shimmering fusion of colour, rhythm and form that stems from one of her most important series. Bands of pink, orange, yellow, violet and green undulate in twisting kaleidoscopic motion, creating a hypnotic illusion of three-dimensional movement.
Frank Auerbach
Painted in 1955, Head of E.O.W. is an extraordinary and intense vision. Turbulent layers of ochre and umber embody the heavy head of Stella West, inclined to the right of the composition. The paint is three-dimensionally dense, accumulated over countless sittings to bring forth the very essence of her physical being. Created 12 years later, Head of E.O.W. I takes the thickness of paint to a further extreme, and its vivid pigments – including squeezed-out ropes of red – are turned up to dramatic, searing heat.
Pablo Picasso
Originally conceived in 1958, Pablo Picasso's playful bronze sculpture Le Jeune homme (estimate: £900,000-1,200,000) developed from the famed series of sculptural bathers the artist created during the mid-1950s, inspired by his experiences of life on the Mediterranean coast of France. As with these humorous, archetypal characters, the figure of the young man was originally constructed as a wooden assemblage, before being cast in a small edition of two bronzes by the artist.
Still Life
European still life paintings include Giorgio Morandi's Natura morta(1946, estimate: £400,000-600,000), Picasso's intimate tribute to his studio L'Atelier (1958, estimate: £400,000-600,000), and Nicolas de Staël's near-abstract Nature Morte au Fond Jaune (1952, estimate: £700,000-1,000,000). Further works include Georges Braque's Compotier, citron et pipe (1920, estimate: £150,000-250,000), Patrick Caulfield's Unfinished painting (1978, estimate: £150,000-250,000) and William Scott's White and Black Pot on White Table(1955, estimate: £100,000-150,000).
About Christie's
Christie's, the world's leading art business, had auction sales in the first half of 2019 that totalled £2.2 billion / $2.8 billion. Christie's is a name and place that speaks of extraordinary art, unparalleled service and international expertise. Christie's offers around 350 auctions annually in over 80 categories, including all areas of fine and decorative arts, jewellery, photographs, collectibles, wine, and more. Prices range from $200 to over $100 million. Christie's also has a long and successful history conducting private sales for its clients in all categories, with emphasis on Post-War & Contemporary, Impressionist & Modern, Old Masters and Jewellery.
Alongside regular sales online, Christie's has a global presence in 46 countries, with 10 salerooms around the world including in London, New York, Paris, Geneva, Milan, Amsterdam, Dubai, Zürich, Hong Kong, and Shanghai.
*Please note when quoting estimates above that other fees will apply in addition to the hammer price - see Section D of the Conditions of Sale at the back of the sale catalogue.
*Estimates do not include buyer's premium. Sales totals are hammer price plus buyer's premium and are reported net of applicable fees.
( Press Release Image: https://photos.webwire.com/prmedia/6/244546/244546-1.jpg )
Related Links
WebWireID244546

This news content was configured by WebWire editorial staff. Linking is permitted.
News Release Distribution and Press Release Distribution Services Provided by WebWire.