MSF resumes search and rescue operations in Central Mediterranean as deaths continue at sea and in Libya
AMSTERDAM/NEW YORK –
WEBWIRE
–
Tuesday, July 23, 2019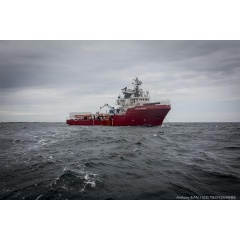 The international medical humanitarian organization Doctors Without Borders/Médecins Sans Frontières (MSF) today announces the resumption of lifesaving search and rescue operations in the Central Mediterranean and condemns the criminal inaction of European governments in the face of people dying at sea.
Operated in partnership between MSF and the organization SOS MEDITERRANEE, the search and rescue ship Ocean Viking will sail to the central Mediterranean Sea at the end of July, seeking to save lives along the world's deadliest migration route. At least 426 men, women and children have died so far in 2019 attempting to cross the central Mediterranean, including 82 in a shipwreck just over two weeks ago.
However, European governments have engaged in a sustained campaign to stop virtually all humanitarian action at sea and have normalized policies that cause deaths at sea or keep people in Libya amid an ongoing war.
"Politicians would have you believe that the deaths of hundreds of people at sea, and the suffering of the thousands of refugees and migrants trapped in Libya, are the acceptable price of attempts to control migration," said Sam Turner, MSF head of mission for search and rescue and Libya. "The cold reality is that while they herald the end of the so-called European migration crisis, they are knowingly turning a blind eye to the humanitarian crisis these policies perpetuate in Libya and at sea. These deaths and suffering are preventable, and as long as this continues, we refuse to sit idle."
Deaths have continued at sea while few humanitarian vessels are left in the central Mediterranean and Europe's official search and rescue operation has been recklessly abandoned. Commercial ships are in an untenable position, choosing either to ignore their duty to rescue people in distress or risk being stranded at sea for weeks while Italy refuses to let rescued people disembark and the other members of the European Union cannot agree on how to share responsibility. 
Fighting has raged in and around Libya's capital Tripoli for more than three months, forcing more than 100,000 people to flee and endangering the lives of refugees and migrants trapped in detention centers. Earlier this month, an airstrike hit the Tajoura detention center in Tripoli, killing an estimated 60 people and injuring an estimated 70 people. 
Humanitarian evacuations out of the country remain piecemeal and inadequate, leaving the deadly sea crossing as one of the few possible escape routes. Meanwhile, European governments are violating their legal obligations and humanitarian principles by supporting the Libyan Coast Guard in forcibly returning vulnerable people to Libya—in some cases to detention centers where people trapped inside are shot or bombed.
"Our presence at sea is to save lives—that's the bottom line—but we will not be silent while vulnerable people suffer," said Turner. "European leaders' condemnation of the killings of vulnerable refugees and migrants in Libya should lead to the resumption of official search and rescue operations, disembarkation in places of safety, and the immediate evacuation [of refugees and migrants] and closure of all detention centers [in Libya]. Yet their increased support for interceptions at sea and returning people to the same places where atrocities are happening suggests that their words of condemnation may be meaningless."
As long as EU governments fail to take their responsibility for search and rescue operations, and as long people continue to flee Libya, humanitarian vessels will be needed in the Mediterranean. For MSF, whose work is governed by humanitarian principles, it would be unconscionable not to try to prevent people from dying at sea and to take them to a safe place, where those in need of international protection can seek asylum with the relevant authorities.
Ocean Viking is a Norwegian-owned ship with a Norwegian flag. It is an Emergency Response and Rescue Vessel (ERRV)—a standby offshore supply vessel ready to rescue a large number of oil workers from oil platforms in case of an accident and mass casualties. Built in 1986, it is 69 meters in length and 15.5 meters wide. It is fully equipped to perform search and rescue with four high-speed rescue boats, as well as a medical clinic with consultation, triage, and recovery rooms. The ship can take up to 200 survivors on board.
The MSF team on Ocean Viking, consisting of nine people, is in charge of the medical and humanitarian needs of rescued people on board. The SOS MEDITERRANEE team, consisting of 12 people, is in charge of search and rescue activities. Another nine people are part of the ship's marine crew and are employed by the ship owner.
( Press Release Image: https://photos.webwire.com/prmedia/6/244247/244247-1.jpg )
Related Links
WebWireID244247

This news content was configured by WebWire editorial staff. Linking is permitted.
News Release Distribution and Press Release Distribution Services Provided by WebWire.