UK and Sweden partner on future combat air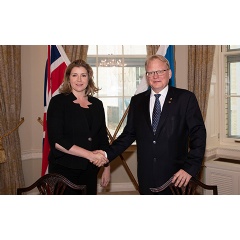 Penny Mordaunt, Secretary of State for Defence UK & Peter Hultqvist, Swedish Minister of Defence
Defence Secretary Penny Mordaunt and her Swedish counterpart Peter Hultqvist have signed a landmark agreement to partner on future combat air.
The Memorandum of Understanding (MOU) commits both governments to work on a joint combat air development and acquisition programme, including the development of new concepts to meet both nations' future requirements.
At the MOU signing with her Swedish counterpart yesterday, the Defence Secretary said:
"The UK and Sweden have an enduring defence relationship, with our two industries sharing a rich history of collaboration in air power.
"Not only do we share the same commitment to tolerance, freedom and free trade, we also share the same determination to defend those values, including in Afghanistan, Iraq and today as part of the UK's Joint Expeditionary Force.
"This agreement further deepens this partnership and sees us look to the future with a bold and shared vision of UK and Swedish air power."
Announcing the signature of the Memorandum of Understanding (MOU) at the Royal International Air Tattoo, the Minister of Defence Procurement, Stuart Andrew, said:
"I'm delighted that we have signed this Memorandum of Understanding, endorsing a shared and ambitious vision for future combat air systems which lays firm foundations for future collaboration.
"Today we usher in an exciting new era in which the talents of two great combat air nations will be combined to lift Swedish and British airpower into the stratosphere."
The Defence Minister outlined the UK and Sweden's long partnership on defence, including:
Joint exercises in the Arctic and in Exercise Ramstein Alloy over the Eastern European skies.
Swedish-made chaff and flare dispensers are used on UK Typhoons and Saab's Giraffe radar is a key part of the UK's Sky Sabre ground-based air defence system.
Swedish Gripen aircraft are equipped with radars designed and built by Leonardo in Edinburgh.
The UK, working with European partners including Sweden, has developed the state-of-the-art beyond-visual-range Meteor air to air missiles.
The Swedish Minister of Defence, Peter Hultqvist, confirmed both governments intend to remain at the forefront of combat air.
He stressed the opportunities to put advanced technologies onto Gripen and Typhoon, the world class combat aircraft currently operated by Sweden and the UK respectively, before inserting these technologies onto a future combat air system.
Peter Hultqvist also highlighted the strong industrial base shared by both countries as central to securing future Combat Air power, as well as the existing Gripen fighter systems.
He added that the significant progress made to date was a result of focussing the discussions on practical considerations, recognising the strengths of each party and treating each other as equal partners.
Discussions between industries and governments had been ongoing since the publication of the UK's Combat Air Strategy in July 2018, with common ground identified based on similar future Combat Air requirements, including being optimised for air defence.
Defence Minister Andrew confirmed that other nations were encouraged to join the UK/Swedish dialogue, on the condition that they had similar requirements.
The Air Force Chiefs of both nations addressed the audience at the event, as well as industry. UK industry was represented by BAE Systems, whilst Swedish industry was represented by Saab.
About the Memorandum of Understanding
A joint government feasibility report was completed in April 2019, informed by a joint report from UK and Swedish Industry. The report and its findings were accepted by Ministers in May, including signature of an FCAS MOU.
The MOU is an overarching arrangement between the governments that allows for additional activities, including contracts, to be taken forward. It also outlined the initial principles for a UK/SWE Acquisition Programme:
Clear leadership to deliver world leading capability rapidly and with minimal bureaucracy and process
Having shared and realistic defence requirements
Utilising the strengths of the participants by starting from the 'best athlete' principle
The next steps between the UK and Sweden include:
Development of a joint acquisition roadmap, identifying technologies to spiral from Gripen and Typhoon onto an FCAS
Research and technology co-operation, identifying early opportunities to insert advanced technologies onto Gripen and Typhoon
Further government and industry studies, particularly on cost modelling
These steps will inform both Governments' decision-making process. For the UK, the next decision to be made is in December 2020, following submission of the Outline Business Case.
About Team Tempest
The UK Government is investing £1.9Bn in developing next generation combat air technologies. One of these projects, Team Tempest, is a co-funded partnership between the RAF's Rapid Capabilities Office and UK Industry (BAE Systems, Leonardo UK, MBDA UK and Rolls-Royce).
The Tempest concept unveiled at Farnborough Air Show in July 2018 provided insight into the technologies that the UK believes are relevant to a next generation combat air system, with both governments agreeing that further concepts must be developed jointly to meet partners' requirements.
The Team Tempest concept could operate with remotely controlled unmanned wingmen, otherwise known as 'additive capabilities'. These could provide additional capability and reduce the overall cost by off-boarding some sensors or weapons from the main aircraft.
Defence Minister Andrew confirmed that Saab would not join the existing Team Tempest initiative. Saab, using the technologies and skills needed to deliver Gripen, will work with Team Tempest in a new partnership, pooling their expertise.
About the MOD's Acquisition Team
A separate team, named the Combat Air Acquisition Programme based in MOD Head Office, is delivering the acquisition programme to replace Typhoon, including leading on international engagements. Their work is informed by Team Tempest.
UK Joint Expeditionary Force:
Both the UK and Sweden are members of the UK Joint Expeditionary Force (JEF). This is a pool of high readiness, adaptable forces that is designed to enhance the member nations' ability to respond rapidly, anywhere in the world, with like-minded allies, or on behalf of international organisations such as the UN or NATO. 
The JEF, made up of nine northern European allies Denmark, Estonia, Finland, Latvia, Lithuania, The Netherlands, Norway and Sweden, is more than a simple grouping of military capabilities. It represents the unbreakable partnership between UK and our like-minded northern European allies, born from shared operational experiences and an understanding of the threats and challenges we face today.
The UK's Combat Air sector:
The UK's Combat Air sector is an economically, strategically important sector, with an annual turnover of more than £6.5bn.
It is responsible for over 80% of Defence Exports and sustains more than 18,000 highly skilled jobs, as well as a further 28,000 jobs in the supply chain across 2,000 companies
( Press Release Image: https://photos.webwire.com/prmedia/6/244104/244104-1.jpg )
Related Links
WebWireID244104

This news content was configured by WebWire editorial staff. Linking is permitted.
News Release Distribution and Press Release Distribution Services Provided by WebWire.