Welcome Maxime Marotte!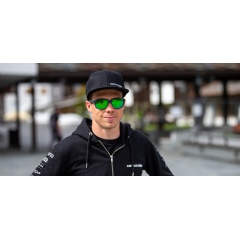 ©Michele Mondini
"My goal of the year is Les Gets. I did a lot of work in June to be ready."
In elite sport, there are promising athletes, shooting stars, legends, and safe bets. Maxime Marotte is in the latter category. Among the worldís top competitors for the last four seasons, this mountain biker from Alsace has impressive talent and an amazing engine that means heís always among the frontrunners on any type of track.
A few weeks ago, the fourth-placed biker in cross-country at the last Olympic Games joined the Julbo Family. We interview this quiet pillar of strength who has the 2020 Olympics in his line of sight!
Hi Maxime, here we are on the eve of the XCO World Cup in Les Gets, France. Weíre also midway through the season. How has the first part of it been for you?
I must admit it hasnít been as good as I was hoping for. Surprisingly, I felt good in short track, which isnít normally the type of effort that suits me as itís very short and intense (Editorís note: short track is a kind of prologue that takes place on Friday and determines a racerís position on the starting grid on Sunday). So that was rather a nice surprise.
But at the first two rounds in Albstadt and Nove Mesto, I wasnít feeling at my very best. So I was a little disappointed with my 6th and 7th places. I felt a bit tired in May, and that certainly had an impact as races get ever more demanding. But weíve only done two rounds and thereís still plenty of season left to go. The month of June has been pretty busy getting ready for this summerís competitions, including the coming French round.
This transition period with no major competitions, between the two parts of the season, is crucial for our preparation. This is when we get ready for the big competitions held in the summer. Recovery from the beginning of the season has been good, Iím feeling fresh again and get the feeling it should pay off!
Youíve been a world-class cross-country rider for almost 11 years now. In recent years, youíve even climbed into the top 3 of the UCI standings on more than one occasion. Whatís the missing element that would allow you to get the win?
Itís true that Iíve been aiming for it for a while now. I made my first World Cup podium in 2011, but since then Iíve been kind of chasing after that win. Thereís a kind of mental barrier you have to go through in your head, where you believe you can get there, that you can afford to take risks, and to attack, even when youíre with someone like Nino Schurter, for example.
As a sport, XCO has changed a lot in recent years, so we have to constantly adapt both our own form of training as well as the technical aspects, and this even extends to our intrinsic qualities if we want to stay competitive. Iím more of an endurance rider, a quality thatís gradually becoming less important. The tracks we ride on nowadays are very demanding, tactical, technical and steep. Iím usually lacking a bit of explosiveness in the last lap, so the bulk of my training is focused on that acceleration capacity.
The technical level in XCO has increased enormously in recent seasons; is that more of an advantage or disadvantage for you?
Iíve never been the best in the paddock technically, but Iím a good technician, so this change in type of track is pretty good for me. But that obviously requires a lot of work to be successful, because on each lap of the track, thereís a huge difference between being a good biker and the best in the world. Itís preferable to avoid losing seconds if you donít have to.
XCO circuits require great physical ability and excellent bike handling. At this point in time, weíre all coached by downhill guys, we work with video analysis, we work on the mind... Itís really fascinating to explore these new ways of doing things. They give all of us the chance to stand out from the crowd.
For the sport, I think this type of track is a really good thing, as it adds a show element.
ďMy goal of the year is Les Gets. I did a lot of work in June to be ready.Ē
At this level of intensity and with so many races, what will make the difference?
Itís all about combining many different details, starting with the ability to choose the right group, the right wheels, and doing that from the get-go. You have to feel out the race as well as your own abilities. You have to manage your performance, be realistic, and not take the wheel of someone who starts out super-strong and then blows up. Experience plays a big part.
And you also have to remember that mountain biking is a mechanical sport, with its share of potential problems, and thereís the issue of choosing the right line. If you lose five seconds because the rider in front of you makes a technical error, that may be your podium spot up in smoke. So you have to be able to feel things, to anticipate a lot of factors, while keeping some room for maneuver. I would say itís a sport that you mature into relatively late; it takes experience to perform well and consistently.
Next year is the Olympic Games. The Olympics are four-year cycles that an athlete like you prepares for over the long term. What aspect have you worked on most so that youíre ready to bring home a medal on the big day?
The first big thing thatís changed for me compared to 2016 is the fact that Iíve joined an international team. Thanks to the team, there are more resources to help us perform well. In the Cannondale Factory Racing team, the athleteís environment is considered to be just as important as his or her training. Theyíve really allowed me to turn a corner in terms of lots of little details. Those famous marginal gains that make all the difference! In this discipline, itís essential to have the climate of trust that we do with the staff.
In terms of training, Iíve also made some big changes.
I decided to lose weight! In three years, Iíve lost 4 kg. Itís a lot of work to get there and maintain that weight. And I can see that itís starting to pay off, especially in short track. In XCO, itís also helped me hugely in the sprint as my watts are up.
A better power-to-weight ratio has allowed me to improve my lactate threshold, which is the direction our sportís heading in if you want to be successful. Iíve still got a bit of work to do, but I think Iíll be ready for 2020 with the decisions Iíve made!
ďIf you donít like suffering, youíd better find another sport!Ē
If you had to choose, would you rather have a World Cup win or a medal, even if it was bronze, at the Olympics?
Thatís a really tough question! But in the end, yeah, a medal at the Olympics!
Kit is another aspect of XCO thatís constantly evolving. And people donít usually talk much about what kit riders are wearing. In weather conditions as different as the mud of Albstadt and the alternating sun and shade of Nove Mesto, what role can a pair of sunglasses play in mountain biking?
For me theyíre essential. Firstly, because my eyes soon start to run if I donít wear glasses. Itís also super-important to protect yourself from physical dangers, whether thatís dust, mud, or even a stone or branch.
Iíve been grateful for my glasses many times after a fall or when a branch has whipped across my face at full speed... Your eyes just arenít replaceable! On another note, sunglasses also hide our eyes from other competitors so they canít see whether weíre suffering or not!
Youíve been riding with the new Julbo model for several months now. What are the main plus points?
On the technical side, Julbo has done brilliantly! Firstly, the temples can be adjusted to your face and perfectly adapted to the shape of your head. They also donít touch the helmet, which prevents vibration or painful points on the temples or forehead. Adjustment of the bridge is also well designed. All of this makes them very comfortable.
This new model has a very modern style that I really like. It offers a wide field of vision so you donít see the frame when youíre wearing them. In XCO, you often have your head over the handlebars, so thatís a really important point.
In terms of the photochromic lens, the speed at which it changes color is amazing. Itís almost instantaneous. Iíve already had the experience of coming back from a ride, going indoors and not realizing I was still wearing my sunglasses!
Now that you have good ďvisionĒ, can you see further ahead and make plans for the long term?
(Laughs). Yes, Iím thinking about it a bit and looking out of the corner of my eye at the 2022 World Championships in France. Itís a great goal and I want to come up with goods on that day. Looking further ahead, if Iím still competing, why not aim for the Paris Olympics in 2024? But weíll see, it depends on how much I want it and my physical shape.
At that point, Iíll choose whether I switch to the other side and work towards being a team manager, for example, or if I start doing another sport. But for the moment, Iím focused on what gets me up each day, and thatís competition!
Thank you for your time Max and welcome to the Julbo Family.
Weíll be behind you all the way at Les Gets for this World Cup race as it returns to France.
( Press Release Image: https://photos.webwire.com/prmedia/7/243770/243770-1.jpg )
Related Links
WebWireID243770

This news content was configured by WebWire editorial staff. Linking is permitted.
News Release Distribution and Press Release Distribution Services Provided by WebWire.