Fraser McConnel: a Jamaican taking on the Scandinavian armada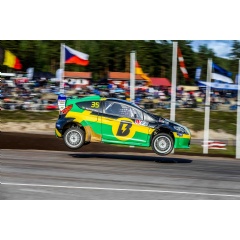 Jamaican rallycross ace Fraser McConnel is taking both the American (ARX) and world rally cross championships by storm. Heís proving hyper competitive in a world of Scandinavian talents who were born and raised with a steering wheel in their hand. And while doing so, McConnel proudly waves his nationís flag as well as the Dirtfish and Motul colours. We caught up with him after his dream event in HÝljes, Sweden.
Fraser, youíre Jamaican, not the first country you think of for a strong racing pedigree. How did you get into the world of rallycross?
Yup, Iím Jamaican, born and raised, and I still live there. I first started out racing dirt bikes, but my parents were having none of it. They didnít like the jumps and the wheelies, and they considered it to be too dangerous, so they made me stop. But I wasnít going to abandon my passion for speed. I started racing G-karts and became pretty good at it. From there I decided to enter the local rally championship racing a basic Mitsubishi Mirage. I managed to get noticed by the local Subaru importer who had me race an Impreza WRX in group N. And thatís when I got spotted by Dirtfish.
Speaking of Dirtfish, did they give you any training of guidance?
They were pretty convinced of my prowess right off the bat. They called me in to do a test with their RX Lite and I managed to impress them to the point that my next event for them was ARX at Cota (Circuit of the Americas). Iíve only been to their training facilities a handful of times and it never ceases to amaze me. What a place.
You now race in RX2 in both ARX and FIAWorldRX. Whatís the biggest difference between racing Europe and the US?
There definitely is a difference. I think the competition in the USA is focused more on sheer pace, just flat-out every lap. While in Europe they are a lot more strategic. European riders will use joke laps to mess with other driversí qualifying times, slowing them down and really thinking about the long game, while in ARX itís more door-to-door action. Both have their charms but you do feel that Rally Cross is really embedded in the Euro rally culture. They love it over there.
Tell us a bit about the machine youíre racing? What is an RX2?
The RX2 car is a spec-car, so all the competitors drive the same type of car. Itís designed in Sweden by Olsberg MSE and built in Turkey. In essence itís a mid-engine, four-wheel drive car with a tubular space frame chassis and a composite plastic body on top. The engine mounted behind the driverís seat is a naturally aspirated Ford Duratec 2400cc four-cylinder that puts out around 300 horsepower and 310 nm of torque fed through a 6-speed Sadev sequential gearbox.† Theyíre a hoot to drive, but theyíll punish you if you go sideways. If you lose traction and start to slide you donít have the torque low down to push, you back into the game. In essence, itís a big off-road go-kart.
Youíve raced all over the world now, so whatís your favourite place to race?
HÝljes, without a doubt. That track is so special. I donít think it has a single stretch thatís entirely level. Plus, itís the ďMagic WeekendĒ for rally cross. The entire event is one big party.
And whatís your next move? What are your ambitions?
Iíd love to do some stage rally, but my heart is in rally cross, so I need to get a seat in an RX supercar.
( Press Release Image: https://photos.webwire.com/prmedia/7/243764/243764-1.jpg )
Related Links
WebWireID243764

This news content was configured by WebWire editorial staff. Linking is permitted.
News Release Distribution and Press Release Distribution Services Provided by WebWire.