School Holidays See Home Insurance Claims Spike
* Aviva data suggests 'accidental damage' home insurance claims increase during school holidays.
* Claims in August 2018 rose by almost a third, compared to June 2018.
* Smashed TVs, phones down toilets and carpet calamities are amongst common claims.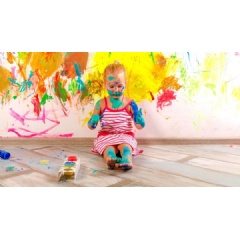 With school holidays just around the corner, Aviva is encouraging families to batten down the hatches and take extra care with their household possessions.
Data from the insurer shows an interesting correlation between 'accidental damage' home insurance claims and school holidays, when youngsters are often at home or visiting grandparents. Aviva figures over the last year show visible peaks in January, April, August and October. August appears to be a home claim hotspot, with last year's data showing a 29% increase in accidental damage claims, compared to June 2018.
It seems that TVs and technology often bear the brunt, along with carpets and couches, as examples of real claims from the last year reveal:
Cutting edge: one father reported that his daughter was doing craft work on the sofa, using a pair of scissors to make badges. She managed to cut through the leather sofa as well as her paper.
Hidden depths: a customer and her husband spent an evening looking for their phones. It was only the following morning they discovered that their grandson had hidden them down the toilet.
The scourge of slime: several customers have made claims after their children and grandchildren played with colourful slime on their carpets and sofas… only to leave irremovable stains behind.
Crystal clear: one customer described how her four-year-old granddaughter was jumping up and down on a dining room chair, trying to grab crystals off a chandelier. She got hold of the chandelier, pulling it down, causing it to damage the glass dining room table. And to top it all, the little girl then fell off the chair, breaking it too!
Taking 'accidental damage' to a new level: one customer was looking after her young grandchildren at her house. They went to play upstairs and she heard a shout. Unfortunately the youngest had had an accident in his pants and his older sibling had convinced him to go down the stairs on his bottom…
Toys, TVs and temper tantrums: dozens of customers have made claims for damaged TVs after younger family members damaged the screens by throwing toys. Another customer's daughter got over-excited seeing her favourite cartoon pig on the small screen, causing her to knock the TV over. 
Get cracking: a customer's child had dropped something in the bath which had caused it to crack. Unfortunately this wasn't noticed immediately… only when the bath had been filled and water started dripping through the ceiling below….
Getting into the swing: another customer claimed for a broken tumble drier after his daughter decided that swinging on the door was a good idea – until it broke.
Melt down: a customer's child accidentally turned on the grill on the cooker. The family then went out for the day and on their return found that the cooker had broken and had melted two drawers and a kitchen cupboard.
Hot spot: a customer's grandchild left their tablet to charge on the lounge carpet. The tablet overheated and singed a hole in the carpet. 
Adam Beckett, Product Director for Aviva UK General Insurance says: "We know that households come in all shapes and sizes, so we want to make sure our customers have cover that's right for them – just in case the unexpected happens. Having more people at home can increase the risk of mishaps around the house and our claims data suggests a relationship between school holiday periods and an increase in accidental damage claims.
"Cover for accidents like spills and breakages can provide peace of mind when youngsters are home for the holidays. And for those who take gadgets or valuables out and about - and on holiday anywhere in the world - personal belongings cover as part of home insurance can offer extra reassurance, particularly if there are youngsters around!
"With AvivaPlus home insurance, people can change or cancel their level of cover, or add or remove extra protection, with no admin fee. So if the little darlings are heading your way this summer, now might be the time to review your home cover!"
Top tips to keep possessions safe during the summer school holidays:
Keep any breakables and valuables out of reach from young children – if possible lock them away from little hands!
Don't underestimate children's ability or determination to get hold of an item. Standing on chairs, tables, or even a friend or sibling, can mean that an 'out-of-reach' place often isn't.
Make sure you have the right level of cover for your needs. AvivaPlus home insurance offers three levels of cover: Basic, Regular and Premium to cater for different requirements. Accidental damage is offered as an option on Regular cover and as standard on Premium policies.
Be vigilant with doors and windows during the summer months. Many thieves are opportunistic, so if you leave a door or window open when the weather is good, this could be all the chance they need to get into your home.
If you're going away, AvivaPlus Premium provides cover for accidents and thefts away from home, anywhere in the world, up to the value of £2,000 or more on request.
Understand any exclusions on your home insurance policy. For example, damage caused by pets is usually excluded from home insurance policies, as is general wear and tear.
To find out more about Aviva home insurance and AvivaPlus, visit www.aviva.co.uk/home

- ENDS -

About AvivaPlus
AvivaPlus offers simple, flexible insurance cover, monthly payments with no APR, no charges to cancel or change and a renewal price guarantee for home and car insurance.
A key feature of AvivaPlus is the renewal price guarantee, which is aimed at addressing price differences between new and existing customers.  The guarantee ensures existing customers are offered the same or an even better price than an equivalent new customer at their next renewal.

Notes to editors:

Aviva provides life insurance, general insurance, health insurance and asset management to 33 million customers.
In the UK we are the leading insurer serving one in every four households and have strong businesses in selected markets in Europe, Asia and Canada. Our shares are listed on the London Stock Exchange and we are a member of the FTSE100 index.  
Aviva's asset management business, Aviva Investors, provides asset management services to both Aviva and external clients, and manages over £331 billion in assets (as at 31 December 2018). Total group assets under management at Aviva group are £470 billion (as at 31 December 2018).
Aviva helps people save for the future and manage the risks of everyday life; in 2018 we paid £32.9 billion in claims and benefits on behalf of our 33 million customers.
By serving our customers well, we are building a business which is strong and sustainable, which our people are proud to work for, and which makes a positive contribution to society.
The Aviva newsroom at www.aviva.com/newsroom includes links to our image library on Flickr, research reports and our news release archive.
For an introduction to what we do and how we do it, please click here www.aviva.com/about-us
Follow us on twitter: www.twitter.com/avivaplc/
Follow us on LinkedIn: www.linkedin.com/company/aviva-plc
For the latest corporate films from around our business, subscribe to our YouTube channel: www.youtube.com/user/aviva
We have a Globelynx system for broadcast interviews. Please contact the Press Officer noted above if you would like to make a booking.
( Press Release Image: https://photos.webwire.com/prmedia/5/243388/243388-1.jpg )
Related Links
WebWireID243388

This news content was configured by WebWire editorial staff. Linking is permitted.
News Release Distribution and Press Release Distribution Services Provided by WebWire.