The unsuspected power of car tires for energy efficiency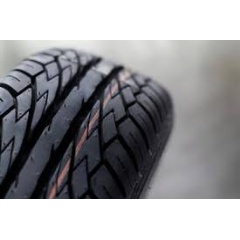 We have two main secrets: very strong customer intimacy and our people who have been mastering this technology for the past 30 years and are constantly offering new solutions. -Patrizia Maccone, GBU R&I Director, Solvay Silica
Silica helps cars consume less and tires last longer
Solvay's new grade of silica directly contributes to reducing CO2 emissions from cars. And by improving the lifespan of tires, it also reduces resource consumption and pollution. 
Silica, or silicon dioxide (most commonly found in nature as quartz), is a crucial element in the highly complex composition of tires. It's what gives them strength and resistance, and therefore can be instrumental in modifying their properties, especially when it comes to rolling resistance (harder tires adhere to the road less) and durability (they wear out much more slowly).
This is a market Solvay has been involved in for a long time through its Silica business unit. And the environmental benefits of using the right grades and the right quantities of silica in the composition of tires have long been recognized. In fact, the first "green tire" using silica was co-developed by Solvay with Michelin back in 1992, "using a grade of silica that is still in use today," explains Bruno Jestin, Global Business Director for the tire segment at Solvay Silica. "Thanks to our decades of experience, we've been able to fully understand the effects of silica on the mechanical properties of elastomers and rubber. We know how to design the architecture of silica in order to adapt its morphology, interface and dispersion within the tire to obtain the desired properties."
Discover how we reinvent the tires
Energy-saving wheels
Today, Solvay's latest grade of silica, Premium SW, takes these properties one step further. Tests have shown that it reinforces tires and reaches 25% lower rolling resistance, with the direct consequence of reducing fuel consumption and therefore CO2emissions by 7%. "By improving rolling resistance, silica decreases the effort the motor has to make," explains Bruno. "The dynamic properties of the rubber are improved, so less energy is passed on from the tire to the road, decreasing fuel consumption as well as fine particle emissions."
Reducing rolling resistance was a strong focus for Silica's teams in order to answer manufacturers' demands, as they are under strong pressure to reduce the CO2 emissions of their cars. "One way to achieve that is to work on the properties of the tires," adds Patrizia Maccone, R&I Director at Solvay Silica, "and we increased wear resistance in the process."
"Our next objective is tires that can last as long as the cars themselves, thanks to their long-lasting performance enabled by silica."
Burno Jestin, Global Business Director, tire segment, Solvay Silica
Tires that don't give up
Which brings us to the second major benefit of Premium SW: tire longevity. The 'SW' stands for 'super wear': this grade of silica improves the long-lasting performance of the tires while maintaining the same level of safety: you can keep your tires on your wheels longer without any added risk of them bursting.
This is good news for any car owner, but even more so for rental services who manage large fleets of cars. With cities cracking down on individual car traffic, these types of companies are on the rise and looking for ways to reduce their maintenance costs: not having to change the tires so often, or even at all, is one way to achieve that. "Tires today can last as long as the rental car itself, 60 to 80,000 km, thanks to their long-lasting performance enabled by silica," says Bruno. "The next target we're currently working on is tires that will last for 250,000 km!"
Another added benefit is that stronger tires don't disseminate as much waste. Instead of wearing off into the environment, the rubber stays on the tires. But achieving all these properties requires a lot of work, as Patrizia explains: "Basically what we're looking for is a larger contact surface of the silica with other elements in the tire's compound, and this new silica is actually quite difficult to produce and to combine with the other elements. But by increasing the surface of the silica, we managed to gain an amazing range of properties."
( Press Release Image: https://photos.webwire.com/prmedia/6/243384/243384-1.jpg )
Related Links
WebWireID243384

This news content was configured by WebWire editorial staff. Linking is permitted.
News Release Distribution and Press Release Distribution Services Provided by WebWire.