The fight against tuberculosis: researchers at St. Michael's Hospital identify best practices for the use of antibiotics
Toronto, Canada –
WEBWIRE
–
Thursday, July 4, 2019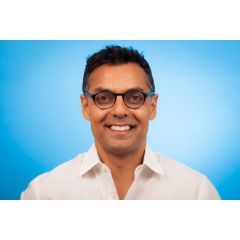 Dr. Kamran Khan
Tuberculosis (TB) could develop resistance to rifampin – a crucial antibiotic – if clinicians aren't vigilant about properly assessing patients for the active form of disease, suggests a paper written by St. Michael's Hospital scientists and published in the Canadian Medical Association Journal.
Co-authors Drs. Kamran Khan and Jane Batt have spent decades treating TB, and while they say they're excited about shorter treatment regimens for patients with latent tuberculosis infection (LTBI) – those who carry the bacteria but do not have the disease – they're equally concerned about some patients developing resistance to rifampin, which is widely considered the most important drug in the global fight against tuberculosis.
In 2018 a clinical trial published in the New England Journal of Medicine showed that rifampin is better tolerated, has higher treatment completion rates, requires fewer doses than, and is as efficacious as isoniazid, the longstanding treatment regimen for LTBI.
But if clinicians use rifampin to treat patients who are presumed to have LTBI, and they actually have active TB, it could induce resistance, said Dr. Khan, a scientist at the Li Ka Shing Knowledge Institute.
"With active TB there is a large burden of bacteria that multiply rapidly, and they can readily evolve to become resistant to a single antibiotic," said Dr. Khan. "When prescribing rifampin, we need to be absolutely certain that patients with presumed LTBI don't actually have active TB, or we risk generating resistance, which would create serious complications for patients and for society."
At a conference recently, Dr. Batt, Dr. Khan and their colleagues debated the use of rifampin, and felt that the trial authors did not spend sufficient time discussing risks for the development of rifampin resistance.
"The clinical trial in the New England Journal of Medicine is extremely important, and we expect rifampin to be used far more frequently moving forward," said Dr. Batt, a scientist in the Keenan Research Centre for Biomedical Science. "We just wanted to underscore the fact that if patients haven't been carefully assessed for active TB, using rifampin could create resistance."
To prevent this, Drs. Khan and Batt stress that clinicians must confidently rule out active TB with a thorough clinical assessment and radiographic examination, and in some cases, sputum cultures — a test to detect for tuberculosis bacteria in the lungs — before beginning treatment for LTBI with rifampin.
"Interestingly, and maybe people don't think about this enough, it's not unusual for people with active TB to have no symptoms and have a normal physical exam," said Dr. Khan. "Sometimes, an abnormality on their chest x-ray and a sputum sample may be the only ways to determine if the patient has active TB."
This could pose challenges for clinicians in community settings and resource-limited environments, where access to key diagnostic services to rule out active TB may be limited. Drs. Khan and Batt urge clinicians who lack access to key diagnostic services to consider referring patients to centres that are experienced in the management of TB.
"This treatment regimen is going to be a game changer," said Dr. Khan. "But we'll need to use it carefully so we don't inadvertently create drug resistance."
About St. Michael's Hospital
St. Michael's Hospital provides compassionate care to all who enter its doors. The hospital also provides outstanding medical education to future health care professionals in more than 27 academic disciplines. Critical care and trauma, heart disease, neurosurgery, diabetes, cancer care, care of the homeless and global health are among the Hospital's recognized areas of expertise. Through the Keenan Research Centre and the Li Ka Shing International Healthcare Education Centre, which make up the Li Ka Shing Knowledge Institute, research and education at St. Michael's Hospital are recognized and make an impact around the world. Founded in 1892, the hospital is fully affiliated with the University of Toronto.
About Unity Health Toronto
Unity Health Toronto, comprised of Providence Healthcare, St. Joseph's Health Centre and St. Michael's Hospital, works to advance the health of everyone in our urban communities and beyond. Our health network serves patients, residents and clients across the full spectrum of care, spanning primary care, secondary community care, tertiary and quaternary care services to post-acute through rehabilitation, palliative care and long-term care, while investing in world-class research and education. For more information, visit www.unityhealth.to.
( Press Release Image: https://photos.webwire.com/prmedia/5/243336/243336-1.jpg )
Related Links
WebWireID243336

This news content was configured by WebWire editorial staff. Linking is permitted.
News Release Distribution and Press Release Distribution Services Provided by WebWire.