New workplace pension incorporates ethical and ESG considerations
Aviva UK has launched the 'Stewardship lifestyle strategy' - a workplace pension default investment strategy that incorporates ethical and ESG (environmental, social and governance) considerations.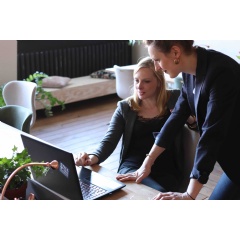 "Aviva has been at the forefront of responsible investment for decades and we take our duty very seriously."
This is the first time a strategy has been based solely on the Aviva Stewardship funds. Launched in the 1980s, the funds have a proud heritage as the country's first ethical fund range, while also incorporating ESG considerations.
The strategy has ethical and ESG considerations throughout the growth and consolidation phases. This means regardless of when a member first invests, they can be reassured that ethical and ESG considerations are integrated all the way up to their selected retirement date.
Businesses which have their workplace pension scheme with Aviva will be able to use the Stewardship lifestyle strategy as their default. They will also be able to offer it to employees as an alternative to their existing default.
The philosophy of the Aviva Stewardship funds recognises that the contribution companies make to a sustainable society depends both on the products and services they provide and the way they provide them. 
This results in the funds excluding companies that do not meet certain ethical standards or that harm society or the environment.
Alongside this, the team behind the Stewardship funds engage and support companies that make a positive contribution to a sustainable society and encourage positive environmental, social and governance practices.
"Responsible investing is no longer a 'nice to have'. The investment and workplace pensions industry can play a huge role in changing the world we live in for the better, and the launch of this lifestyle strategy, utilising the Stewardship funds, is a big step towards that.
"Aviva has been at the forefront of responsible investment for decades and we take our duty very seriously. We want to offer people a simple but effective way of ensuring that as they save for their retirement, their investment is being used for the good of society and the planet." Matt McGill, Head of Workplace Propositions at Aviva
How does Stewardship work?
The Stewardship Funds investment approach is based on three layers:
Exclusion – principally based on what a company does ie companies with a significant involvement in tobacco, pornography, coal mining are excluded from the funds.
Engagement – working with companies to improve how they conduct their business.
Outcome – measuring the ESG performance of the companies in which the funds are invested.
The value of investments can go down as well as up. Members may get back less then has been invested.
The Stewardship funds are managed by Aviva Investors (AI). AI's Global Responsible Investment (GRI) team, led by Dr Steve Waygood, maintain the policy that guides the funds and ensures they continue to adhere to the Stewardship philosophy.
Steve Waygood, Chief Responsible Investment Officer at Aviva Investors, said:
"Using the Stewardship funds to create a workplace pension default means more people will now have access to an ethical investment philosophy."
"Having the option to invest in companies that are in line with your personal beliefs shouldn't be reserved for the wealthy or the investment professional.
"As a result of auto-enrolment and the boom in pension saving, more and more people are now investors. Their hard-earned savings can be used to make the world a better place"
Aviva and corporate responsibility
Aviva is a Living Wage employer.
Aviva has introduced equal parental leave for all new parents.
Shareaction has rated Aviva as 'AAA' for managing climate risk.
Aviva was the first carbon neutral international insurance company.
Aviva is co-founder of the World Benchmarking Alliance.
Aviva has committed to removing single-use plastics from its UK offices.
Notes to editors:
Aviva provides life insurance, general insurance, health insurance and asset management to 33 million customers.
In the UK we are the leading insurer serving one in every four households and have strong businesses in selected markets in Europe, Asia and Canada. Our shares are listed on the London Stock Exchange and we are a member of the FTSE100 index.  
Aviva's asset management business, Aviva Investors, provides asset management services to both Aviva and external clients, and currently manages over £331 billion in assets (as at 31 December 2018). Total group assets under management at Aviva group are £470 billion (as at 31 December 2018).
Aviva helps people save for the future and manage the risks of everyday life; last year we paid £32.9 billion in claims and benefits on behalf of our 33 million customers.
By serving our customers well, we are building a business which is strong and sustainable, which our people are proud to work for, and which makes a positive contribution to society.
The Aviva newsroom at www.aviva.com/newsroom includes links to our image library on Flickr, research reports and our news release archive.
For an introduction to what we do and how we do it, please click here www.aviva.com/about-us
Follow us on twitter: www.twitter.com/avivaplc/
Follow us on LinkedIn: www.linkedin.com/company/aviva-plc
For the latest corporate films from around our business, subscribe to our YouTube channel: www.youtube.com/user/aviva
We have a Globelynx system for broadcast interviews. Please contact the Press Officer noted above if you would like to make a booking.
( Press Release Image: https://photos.webwire.com/prmedia/7/243100/243100-1.jpg )
Related Links
WebWireID243100

This news content was configured by WebWire editorial staff. Linking is permitted.
News Release Distribution and Press Release Distribution Services Provided by WebWire.