New Osteoporosis Therapy's Dual Effects on Bone Tissue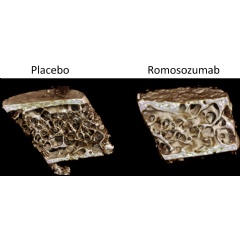 Romosozumab is the first osteoporosis therapy with a dual effect on bone tissue, increasing bone formation and decreasing resorption
Sclerostin is a protein produced by osteocytes in the bone that inhibits bone formation. A recent analysis of results from a clinical trial reveals the beneficial effects of romosozumab, an antibody therapy that targets sclerostin, on bone tissue in postmenopausal women with osteoporosis. The findings are published in the Journal of Bone and Mineral Research.
Romosozumab increases serum markers of bone formation and decreases those of bone breakdown, or resorption. This is associated with an increased bone mineral density and a reduced risk of bone fractures.
This latest analysis included 107 patients with osteoporosis who were enrolled in the multicenter, phase 3 clinical trial called the Fracture Study in Postmenopausal Women with Osteoporosis (FRAME) study and who underwent bone biopsies. The analysis showed that at the tissue level, romosozumab produced an early and transient increase in bone formation and a persistent decrease in bone resorption. This led to significant increases in bone mass and improved bone microarchitecture (Figure) after 12 months of therapy. These effects contribute to the reduced fracture risk previously reported in postmenopausal women with osteoporosis treated with romosozumab.
"Romosozumab is the first osteoporosis therapy with a dual effect on bone tissue, increasing bone formation and decreasing resorption" said lead author Dr. Pascale Chavassieux, of the University of Lyon, in France.
Additional Information
Link to Study: https://onlinelibrary.wiley.com/doi/10.1002/jbmr.3735
About Journal 
The Journal of Bone and Mineral Research (JBMR) publishes highly impactful original manuscripts, reviews, and special articles on basic, translational and clinical investigations relevant to the musculoskeletal system and mineral metabolism. Specifically, the journal is interested in original research on the biology and physiology of skeletal tissues, interdisciplinary research spanning the musculoskeletal and other systems, including but not limited to immunology, hematology, energy metabolism, cancer biology, and neurology, and systems biology topics using large scale "-omics" approaches. The journal welcomes clinical research on the pathophysiology, treatment and prevention of osteoporosis and fractures, as well as sarcopenia, disorders of bone and mineral metabolism, and rare or genetically determined bone diseases. 
About Wiley
Wiley drives the world forward with research and education. Our scientific, technical, medical, and scholarly journals and our digital learning, certification, and student-lifecycle services and solutions help students, researchers, universities, and corporations to achieve their goals in an ever-changing world. For more than 200 years, we have delivered consistent performance to all of our stakeholders. The Company's website can be accessed at www.wiley.com.
( Press Release Image: https://photos.webwire.com/prmedia/6/242851/242851-1.jpg )
Related Links
WebWireID242851

This news content was configured by WebWire editorial staff. Linking is permitted.
News Release Distribution and Press Release Distribution Services Provided by WebWire.