SNMMI 2019: increasing diagnostic precision in Molecular Imaging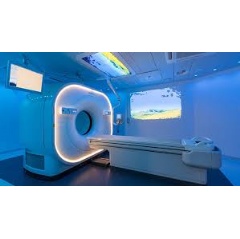 To realize the promise of precision medicine, we need to start with the foundation of a precise diagnosis. -Karim Boussebaa, General Manager CT and AMI, Philips.
This week physicians, radiologists and scientists are gathering to attend the Society for Nuclear Medicine and Molecular Imaging's (SNMMI) annual meeting. Spearheading Philips' attendance at the show is Karim Boussebaa, General Manager of Philips' CT and advanced molecular imaging (AMI) businesses. As precision diagnosis and Adaptive Intelligence continue to shape the direction of this field, here Karim discusses how these trends are enabling clinicians to improve the patient and staff experience, enhance health outcomes and lower the cost of care.
How has molecular imaging technology changed in recent years? And what can we expect to see next? 
KB: The molecular imaging industry has shifted from a focus on the digitization of equipment to a more holistic approach: advancing how the total solution impacts workflow and the patient experience. We pioneered the switch to digital with Philips Vereos, the first fully digital PET/CT, and since then the market has increasingly transitioned to digital systems. Having led the switch to digital in PET/CT, we're now driving the shift from volume-based to value-based healthcare. 
Last year, the procedure volume for PET/CT hit its highest-ever level in the U.S. with an estimated two million scans performed. To continue this growth and broaden adoption, that means focusing not only on the quality of the image, but improving the experience of patients and staff, and demonstrating how we are contributing to enhancing health outcomes and lowering the cost of care overall.
What role does molecular imaging play in the personalized patient journey, and how is that changing what patients experience when they are scanned? 
KB: Individualized care is key to reaching accurate diagnoses and effective treatment plans for cancer patients. These patients require constant vigilance and collaboration across multiple domains, and oncologists can face challenges when trying to create a complete picture of all necessary patient information to support the decision-making process. By pioneering design-driven solutions for patient comfort and smart systems to improve image acquisition, we can truly transform and personalize the patient journey. 
Today's industry is driving towards precision medicine. How is molecular imaging technology evolving to help clinicians provide individualized care? 
KB: We are at the early stages of precision medicine today. To realize the promise of precision medicine, we need to start with the foundation of a precise diagnosis. Results from scans need to be fast, precise and connected across the continuum of care, and that's why these elements are so important in Philips' solutions.
By leveraging advances in technology, including AI, and medicine, to make a more confident diagnosis, we can move towards more personalized treatment, which molecular imaging is already helping to inform. Therapies across all disease states are continuing to evolve and molecular imaging is helping provide clinicians with the right level of individualized insight to enable them to understand which patients are responding to treatment, and which aren't – supporting improved outcomes.
Are there any clinical areas where you believe nuclear medicine is poised to make a significant impact on patient care?  
KB: Today, nuclear medicine has already made considerable strides in oncology, helping improve the detectability, quantification and characterization of lesions. The visualization of small lesions is essential for clinicians to diagnose, stage and monitor therapy in oncology patients and PET/CT has allowed us to make significant progress for these patients. 
Solutions like Vereos, with proprietary digital photon counting technology, as well as our advanced informatics solutions, including IntelliSpace Portal and Illumeo, help connect and make sense of the data to enhance tumor staging and quantification. With this strong quantitative foundation, the development of robust machine learning algorithms and adaptive intelligence solutions, which are based on a deep understanding of how healthcare providers use devices and technology, are being realized. 
Looking ahead, neurology is an important area that is poised to benefit from molecular imaging. Neurology can be a difficult space for diagnosis and treatment, but the emerging molecular neuroimaging techniques in PET and SPECT – as well as MRI – are making it possible to noninvasively identify fundamental biological processes of diseases such as Alzheimer's and Parkinson's.  
Nuclear medicine is already contributing to realizing the promise of value-based healthcare. We still have work to do, but the research, technology and dialog that we as a community have at SNNMI this year will only fuel more progress and bring us one step closer to realizing it.
( Press Release Image: https://photos.webwire.com/prmedia/6/242797/242797-1.jpg )
Related Links
WebWireID242797

This news content was configured by WebWire editorial staff. Linking is permitted.
News Release Distribution and Press Release Distribution Services Provided by WebWire.