Solomon R. Guggenheim Museum Presents Basquiat's "Defacement": The Untold Story - June 21
Exhibition Centered on Painting by Jean-Michel Basquiat Commemorating Death of Artist Michael Stewart Examines Identity, Cultural Activism, and Racial Tension in 1980s New York
NEW YORK, NY –
WEBWIRE
–
Friday, June 21, 2019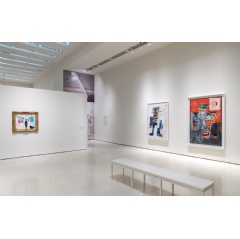 From June 21 to November 6, 2019, the Solomon R. Guggenheim Museum presents Basquiat's "Defacement": The Untold Story. This focused, thematic exhibition of work by Jean-Michel Basquiat (American, 1960–1988), supplemented with work by others of his generation, explores a formative chapter in the artist's career through the lens of his identity and the role of cultural activism in New York City during the early 1980s.
Basquiat's "Defacement": The Untold Story is organized by guest curator Chaédria LaBouvier.
The exhibition takes as its starting point the painting The Death of Michael Stewart, informally known as Defacement, created by Basquiat in 1983 to commemorate the fate of the young, black artist Michael Stewart at the hands of New York City transit police after allegedly tagging a wall in an East Village subway station. Originally painted on the wall of Keith Haring's studio, the work was not meant to be seen widely and has rarely been exhibited in a public context. With approximately twenty paintings and works on paper by Basquiat and his contemporaries, this presentation examines Basquiat's exploration of black identity, his protest against police brutality, and his attempts to craft a singular aesthetic language of empowerment. The works on view by Basquiat further illustrate his engagement with state authority as well as demonstrate his adaptation of crowns as symbols for the canonization of historical black figures. Also featured are archival material related to Stewart's death, including Keith Haring's diary and protest posters, along with samples of artwork from Stewart's estate. Paintings and prints made by other artists in response to Stewart's death and the subsequent criminal trial of the police officers charged in his death include Haring's Michael Stewart—U.S.A. for Africa (1985); Andy Warhol's screenprinted "headline" painting from 1983 incorporating a New York Daily News article on Stewart's death; David Hammons's stenciled print titled The Man Nobody Killed (1986), George Condo's Portrait of Michael Stewart (1983) and Lyle Ashton Harris's photographic portrait Saint Michael Stewart (1994), all of which are testaments to the solidarity among artists at the time and the years following. An illustrated publication with essays by Chaédria LaBouvier; cultural historian J. Faith Almiron; Nancy Spector, Guggenheim Artistic Director and Jennifer and David Stockman Chief Curator; and critic Greg Tate presents new scholarship on Basquiat and the burgeoning East Village art scene during the early 1980s, an era marked by the rise of the art market, the AIDS crisis and the activism it engendered, and persistent racial tensions in the city. The essays are supplemented by a section of Recollections by key activists, critics, artists, lawyers, and journalists who were directly involved in the aftermath of Stewart's death. 
PUBLIC PROGRAM
Guggenheim Tuesdays: Films
Basquiat's "Defacement": The Untold Story in Cinema
Tuesdays, July 9–30, 6 pm
Solomon R. Guggenheim Museum, New Media Theater
Presented in conjunction with the exhibition Basquiat's "Defacement": The Untold Story, this film series provides additional context by expanding on the cultural climate of 1980s New York City, Basquiat's life and work, and how artists responded to social injustice.
Titles include:
Boom for Real: The Late Teenage Years of Jean-Michel Basquiat, 2017
Directed by Sara Driver, 78 min.
Tuesday, July 9
This film serves as a look at the early career of graffiti artist-turned-acclaimed painter Jean-Michel Basquiat. The film includes interviews with his romantic partners and friends, as well as his street art contemporaries and icons of hip-hop culture.
Jean-Michel Basquiat: The Radiant Child, 2010
Directed by Tamra Davis, 93 min.
Tuesday, July 16
Tamra Davis presents a documentary portrait of Jean-Michel Basquiat, revealing how he dealt with being a black artist in a predominantly white art world, his professional rise, his close relationship with Andy Warhol, and the confluence of acclaim, scrutiny, and fame.
Do the Right Thing, 1989
Directed by Spike Lee, 120 min.
Tuesday, July 30
The hottest day of the year erupts on-screen in this vibrant look at a day in the life in Bedford-Stuyvesant, Brooklyn, where the character Radio Raheem evokes the death of Michael Stewart.Dedicated to those killed by police, the film features an ensemble cast that includes Danny Aiello, Ossie Davis, Ruby Dee, Richard Edson, Giancarlo Esposito, Robin Harris, Samuel L. Jackson, Bill Nunn, Rosie Perez, and John Turturro. Since its premiere over three decades ago, Spike Lee's powerful portrayal of urban racial tensions turning violent has continued to earn popular and critical praise.
Screenings take place in the New Media Theater, Level B, and are free with same-day museum admission. Limited capacity, wristband required. Wristbands are available at the admissions desk beginning at 4 pm on the day of the screening and distributed on a first-come-first-served basis. Advance wristbands are not available. For more information, visit guggenheim.org/films.
After Hours
Art After Dark
Friday, July 26, 9 pm–midnight; Exclusive Members' Hour: 8–9 pm
An after-hours private viewing of the exhibitions Artistic License: Six Takes on the Guggenheim Collection, Implicit Tensions: Mapplethorpe Now, The Hugo Boss Prize 2018: Simone Leigh, Loophole of Retreat, and Basquiat's "Defacement": The Untold Story, featuring a cash bar and DJ in the rotunda.
Supported in part by Showtime.
$25, members free. Purchase tickets online in advance or become a member. Cash bar offers wine and beer. Guests will be asked for a photo ID. Limited general admission tickets will go on sale closer to the event date. Tickets are not sold at the door. For more information, visit guggenheim.org/artafterdark.
Guggenheim Tuesdays: Talks
Kobena Mercer: "Blackness, Flesh, and Vision"
Tuesday, September 17, 6:30 pm
Solomon R. Guggenheim Museum
This lecture considers the Guggenheim's simultaneous presentations of works by Jean-Michel Basquiat and Robert Mapplethorpe as an opportunity to examine cross-cutting entanglements of race, masculinity, and the gaze. Drawing on the distinction that black feminist theorist Hortense Spillers makes between "flesh" and "the body," a range of contemporary and historical examples are examined to reveal how intersections of blackness, flesh, and vision circulate at the most intimate level of our erotic lives even as they also erupt in the violence that results in endless cycles of racialized death. With the focal shift in Black Atlantic visual arts from representation to performance, what fresh insights arise with regard to critical perspectives on the black body?
The Hilla Rebay Lectures bring distinguished scholars to the Guggenheim Museum to examine significant issues in the theory, criticism, and history of art. This annual program is made possible through the generosity of the Hilla von Rebay Foundation.
Free, sign up for updates. To sign up and for more information, visit guggenheim.org/calendar.
Tours
Mind's Eye
Monday, Sept 16, 6:30-8:30 pm: Basquiat's "Defacement"
Solomon R. Guggenheim Museum
Monthly Mind's Eye tours and workshops for visitors who are blind or have low vision are conducted by arts, education, and access professionals through verbal description, conversation, sensory experiences, and creative practice.
Mind's Eye is made possible by Ornellaia.
Additional support is provided by Peter Bentley Brandt.
Free with RSVP required one week before the program date. For more information, visit guggenheim.org/mindseye
EXHIBITION SUPPORT
This exhibition is supported in part by the National Endowment for the Arts and The Keith Haring Foundation.
ABOUT THE ARTIST
Jean-Michel Basquiat was born in 1960 in New York City and died there in 1988. His work has been the subject of numerous solo exhibitions including Jean-Michel Basquiat: Paintings, 1981–1984, Fruitmarket Gallery, Edinburgh (1984, traveled to the Institute of Contemporary Arts, London; and the Museum Boijmans Van Beuningen, Rotterdam); Jean-Michel Basquiat, Whitney Museum of American Art, New York (1992, traveled to the Menil Collection, Houston; the Des Moines Art Center, Iowa; and the Montgomery Museum of Fine Art, Alabama); Basquiat, Brooklyn Museum, New York (2005, traveled to the Museum of Contemporary Art, Los Angeles; and the Museum of Fine Arts, Houston); Jean-Michel Basquiat, Fondation Beyeler, Basel (2010, traveled to Musée d'Art Moderne de la Ville de Paris); Basquiat: The Unknown Notebooks, Brooklyn Museum (2015); Jean-Michel Basquiat: Now's the Time, Art Gallery of Ontario (2015, traveled to Guggenheim Museum Bilbao); Basquiat: Boom for Real, Barbican Art Gallery, London (2017–18); and Jean-Michel Basquiat (1960–1988), Fondation Louis Vuitton, Paris (2018–19), and the Brant Foundation Art Study Center, New York (2019).
ABOUT CHAÉDRIA LABOUVIER
Chaédria LaBouvier is a writer and Basquiat scholar. She holds an MFA in Screenwriting from UCLA's Film School, and is a graduate of Williams College where she majored in History (Military Strategy and Colonialism). In fall 2016, she organized a one-work exhibition of Basquiat's painting Defacement (The Death of Michael Stewart) with accompanying programs for the Reading Room at Williams College Museum of Art.
ABOUT THE SOLOMON R. GUGGENHEIM FOUNDATION
The Solomon R. Guggenheim Foundation was established in 1937 and is dedicated to promoting the understanding and appreciation of modern and contemporary art through exhibitions, education programs, research initiatives, and publications. The international constellation of museums includes the Solomon R. Guggenheim Museum, New York; the Peggy Guggenheim Collection, Venice; the Guggenheim Museum Bilbao; and the future Guggenheim Abu Dhabi. In 2019, the Frank Lloyd Wright-designed Solomon R. Guggenheim Museum celebrates 60 years as an architectural icon and "temple of spirit" where radical art and architecture meet. To learn more about the museum and the Guggenheim's activities around the world, visit guggenheim.org.
( Press Release Image: https://photos.webwire.com/prmedia/6/242656/242656-1.jpg )
Related Links
WebWireID242656

This news content was configured by WebWire editorial staff. Linking is permitted.
News Release Distribution and Press Release Distribution Services Provided by WebWire.