Guggenheim Opens Second Part of Yearlong Exhibition Implicit Tensions: Mapplethorpe Now on July 24
Presentation Addresses the Generative Legacy of Robert Mapplethorpe through Works by Rotimi Fani-Kayode, Lyle Ashton Harris, Glenn Ligon, Zanele Muholi, Catherine Opie, and Paul Mpagi Sepuya
NEW YORK, NY –
WEBWIRE
–
Wednesday, June 19, 2019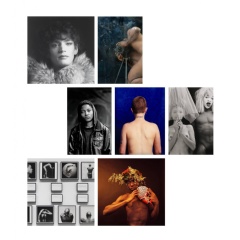 From July 24 through January 5, 2020, the Solomon R. Guggenheim Museum presents Implicit Tensions: Mapplethorpe Now, the second part of a yearlong exhibition exploring the legacy of Robert Mapplethorpe (1946–1989). One of the most critically acclaimed yet controversial American artists of the late 20th century, Mapplethorpe is widely known for daring, formally rigorous imagery that deliberately transgresses social mores and for the censorship debates that transformed him into a symbol of the culture wars of the late 1980s and early 1990s.
In the ensuing decades, artists and critics have grappled with Mapplethorpe's legacy, raising questions about the agency of the photographic subject and interrogating his representations of homoerotic desire, the black male nude, and the female figure. He has simultaneously been celebrated for bringing visibility to underrepresented communities and critiqued for objectifying his sitters. Endeavoring to reflect these complex conversations, and to honor Mapplethorpe's critical contribution to the art of his time, this exhibition showcases the work of six artists in the Guggenheim collection who offer expansive approaches to exploring identity through photographic portraiture: Rotimi Fani-Kayode (b. 1955, Lagos, Nigeria; d. 1989, London), Lyle Ashton Harris (b. 1965, New York), Glenn Ligon (b. 1960, New York), Zanele Muholi (b. 1972, Umlazi, South Africa), Catherine Opie (b. 1961, Sandusky, Ohio), and Paul Mpagi Sepuya (b. 1982, San Bernardino, California).
Implicit Tensions: Mapplethorpe Now is organized by Lauren Hinkson, Associate Curator, Collections, and Susan Thompson, Associate Curator, with Levi Prombaum, Curatorial Assistant, Collections.
In 1993 the Robert Mapplethorpe Foundation gifted approximately two hundred photographs and unique objects to the Guggenheim Museum, creating one of the most comprehensive public repositories of his work. This gift initiated the formation of the Guggenheim's Photography Council, an acquisitions committee dedicated to actively building and strengthening the museum's collection of art in photography and new media. Many of these works, acquired over the past three decades, engage in critical dialogue with the themes, provocations, and formal approaches evident in Mapplethorpe's ouevre. Thirty years after the artist's death in 1989, Implicit Tensions demonstrates the impact of Mapplethorpe both as a catalyst of the development of the Guggenheim's photography collection and as a touchstone for artists working in contemporary portraiture and self-representation.
Following the first part of the presentation, on view from January 25–July 10, which explored the depth of the museum's Mapplethorpe holdings, the second part of Implicit Tensions highlights the artist's early Polaroids; iconic, classicizing nudes; flowers; self-portraits; and images of the S&M underground scene in New York.
Working in the 1980s, Rotimi Fani-Kayode produced within a short career a body of photography exploring his hybrid, transnational identity as a gay diasporic African. Often referencing his own sense of otherness as he confronted the confluence of racism and homophobia, Fani-Kayode's images reflect his experiences as an outsider in both Africa and the West. His portraits incorporate symbolism and iconography from his Yoruba heritage into potent celebrations of spirituality, homoeroticism, and the black male figure.
The photographs, videos, and installations of Lyle Ashton Harris probe the nuances of identity and belonging through performative self-presentation. His early Americas series (1987–88) offers multilayered ruminations on—and subversions of—ethnicity, gender, and sexual desire. Since the late 1990s, Harris has assembled personal imagery and cultural ephemera into complex collages. Born out of the artist's experiences around the recent death of his estranged father, Untitled (DAD) (2018) , looks at ritual expressions of grief and mourning to explore the therapeutic potential of publicly processing loss.
Conceptual artist Glenn Ligon appropriates text and images, transforming them into works that critique the ways race and sexuality shape the visual field. Created in the years after Mapplethorpe's death, Notes on the Margin of the Black Book(1991–93) presents framed pages excised from a copy of The Black Book (1986), a volume of Mapplethorpe's homoerotic photographs of black men that has been criticized for objectifying and fetishizing its subjects. Interspersed between the photos in Ligon's installation are quotations from philosophers, activists, curators, historians, religious evangelists, visitors to Mapplethorpe exhibitions, individuals concerned with censorship issues, and people Ligon met at a bar.
As a self-described visual activist, Zanele Muholi has been dedicated to promoting awareness of lesbian, gay, bisexual, transgender, queer, and intersex communities in South Africa. Muholi's photography foregrounds the diversity, possibility, and joy of these groups while also commemorating the stigmatization, violence, and loss endured by friends and family in the artist's home country and globally. In the series Somnayama Ngonyama (Hail the Dark Lioness, 2014– ), Muholi incorporates everyday materials into impromptu costumes to assume an array of archetypical alter egos that counter reductive stereotypes and create powerful emblems of self-possession and beauty.
Catherine Opie's body of work in photography explores notions of communal, sexual, and cultural identity. Her formally pristine images illuminate the conditions in which communities form and the terms by which they are defined. Along with three of Opie's powerful self-portraits, on view in this selection are the artist's early portraits of queer subcultures, incisive views of domestic life, and explorations of youth, aging, and identity, as well as works from her O portfolio (1999), which was created as a response to Mapplethorpe's X Portfolio (1978).
Paul Mpagi Sepuya reformulates the conventions and decorum of studio portraiture with images that depict his body, as well as those of his friends and lovers, in compositions celebrating queer community and desire. The artist welcomes multiple bodies, interactions, and histories into the photographic process. By treating his models as active collaborators in his works' creation, Sepuya relinquishes absolute control of the studio setting and undoes traditional hierarchies between photographer and subject.
EDUCATION AND PUBLIC PROGRAMS
Implicit Tensions will be accompanied by a panel discussion convening artists from the exhibition to engage in conversation and critical dialogue around the presentation's themes and their own work, with the date to be announced in the fall, in addition to the following public programs:
Tours
Art in the Round
Daily, 2 pm
Art in the Round Architecture Focus: Inside the Guggenheim Spiral
Fridays, 2 pm
Art in the Round public tours are guided, participatory explorations of the Guggenheim's collection, exhibitions, and architecture. Gallery educators facilitate varied experiences aimed at deepening visitors' understanding of and engagement with artwork. While all tours encourage close looking and conversation among participants, each educator uses creative approaches to build unique, sometimes surprising encounters in the museum. Visitors of all ages and abilities are encouraged and welcome to join. As part of the building's 60th anniversary celebration, Friday tours focus on the Guggenheim's iconic architecture.
Free with museum admission, no RSVP is required. Meet on the Rotunda Floor. For more information, visit guggenheim.org/calendar.
After Hours
Art After Dark
Friday, July 26, 9 pm–midnight; Exclusive Members' Hour: 8–9 pm
An after-hours private viewing of the exhibitions Artistic License: Six Takes on the Guggenheim Collection, Implicit Tensions: Mapplethorpe Now, The Hugo Boss Prize 2018: Simone Leigh, Loophole of Retreat, and Basquiat's "Defacement": The Untold Story, featuring a cash bar and DJ in the rotunda.
Supported in part by Showtime. $25, members free. Purchase tickets online in advance or become a member. Cash bar offers wine and beer. Guests will be asked for a photo ID. Limited general admission tickets will go on sale closer to the event date. Tickets are not sold at the door. For more information, visit guggenheim.org/artafterdark.
Guggenheim Tuesdays: Talks
Kobena Mercer: "Blackness, Flesh, and Vision"
Tuesday, September 17, 6:30 pm
In this lecture, Kobena Mercer considers the Guggenheim's simultaneous presentations of works by Jean-Michel Basquiat and Robert Mapplethorpe as an opportunity to examine cross-cutting entanglements of race, masculinity, and the gaze. Mercer draws on the distinction that black feminist theorist Hortense Spillers makes between "flesh" and "the body," examining a range of contemporary and historical examples to reveal how intersections of blackness, flesh, and vision circulate at the most intimate level of our erotic lives even as they also erupt in the violence that results in endless cycles of racialized death. Considering the focal shift in Black Atlantic visual arts from representation to performance, the talk offers fresh insights about critical perspectives on the black body.
The Hilla Rebay Lectures bring distinguished scholars to the Guggenheim Museum to examine significant issues in the theory, criticism, and history of art. This annual programs is made possible through the generosity of the Hilla von Rebay Foundation. Free. To sign up and for more information, visit guggenheim.org/calendar.
EXHIBITION SUPPORT
Generous funding for Implicit Tensions: Mapplethorpe Now is provided by Stein Erik Hagen–The Canica Art Collection, the William Talbott Hillman Foundation, and LLWW Foundation.
The Leadership Committee is gratefully acknowledged for its support, with special thanks to Peter Marino; Baldwin Gallery, Aspen; Angelo K H Chan and Frederick Wertheim; Joseph M. Cohen Family Collection; Caryl Englander; Galerie Thaddaeus Ropac, Paris; William Georgis; Gladstone Gallery; Xavier Hufkens; Tian-Tzy Li and Julio Herrera; Alison Jacques Gallery; MAI 36 Galerie, Zurich; Lisa and John Miller; Ted Pappendick and Erica Gervais; Lauren and Scott Pinkus; Ann and Mel Schaffer; Patty and Howard Silverstein; The Evelyn Toll Family Foundation; and Cristina von Bargen and Jonathan McHardy.
Additional funding is provided by the Solomon R. Guggenheim Museum's Photography Council.
ABOUT THE SOLOMON R. GUGGENHEIM FOUNDATION
The Solomon R. Guggenheim Foundation was established in 1937 and is dedicated to promoting the understanding and appreciation of modern and contemporary art through exhibitions, education programs, research initiatives, and publications. The Guggenheim international constellation of museums includes the Solomon R. Guggenheim Museum, New York; the Peggy Guggenheim Collection, Venice; the Guggenheim Museum Bilbao; and the future Guggenheim Abu Dhabi. In 2019, the Frank Lloyd Wright-designed Solomon R. Guggenheim Museum celebrates 60 years as an architectural icon and "temple of spirit" where radical art and architecture meet. To learn more about the museum and the Guggenheim's activities around the world, visit guggenheim.org.
VISITOR INFORMATION
Admission: Adults $25, students/seniors (65+) $18, members and children under 12 free. Open daily from 10 am to 5:30 pm; Tuesdays and Saturdays until 8 pm. Admission is pay-what-you-wish on Saturdays from 5 to 8 pm. Use the Digital Guide in the museum or visit guggenheim.org/guide to hear audio about Frank Lloyd Wright's landmark building and the Guggenheim's collection and exhibitions.
( Press Release Image: https://photos.webwire.com/prmedia/6/242513/242513-1.jpg )
Related Links
WebWireID242513

This news content was configured by WebWire editorial staff. Linking is permitted.
News Release Distribution and Press Release Distribution Services Provided by WebWire.